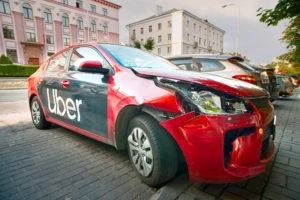 When rideshare drivers are on the road, they may be looking for an address or encounter some other distraction, rather than focusing on the road ahead. If the driver does this before hitting your car or you as a pedestrian, this could leave you with serious injuries.
A Mount Vernon Uber accident lawyer with Morelli Law Firm will be ready to protect your right to seek a settlement after a crash. Your injuries could mean you are facing an uncertain future and financial hardship. We will work hard to seek the outcome you deserve. You can learn more about your next steps during a free consultation with us today.
Will Uber's Driver Have to Pay Me a Settlement If I Was in the Car During the Crash?
Crashes involving Uber drivers in Mount Vernon, N.Y., can be quite complex when the victim files a personal injury claim. If you are riding in the driver's car as an Uber passenger at the time of an accident and suffer injuries, you may need to file a claim against Uber or the other car's driver.
Filing a Claim Against Uber
If your Uber driver was at fault for the crash, and if the driver was actively working for Uber by giving you a ride as a paying customer, our team of Uber accident attorneys in Mount Vernon would seek a settlement against Uber's insurance policy.
According to Uber's rules for driver insurance, if the driver is working for Uber, the company's auto insurance becomes active in case of an accident that is the driver's fault. Our New York rideshare accident lawyer can help you sort through the sometimes confusing insurance coverages after this type of crash.
Filing a Claim Against the Other Driver
It is possible that the Uber driver is not at fault for the crash that injured you. If the other driver involved in the accident is at fault, you would need to file a claim against that driver's insurance policy.
Our Mount Vernon personal injury attorney has experience with these types of claims. We are ready to help you work toward the settlement you deserve. We will make sure your case meets New York state's statute of limitations for starting the process of filing a lawsuit, which is three years, per CPLR § 214.
How do I File a Claim If an Uber Driver Hit My Car While I Was Driving?
Another situation where you may need to file an injury claim after an Uber accident occurs is if the driver makes a mistake behind the wheel and hits your car, injuring you. Again, this situation could result in a confusing type of claim, but our Mount Vernon Uber auto accident lawyers are ready to help.
Filing a Claim Against the Uber Driver's Insurance Company
If the driver does not have the Uber app active when an accident occurs, it means the driver is not actively working. In this case, Uber takes no liability for the accident. The Uber driver's car insurance policy would handle your claim in a case like this.
If the Uber driver activates the app but is not on the way to pick up a passenger or give someone a ride when they cause an accident, the driver's auto insurance would cover your claim. If that policy does not have enough coverage for your award amount, Uber's company policy could make up the difference.
Filing a Claim Against Uber's Insurance Company
If the Uber driver hits your car and causes injuries while giving a passenger a ride, Uber's company insurance policy would cover your claim. We can determine which insurance company is liable for the claim.
You Could Receive a Financial Award that Covers a Few Different Areas
Trust that Morelli Law Firm will stand by your side throughout your case. We will negotiate with the insurer for you, leaving you more time to focus on your recovery. If the insurance company refuses to negotiate fairly, we will be ready to take the case to court on your behalf.
To determine the amount of the award we will seek, we will rely on the facts in your case and our experiences in similar past cases. We will seek a financial judgment for you that compensates you for:
Medical costs: When the crash was not your fault, you should not have to pay your medical bills. Part of the claim should reimburse the medical costs you accumulated up to the time of the settlement, along with an estimate for future medical costs.
Lost salary: If you cannot work because of your injuries, you can seek a judgment that pays you for all the wages you lost. If you cannot work as many hours or at all in the future, you can receive an award for the estimated wages you won't be able to earn.
Pain and suffering: The pain and suffering award is an important part of any settlement. It gives you a financial award for hardships you are facing because of the accident. These could include ongoing pain, disabling injuries, disfigurement, emotional trauma, or reduced quality of life.
Morelli Law Firm Will Work Tirelessly Toward Your Best Outcome
If you find yourself receiving unfair treatment from an insurance company after a rideshare driver crash caused injuries, our Mount Vernon Uber accident attorneys are ready to help. We take pride in our ability to give our clients the highest level of service that we can provide.
For a free consultation, call Morelli Law Firm today at (212) 751-9800. We work on a contingency fee basis, which means you do not need to pay us anything ahead of time to retain our services. If we do not recover any compensation for you, you do not have to pay us.