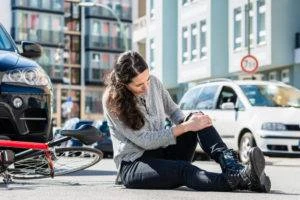 People bike every day for recreation and travel, and they can use the asphalt just like cars and trucks can. The risk of injury is always there, though. All it takes is one careless or angry driver to hit your bike to put you in a world of pain and expense.
Our bicycle accident attorneys in Mount Vernon can put you back on the path. We can help you get compensation from the people responsible for your injuries. Morelli Law Firm has helped our clients get over $1 billion in compensation. Few law firms can say that!
Bicycle Laws in New York
It's common for a bicyclist and a motorist to argue who is more responsible for an accident, so it helps to know what the laws are for bicyclists. All the same traffic laws apply for both groups, but here are some of the specifics for bicyclists in Mount Vernon:
Ride in the bike lane, or on the right edge of the roadway unless you're making a left turn or if conditions would be unsafe to continue on the right edge.
Don't ride with more than two cyclists side-by-side. If you're being passed, move into a single file line.
If you're entering from a private road, driveway, alley, or curb, stop fully before you enter the roadway.
If you ride at night, you need front and rear lights and reflectors.
No brakeless bikes.
Never ride while wearing two earphones or earbuds.
Always keep one hand on the handlebars.
Children between the ages of five and 14 must wear an approved helmet.
These are a summary of the bicycle laws in the New York Vehicle and Traffic Law codes as of this writing, and are subject to change. Knowing the current laws is important because it has major implications for your settlement. By following these rules, you'll protect yourself from liability.
Why Do I Get Compensation After an Accident?
The civil court system is, among many things, a way for people to seek compensation when someone else has harmed them. It's a matter of redressing wrongdoing done to you through a financial payment. Compensating situations like bicycle accidents are covered by a body of law called tort law.
To win your case or receive a settlement, four things must be proven. First, there must be a duty of care between the parties. The person you're suing must have some level of responsibility for your safety. All drivers and bicyclists automatically have this responsibility.
Next, they have to break that duty of care. This is also called negligence. Breaking the traffic laws is one way this can happen. Then, that breach of duty has to cause the accident.
The last thing is proving the existence and financial value of the consequences of your accident, known as damages in legal terms. Your bicycle accident lawyer's job is to get the evidence to prove all four things and win your case.
Bicycling Has a Risk of Serious Injury
While bicycling is a healthy and environmentally friendly activity, it carries the risk of serious injuries. Helmets save lives, but it's not nearly the level of protection that a car or a truck frame provides a driver. Thus, when a crash happens, the cyclist is at a greater risk of serious injury.
There are three common causes of bike accidents where the other driver is at fault. Drunk drivers are the first. The second is failing to yield at a stop sign. The third is vehicles turning in front of a cyclist. Any of these situations can put a cyclist at risk of severe injury or death.
Our Mount Vernon bicycle accident lawyers can determine the strength of your case and give an estimate of its value based on previous case experience. If we feel we can help you get more compensation, we will tell you during your free consultation and how we would approach your situation to get you the most compensation possible.
How Our Bicycle Injury Lawyers Will Help You
After an accident, an insurance company is probably on the hook to give you compensation. Unfortunately, their goal is to give you as little compensation as they can. They have many tactics to make that happen, but we can block many of them because of our legal experience.
Also, once you have a lawyer on your side, you can turn your attention entirely to recovering from your injury. All communication with the insurer must go through your lawyer, who acts as your personal representative. The same goes with the court system.
You'll also receive legal advice specific to your situation to protect and maximize the value of your case. There are many things you could do that any insurance company would love to use against you, like leveraging a social media post about your case against you.
Seek Help From Morelli Law Firm
If you've been injured in a bicycle accident, Morelli Law's bicycle accident lawyers in Mount Vernon are ready to help you with your case. To get started, call the number on your screen or reach out to us through our case evaluation form.
Your meeting with us is absolutely free and without obligation. Should you choose to work with us, you will owe us nothing unless you receive compensation. Call now to see if you have a case.