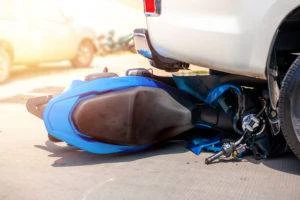 Car accidents are common and can often result in serious injuries. Both the likelihood of a crash and the chances of a severe injury occurring increase greatly when it comes to motorcycles. These vehicles offer minimal protection to riders, and a crash will likely result in the need for expensive medical treatment for even a partial recovery.
At the Morelli Law Firm, we are well aware of the challenges that motorcycle accident victims face after a crash. Our team of Englewood motorcycle accident lawyers will work diligently to ensure you get the compensation you need to help put your life back together after a collision.
Should I Hire a Motorcycle Accident Attorney?
When attempting to recover compensation after a motorcycle accident, it will likely be in your best interest to hire an experienced motorcycle accident lawyer. On average, those who hire an attorney end up with significantly greater compensation than those who attempt to represent themselves.
Additionally, hiring a lawyer can help with the healing process. The stress brought on by attempting to fight a legal battle can slow the healing of your injuries. Hiring an attorney allows you to remove that stress and focus on getting healthy.
What does a Motorcycle Accident Lawyer Do?
When you hire a motorcycle accident lawyer, they will immediately get to work investigating your accident. They will aim to establish liability and gather evidence to support your compensation claim. Once they have completed their investigation, your lawyer will assess your damages and calculate the full value of your claim.
The next step will be for your attorney to talk to you about the strength of your claim and advise you of your options moving forward. Depending on how you decide to proceed, your lawyer will likely either submit a claim to the liable party's insurer or file a lawsuit with the court.
If you choose to pursue a lawsuit, your lawyer will move forward with the pretrial process as they prepare to represent you at trial. However, it is unlikely that your case will ever reach the courtroom. At every stage of the process, your attorney will be in communication with opposing counsel, attempting to negotiate a fair settlement deal.
Don't Delay When Filing a Motorcycle Accident Lawsuit
In New Jersey, there is a general two-year statute of limitations for filing a motorcycle accident lawsuit. If you miss that window, you will likely be out of options for recovering compensation. Additionally, it is essential to note that many factors can alter the amount of time you have to file. You may see this timeframe extended or dramatically reduced.
In order to ensure that your lawsuit is filed on time and that your right to recover compensation remains intact, you should hire a motorcycle accident lawyer as soon as possible after your crash.
Damages You Can Recover After a Motorcycle Accident
After suffering serious injuries in a motorcycle accident, you will likely be eligible to recover several different types of damages. Which damages apply to your case will depend on the specific details of your accident and injuries. All the losses you suffer are categorized as either economic or non-economic damages.
Economic Damages
Economic damages include any losses that impact you financially. Anything that causes you to spend money, or miss out on earning money, is categorized as a type of economic damage. These include both current losses and losses you are projected to face in the future. Some common economic damages include:
Lost wages

Decreased earning ability

Property damage

Medical expenses

Future medical costs
Non-Economic Damages
All of your other losses are classified as non-economic damages. Rather than simply affecting your finances, these losses tend to have a far greater impact on your life. Many of the losses in this category can never be replaced. Because of this, the compensation awarded for non-economic damages tends to be substantial. Common non-economic damages include:
Pain and suffering

Loss of consortium

Diminished quality of life

Permanent disability
Punitive Damages
Punitive damages are only assessed in rare cases. Unlike the compensatory damages listed above, the focus of punitive damages is on the liable party rather than the accident victim. These damages are not designed to replace the losses suffered by the accident victim. Instead, they are meant to punish the liable party for their actions.
Punitive damages are only awarded in cases where the at-fault party acted in a manner that was criminally negligent or with the intent of causing harm to others.
How Much does It Cost to Hire a Motorcycle Accident Attorney
Many lawyers bill their clients regularly throughout the process at an hourly rate. However, motorcycle accident attorneys and other personal injury lawyers do things a little differently. These lawyers will only collect a fee at the end of your case. The amount they collect will be a predetermined percentage of the compensation you recover.
With this process, the bigger the payout you receive, the more money your attorney will get. Alternatively, if you fail to collect compensation, your attorney will not get paid. This system is a strong motivator for your attorney to do everything they can to ensure you receive as much money as possible for your damages.
It also allows for all accident victims to obtain experienced legal representation as they attempt to recover compensation for their damages.
Get a Free Consultation From an Englewood Motorcycle Accident Attorney Today
At the Morelli Law Firm, our team of Englewood motorcycle accident lawyers has a proven track record of recovering sizable payouts for our clients. We work diligently to ensure that your case is as strong as possible so that you can get the money you deserve for your injuries.
Reach out to us today by phone or through our online contact form to schedule a free case evaluation.