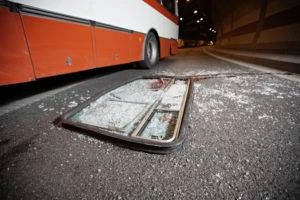 Bus accidents can be very unsettling to witness, and being involved in a bus crash is even more disturbing. Depending on how the bus crash happened and who is involved, the injuries can range from mild to extremely critical and generally requires a small army of emergency responders.
If you were injured and needed medical attention in the chaotic scene of a bus accident, you might be confused, frustrated, and even angry that it happened. All of these feelings are completely understandable and normal following a traumatic event.
If you are unsure what your next steps should be and find yourself overwhelmed, the bus accident lawyers of Morelli Law may be able to help you get back on track. We have years of experience helping injury victims to navigate the complex legal pursuit of financial recovery, and we may be able to help you.
Helpful Tips to Consider After a Bus Accident
It may seem the quickest way to recover damages for your bus crash injuries is to simply accept the first settlement check offered or to deal with the insurance company alone.
This may be the faster and easier route, but you could risk losing a substantial amount of money that you may need if you underestimate the cost of your injuries.
Here are some things to consider when taking steps to recover financial damages after a bus crash.
Use Caution When Speaking to Insurance Companies
If you are trying to handle your own claim, you may be risking the considerable amount of money that is available. The insurance companies may seem to be sympathetic and they may even rush to offer a settlement. Accepting their settlement will negate your rights to pursue any further damages.
The insurance company is a for-profit entity and it is a big business. They have squadrons of attorneys and professionally trained adjusters whose primary focus is to limit the amount of money they pay out in order to maintain their profits. Some of the challenges can include:
Multiple Insurance Carriers
You may be dealing with several insurance companies. This presents its own set of complications and will likely include a mountain of paperwork that needs to be filled out properly or they can deny your claim.
This time-consuming process can be complicated and very tiring for people trying to recover from injuries. Working with a bus accident attorney in Englewood will eliminate this burden.
Stall Tactics
The insurance company may try to wait out legal deadlines by avoiding your calls or failing to process paperwork on time. This is bad faith on the part of the insurer, but it does happen and it can end the victim's ability to collect.
Statements Can Be Used Against You
Use caution when speaking to the insurance company. They can use what you say to discredit your credibility when seeking compensation. The severity of your injuries will be in question and you will be under scrutiny no matter how nice they may seem. This isn't a personal attack; they're simply being paid to do a job.
Settlement Offers Are on the Low End of What They Can Pay
Insurance adjusters are aware of the financial burden an accident can cause. The mounting medical bills, the lost income from your time off work, and the need to meet your regular financial responsibilities put you under pressure. They can easily manipulate someone in a precarious financial position to accept much less than their damages are worth.
The added injury comes when you underestimate the amount of damages you will need to compensate for in reality, and the insurance settlement is not enough. An experienced Englewood bus accident lawyer will negotiate aggressively for the fair amount you are owed and prevent them from exploiting you.
Act Quickly to Preserve Your Rights to Pursue Compensation
If your accident involved a municipal bus, school bus, or mass transit provided by another government agency, it's essential to act immediately. There is a brief window of only 90 days to file a notice of intention if you wish to retain your rights to pursue legal action against any government entity.
For an accident of any kind on a privately or commercially operated bus, you usually have 2 years from the date of the incident to file a claim. The exception to this rule applies to people who were under 18 when the accident happened. In that situation, the time limit to file begins on your 18th birthday and ends 2 years after.
It's important to speak to an Englewood bus accident attorney as soon as possible to avoid missing these deadlines and to preserve any evidence before it is degraded by time.
Ensure That Your Damages Are Calculated and Accounted for Entirely
You must consider all the damages when seeking compensation, or you may end up settling for an amount that simply isn't enough to cover all your expenses. Your bus accident lawyer in Englewood has the experience and resources available to accurately calculate the amount of your losses, both current and future.
The attorney understands what is plausible by studying the results of other cases and by first-hand experience in helping numerous victims in similar circumstances. In addition, your lawyer will have access to medical and financial experts to determine what your future complications and costs may be and will add those to the value of your case.
Understand the Differences in Damages Considered in Private and Government Bus Accident Cases
Though the municipal and governmental bus operation entities are immune to certain liabilities, you may still be able to pursue other compensatory damages. Generally, if you are injured on public mass transit, you may not collect for pain and suffering unless your injuries are permanent, you were disfigured permanently, or amputation was necessary.
However, this doesn't mean that you can't collect for the actual damages or that your attorney won't find other sources of compensation due to multiple causes and parties sharing liability.
Privately owned or commercially owned buses are subject to the tort laws of New Jersey as they apply in any car accident case. Government-run buses or public transit compensation will differ.
What Is Considered a Bus?
When we think of buses, most of us automatically think of mass transportation or the yellow school bus. Some of the other vehicles that can be considered as a bus in New Jersey are:
A transit bus
Party bus
Rental bus
Hotel bus
Shuttle service
Motorcoach for long-distance travel
Tour bus
Corporate shuttles
This list is by no means exhaustive, but it lists the most common buses considered in bus accident cases in New Jersey. Crashes with vehicles that carry numerous people can result in multiple serious injuries no matter the size of the bus involved.
Know What Damages You Can Collect in a Commercial or Private Bus Accident
Though every case and injury is different, the damages considered in a bus accident case are generally the same for the injured victims. Our Englewood bus accident attorneys can calculate your damages with an extensive review of the details of your particular case.
In most accidents involving a private or commercially operated bus, the damages considered will be:
Costs of Medical Treatment
Your medical expenses almost always come first in the calculation of damages. Generally speaking, the more severe your injuries, the greater the damages awarded should be. If future medical treatment is necessary or ongoing care will be required, these expenses will be accounted for.
Wage Losses and Loss of Potential Earnings
Time to go to medical and rehabilitative visits, time missed due to the treatment of your injuries, time off to heal and any wages lost due to injuries from your accident will be included.
The loss of future earnings will apply if you aren't able to return to work or cannot return to your particular occupation. Occupational rehabilitation will be considered if you can't resume your duties at your old position.
Non-Economic Damages
Pain and suffering are calculated based on the time it takes to treat your injuries, the time it takes to heal, and the pain involved in your particular injury and the subsequent treatment. Psychological trauma, emotional costs, and other intangible damages associated with your injuries are calculated in the non-economic damages.
Make certain you are sufficiently compensated to cover all the costs. An Englewood bus accident attorney will ensure that accurate costs of damages are assigned in the valuation of your case.
Understand the Benefits of Having a Lawyer on Your Side
Having an experienced legal team on your side can save you money and prevent costly missteps when you are pursuing compensation through insurance companies or by filing a lawsuit. Though you may believe lawyers are too expensive and will drastically reduce the amount of your compensation, the converse is usually true.
Considering the potential for error in damage calculations, the hardline negotiating techniques and scare tactics used by opposing attorneys and insurance companies, and the overall complexities of determining liability, there's a lot of potential to make a costly mistake.
The benefits of working with an bus accident attorney in Englewood are numerous and can maximize your chances of recovering the full amount of compensation available. Some of the benefits are:
Complete and professional analysis of your actual and potential future damages
Comprehensive collection and complete evaluation of evidence to identify and locate all sources of liability
Communication with all involved parties, handling all contact with insurance and defense counsel
Discussion of strategy and regular updates on case progress
An expansive list of professionals for consultation and expert witness testimony including medical professionals, accident reconstructionists, economic advisors, and a seasoned legal team
Proven results in countless personal injury cases and the recovery of over $1 billion in damages by our firm
Bus accident cases are complex by nature and can be frequently blocked by obstacles when handled improperly. Working with personal injury attorneys who have experienced the complexities of bus accident cases will ensure your rights are preserved, saving you time and costly errors.
There Are No Upfront Costs, and You Don't Pay if We don't Win
Our bus accident lawyers in Englewood are paid on a contingency basis. This no-win, no-fee structure guarantees that you will not pay any fees until your case is settled out of court or you receive an award after a trial.
There are no out-of-pocket costs or upfront fees to engage our services or to learn more about how we can help. Another benefit of this arrangement is the confidence you will feel knowing that our attorneys are personally invested in your case.
We are compassionate to the needs of personal injury victims and know how quickly the financial burdens of bus crash injuries can drain a victim's resources. We'll listen to your needs and pursue every option to get you the most optimal result.
Contact Morelli Law Firm for a Free Consultation
Whether you were a bus passenger, another driver, or pedestrian, or a bystander who was injured, bus accident injuries can be serious and the costs to treat them can be immense.
The discomfort involved in the treatment is also magnified by the time it takes to heal.
The costs of some injuries may exceed the amount your insurance will cover even before you leave the hospital. This is why it's important to talk to an Englewood bus accident attorney as soon as possible.
Morelli Law has seen the damage and understands the severity of the impact a bus crash can have on people's lives. Our firm remains committed to helping those who have been harmed through no fault of their own. Contact us today to find out how we can help you.