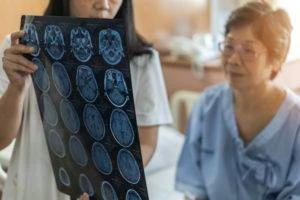 A brain injury can be devastating for a victim and their family. The spouse, children, and parents may have to adjust their family roles and become partial caregivers. The victim might even have to learn to live with a disability or a different personality. Additionally, medical bills will accumulate while work is missed, and income lost.
The Englewood brain damage lawyers at Morelli Law Firm understand these issues and want to help you resolve yours.
Types of Damages You Can Seek in a Brain Damage Accident Claim
Some victims of brain injuries require many months of care after their accident, such as in-patient care. Other victims may require ongoing care for the rest of their lives. The costs involved in this care can pile up significantly. There are additional, non-monetary costs involved in brain injuries, such as permanent disabilities and a loss of enjoyment in life.
If you are experiencing such costs, and if someone else is responsible for your injury, you can seek financial compensation. You may be able to recover damages such as:
Medical bills – This can include bills for emergency care, surgeries, medication, rehabilitation, and related bills
Ongoing care – This includes estimated costs for future care
Pain and suffering – This reflects the physical pain you are suffering
Emotional distress – This reflects the emotional pain you are enduring
Lost earnings – For salary you missed during your recovery, and for any income you will miss in the future
Lost earning capacity – If you will not be able to make as much money in the future due to your injury
Valuing Your Claim
The value of your brain damage claim will vary based on how your injury has affected your health, wellness, finances, and lifestyle. If these areas are affected in the future, too, this may also contribute to the value of your claim.
It can be difficult for someone to calculate the value of a claim on their own. A brain damage attorney from our firm can help you calculate the value of your case.
A Brain Damage Attorney Can Pursue Compensation on Your Behalf
If you suffered brain damage due to someone else's unreasonable actions, you deserve compensation. One of our brain injury attorneys can help you pursue this compensation. Your attorney will seek the maximum amount of money available to you under New Jersey law.
Your lawyer may begin your case with an insurance claim. We may be able to negotiate a settlement for your medical bills and related expenses without having to go to court. However, if the insurance company denies your claim for any reason or refuses to offer a fair settlement, we can take further legal action. Often, filing a lawsuit is enough to incentivize an insurer to negotiate.
We Will Take on the Complex Tasks Involved in Representing Your Needs
There are several steps that need to be taken to pursue compensation in a brain damage case. You may find it overwhelming to take on every task on your own, so you should consider leaving it up to a lawyer from our firm. We will take on:
The analysis of your case and determining the value of your claim
The collection of police reports, eyewitness statements, and other kinds of evidence
Proving the other party's negligence for the incident that resulted in the injury
Negotiating a settlement with the insurance company
Ensuring your case complies with any relevant deadlines
Fighting for the maximum amount of recovery you can receive
Representing you and your loved ones in court, if necessary
Brain damage cases can be very complicated. This is especially true for cases involving medical malpractice. However, you won't have to worry about any legal details when you have our firm working for you.
Proving Negligence in Brain Damage Cases
Typically, a brain damage claim relies on establishing the other party's negligence. We will have to prove negligence before you or your lawyer can file an insurance claim or lawsuit. This involves:
Showing that the other party owed you a particular duty to protect you from injury
Showing that this party failed to uphold this duty
Proving that, as a result of the other party's failure, you suffered an injury
Proving that your injury caused you physical, financial, and other damages
Examples of Brain Injuries that Qualify for Compensation
Regardless of the type of brain injury you suffered or the incident you were in, you should be eligible for compensation if the incident was someone else's fault. You may receive compensation for:
A concussion – A less severe type of brain injury, but still an injury that can be costly in many ways
A skull fracture – Can result in severe brain damage
Diffuse axonal injury – One of the most severe kinds of brain injury, sometimes resulting in permanent brain damage or death.
You could receive compensation for another type of brain injury not mentioned above. Contact our firm to learn more.
There Are Deadlines to File a Lawsuit for Brain Damage in New Jersey
If you want to file a personal injury lawsuit against another party, you should consider filing the lawsuit soon since you have only two years to file after your accident, per NJ Rev Stat § 2A:14-2. You also have two years to file a wrongful death lawsuit after the date of death, per NJ Rev Stat § 2A:31-3.
If you retain a lawyer right away, you allow your lawyer to meet the statute's deadline that applies in your case. You also allow your attorney ample time to begin collecting evidence before it is gone. For instance, the authorities may dispose of a record that's relevant to your case after a certain period of time.
Discuss Your Case with a Brain Damage Attorney in Englewood to Learn More
If you or a loved one suffered brain damage in an accident, contact a brain damage lawyer at Morelli Law Firm for help today.
We can discuss your claim during a free case evaluation. We can also provide you a better idea of the legal options available to you. Call us today at (212) 751-9800.