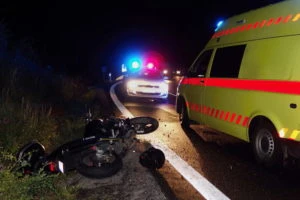 The risk to motorcycle riders on the road is high. These vehicles offer very little protection to riders. As a result, when a motorcycle is involved in a collision, the biker often suffers serious injuries. Recovering from a motorcycle accident can be incredibly costly. Getting fair compensation for your injuries is often a necessary step in the recovery process.
At the Morelli Law Firm, our experienced team of motorcycle accident attorneys in Union City knows how hard it can be to put your life back together after a crash. Contact us today to schedule a free consultation.
Do I Need a Motorcycle Accident Lawyer?
While you can technically represent yourself when attempting to recover compensation after a motorcycle accident, doing so would likely not be in your best interest. Accident victims who work with legal professionals typically end up recovering far more compensation than those who represent themselves, even after their lawyer has been paid their fee.
Additionally, attempting to represent yourself can be harmful to your health. Legal proceedings can be stressful. This stress can slow the healing process and result in a longer recovery time from your injuries. Hiring an experienced motorcycle accident lawyer can put you in a position to focus on your health while your attorney builds your compensation case.
Steps Your Motorcycle Accident Lawyer Will Take
When you hire a Union City motorcycle accident attorney, one of the first things they will do will be to investigate your accident. The main purposes of this investigation will be to establish liability and collect evidence to strengthen your compensation claim. After completing their investigation, your attorney will calculate the value of your damages.
The next step will be for your lawyer to discuss your case with you, presenting the evidence they have gathered and how they advise that you proceed. Depending on your decision, your attorney will then likely either submit an insurance claim to the liable party's insurance provider or file a personal injury lawsuit with the court.
If you pursue a lawsuit, your lawyer will proceed to go through the steps of the pretrial process in preparation for representing you at trial. However, most cases never make it to the courtroom. Throughout the process, your lawyer will be negotiating with opposing counsel, attempting to reach a settlement deal that gets you paid quicker and avoids the uncertainty of a trial.
Recoverable Damages After a Motorcycle Crash
If you suffered significant injuries in a motorcycle wreck, you will likely be eligible to claim a wide variety of damages. The specific damages that apply depend on the details of your accident and injuries. The three main categories into which all damages can be divided are:
Economic

Non-economic

Punitive
Economic Damages
Economic damages are the losses you suffer that directly impact your finances. Essentially, any expenses or lost earnings that result from your accident fall into this category. These damages can include both losses you have already faced and those you are projected to face in the future. Common economic damages include:
Property damage

Medical bills

Future medical costs

Lost income

Lowered earning ability
Non-Economic Damages
The rest of the losses you face fall into the category of non-economic damages. These damages often affect people in far more significant ways than hurting their bank accounts. Non-economic damages can turn your world completely upside down. Because of this, the money awarded for these losses tends to be substantial.
Common non-economic damages include:
Pain and suffering

Loss of consortium

Mental anguish

Permanent disability

Decreased quality of life
Punitive Damages
Punitive damages do not cover losses suffered by the accident victim. Instead, these damages are awarded to punish the liable party for causing the accident.
Many cases do not result in punitive damages being awarded because they are reserved for situations where the liable party acted in a manner that was criminally negligent or displayed a willful and wanton disregard for public safety.
Motorcycle Accident Attorneys Work on a Contingency Fee Basis
While many other lawyers will charge their clients based on the number of hours they spend working on their cases, motorcycle accident lawyers and all other personal injury lawyers operate a little differently. These attorneys get paid based on the results they get for their clients.
When you hire a motorcycle accident lawyer, you won't have to worry about receiving bills from your attorney throughout your case. Instead, they will only collect their fee once your case has concluded. This fee will be assessed as a predetermined percentage of the compensation you recover from the liable party.
With this fee system, your attorney will be motivated to get you as much money as possible for your claim because the more you receive, the more they get paid. Alternatively, if they are unable to get you compensation, they will not collect any money for their services.
Make Sure to File Your Motorcycle Accident Lawsuit on Time
The state of New Jersey has a general two-year statute of limitations for filing a motorcycle accident lawsuit. However, if you are considering this course of action, it is critical that you realize that many factors can alter the amount of time you have to file.
The best way to ensure that you meet all deadlines and protect your right to recover compensation is by hiring a motorcycle accident attorney as soon as possible after you suffer an injury.
Consult a Motorcycle Accident Lawyer in Union City Today
At the Morelli Law Firm, we believe that all accident victims deserve access to experienced legal representation. We can help you get the compensation you need, regardless of your financial situation. Our team of Union City motorcycle accident attorneys has a proven track record of recovering fair compensation for our clients.
Contact us today by phone or through our online contact form to schedule a free case evaluation.