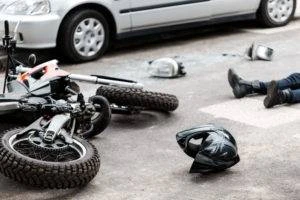 If you are a motorcyclist who was injured in an accident in Jersey City, you may have legal options to recover your damages. If another driver's negligence caused your accident, they may be held liable for your injuries through a personal injury claim or lawsuit.
A motorcycle accident lawyer in New Jersey from Morelli Law Firm may be able to handle your case. Our legal team can pursue compensation on your behalf while you concentrate on recovering from your injuries. Have more questions? We offer free first consultations to people who call our firm.
Motorcycle Accidents Can Cause Significant Damages
Motorcyclists can suffer more catastrophic injuries than people in passenger vehicles should both parties collide. This is because the motorcycle victim typically experiences a direct impact to their body. There is also a possibility that the vehicle might run over the motorcyclist in an accident, causing severe injuries or even death.
Motorcycle accident victims may require ongoing medical treatment to recover from their injuries. Victims of motorcycle accidents may also be unable to work during their recoveries. In some cases, their injuries may permanently prevent them from working.
Our team can look into how the motorcycle accident affected your life and create a list of damages that entitle you to compensation. We can help you calculate the value of your losses, then use this figure to demand compensation from the negligent party.
Recoverable Damages in a Motorcycle Accident Case
The following damages may be available in your motorcycle accident case:
Costs for ambulance transportation and emergency room care
Medical bills, including costs for all surgeries, follow-up visits, and medications
Estimated future costs of medical care
Lost wages and benefits
Reduced earning capability
Property damage
Pain and suffering
You may also qualify for damages related to having a disability or disfigurement if your injuries are expected to be long-term or permanent. Our team may consult medical professionals to quantify your potential recovery period.
Wrongful Death Damages
According to the New Jersey Department of Law and Public Safety, there were 2,200 motorcycle crashes in New Jersey in 2016, 69 of which ended in a fatality.
If you are currently grieving the loss of a loved one, you may be entitled to recover compensation for the motorcycle accident on their behalf. Certain individuals may qualify, such as the surviving spouse or child, and they must have a personal representative present their case.
Our team can review your case and help you fight for damages, such as:
Funeral arrangement costs, including costs to bury or cremate your loved one
Your loved one's financial contribution to the family
Loss of consortium
Other changes to family dynamics, such as loss of parental guidance
Medical debts inherited from your loved one
Our Legal Team Can Take on the Burden of Building Your Motorcycle Accident Case
There are plenty of benefits to hiring a personal injury lawyer from our law firm to work on your case, especially if you are physically limited because of your injuries or struggling with the financial setbacks you've faced.
At Morelli Law Firm, our lawyers work on a contingency-fee basis, which can help people who cannot afford a lawyer because of their motorcycle accident-related damages. We agree to withhold our attorney's fees until the end of your case and only charge them if we win you compensation. Also, our fees come out of your award, meaning you never have to pay us out of your own pocket.
We Give Full-Service Treatment
We understand the overwhelming burdens our clients face, so we try to be as accommodating as possible. Our team can manage your motorcycle accident case from start to finish, meaning we can:
Review the case to see we if can immediately identify the at-fault or liable party or parties involved
Investigate further to see if there is any evidence that can support the case, such as witnesses who saw the accident
Handle administrative tasks to prepare, organize, and submit paperwork to the appropriate parties and/or court system
Calculate your damages so that we know how much compensation to pursue or negotiate for
Represent you in negotiation meetings, court hearings, and legal communications
Provide legal advice whenever you have questions about the case
We strive to give you the full-service treatment and fight for the compensation you deserve.
We Can Help You Identify Who Might Be at Fault in Your Motorcycle Accident
Establishing fault is an essential part in a personal injury case. It may not be immediately apparent after a motorcycle accident who was at fault, especially if multiple vehicles or factors were involved in the auto accident. Sometimes, other parties may deny their responsibility for the accident.
If you decide to have a motorcycle accident lawyer from Morelli Law Firm handle your case, our legal team can investigate your crash in Jersey City and identify the liable party. We will also gather evidence of their liability to hold them responsible for their actions.
The liable party in a motorcycle accident may include:
Another Motorist
If another driver's negligence caused your accident, they may be held liable for your damages. Driver negligence can include:
Speeding
Driving under the influence of alcohol or drugs
Running a stop sign or red light
Making an illegal turn
Driving while distracted
Failing to yield the right of way
Failing to signal
Swerving in front of a motorcycle
Violating traffic rules
Other Potentially Liable Parties
Depending on what caused your accident, other parties that may be held liable for your damages include:
The repair shop that repairs and maintains the motorcycle or another vehicle
The manufacturer of the motorcycle or vehicle
A motorcycle rental company
The government entity responsible for ensuring the roads are in good and usable condition
The manufacturer of a component of the motorcycle/vehicle or safety equipment
It is possible to have multiple responsible parties in a motorcycle accident.
Contributory Negligence in New Jersey
New Jersey law applies the "contributory negligence" rule to personal injury lawsuits, per NJ Rev Stat § 2A:15-5.1. This means that, so long as you were less than 50% responsible for your accident, you may be able to recover compensation from the primarily responsible party or parties.
However, your compensation may be reduced according to your percentage of fault. For example, if a judge determines that you are 25% at fault for your accident and that your total damages are worth $400,000, your compensation may diminish by 25% to $300,000.
Our Team Can Help Prepare Your Case Argument Against the At-Fault Party
A motorcycle accident case requires you to establish that the at-fault party caused your damages. To do this, we will need to establish the four elements of negligence in your case argument, which involves:
Duty of care: The at-fault driver had a duty to keep you from harm on the road.
Breach of duty: However, through their actions or inactions, the at-fault driver violated this duty of care.
Causation: Because of their breach of duty, the driver put you in danger and led to a motorcycle accident.
Damages: You suffered injuries and losses in the motorcycle accident as a result.
We Can Collect Evidence to Support Your Argument
Our team can gather evidence to demonstrate that these four elements of negligence were present in your case when we represent you. This evidence may include:
Photos or videos from the scene of the accident
Surveillance or traffic camera footage of the accident
Witness statements
Police reports
Testimony from accident reconstruction experts
Your medical records
We can also gather evidence that catalogs the extent of your damages.
Once our investigation into your case is complete, we will present the responsible party's insurance company with our evidence in settlement negotiations. If they are unwilling to make you a fair offer, we can take your case to trial and defend your rights before a judge or jury.
Call Morelli Law Firm Today to Work with a Personal Injury Lawyer
If you were harmed in a motorcycle accident caused by another party's negligence, you are not alone. A motorcycle accident lawyer from Morelli Law Firm can pursue compensation on your behalf when we represent you in Jersey City. We can handle all communications, legal deadlines, and paperwork in your case while you concentrate on recovering from your injuries.
To learn more about our legal services, call Morelli Law Firm today at (212) 751-9800. We offer a free, no-obligation consultation.