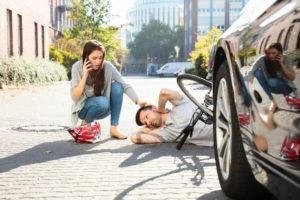 It could be months before the full effects of a bicycle accident injury are realized. For example, neck, shoulder, and back injuries can become aggravated and worsen over time, leaving you with the extra medical bills for treatment.
If you take the first settlement offer that the insurance company makes, you may be left holding the bag and paying to treat injuries you didn't cause. This is why it's important to seek medical attention and treatment after a bike crash and then call an Englewood bicycle accident attorney.
The attorneys of Morelli Law Firm know that complete treatment of your injuries is important for your physical recovery, and we work hard to recover maximum financial compensation for our clients.
Bicycle Accident Injuries don't Always Show Up Right Away
When you experience a bicycle crash, you may not notice at first how serious your injuries are. The body's natural response to pain or danger is to produce powerful endorphins and adrenaline that can mask the severity of the injuries and temporarily block the pain.
If you find yourself in pain many days or weeks after a bike accident, you're not alone. Injuries like torn ligaments, sprains, and tendon tears can become serious and require orthopedic treatment with surgery, medical devices, and physical therapy.
Treatment costs can be prohibitively expensive, and you shouldn't have to pay for it. An Englewood bicycle accident lawyer has experience with these types of injuries and knows how fast these expenses can drain your financial resources.
Your lawyer will know to consider these potential future medical costs to ensure you get sufficient compensation.
Late-Appearing Injury Symptoms After a Bicycle Accident
Commonly, people experience symptoms a few days after the accident that might indicate something more serious is going on. Some symptoms of delayed onset injuries after a bicycle accident may begin with numbness that becomes a tingling or prickling sensation.
These feelings can be followed by muscle weakness, uncontrollable twitching or spasms in the muscles, or shooting pains in your back or limbs. Being hit by a car when riding your bike can sometimes result in delayed onset injuries like:
Disc herniation

Pinched nerves in the neck or back

Nerve compression from deep tissue bruising

Muscle, bone, tendon, or ligament damage

Severed nerves resulting from a deep cut
Don't wait long to follow up with your doctor when you experience these sensations. They may be signs of something more serious that can become more harmful if left alone. This is a good time to reach out to a bicycle accident attorney to begin the documentation process in order to build your case.
What Kinds of Injuries Are Common in Englewood Bicycle Accidents?
Many injuries can occur after a bike crash. Injuries can range from minor to fatal and the scope of pain involved is extremely varied. Some of the most common injuries suffered after a bicycle rider is struck by a car include:
Concussion or Traumatic Brain Injury
The impact of a car or the pavement after a crash can cause minor scratches, skull fractures, or lacerations that may lead to brain injury. Concussions can be serious, but TBI results in varied symptoms that can be permanent.
Mood swings, body function interruption, memory loss, and emotional changes are not uncommon after a traumatic brain injury.
Soft Tissue Injuries and Bodily Trauma
Bike accidents involving motor vehicles almost always cause some form of trauma to the skin or soft tissue. Road rash, deep cuts, torn ligaments, internal bleeding, or dislocated shoulder injuries are common. Scarring can be severe and result in emotional damage and mental trauma for the victims.
Broken Bones
Facial injuries such as fractured jaw, broken nose, lost teeth, or broken hands and wrists can result when the biker attempts to brace for the fall into the pavement. Broken ribs, legs, or knee joint injuries can happen if the biker is hit from the side.
The damage from these injuries can take an extended time to heal and involve significant pain during treatment and ongoing therapy. While broken bones may seem like a common injury, they can be financially draining and disrupt your life significantly.
Back and Spinal Cord Injuries
Damage to the spinal cord, severe back and neck trauma, herniated discs, or paralysis can happen if the biker lands hard, rolls or the car rolls over them. These injuries can have a lifelong impact.
An Englewood bicycle accident attorney will understand the severity of your injuries and will work hard to hold the opposing parties and insurance companies financially accountable.
Fatalities
Sadly, the injuries from bicycle accidents will sometimes become fatal. If high speed was a factor, the driver was distracted or under the influence of alcohol or drugs, the accidents and injuries are usually far more severe.
If your loved one died as a result of their injuries, you can pursue a wrongful death suit. Our firm can help to get you in contact with one of our wrongful death lawyers as soon as possible.
These serious injuries are painful, emotionally exhausting, and take significant time and money to properly heal. Victims may be unable to work for an extended time, compounding the financial burden.
A personal injury lawyer with experience in bicycle accident trauma can pursue compensation for these medical costs and lost wages, as well as the emotional trauma, pain and suffering, and non-economic costs that are a result of the injuries.
Contact Us Today for a Case Evaluation at No Cost to You
Bicycle accidents are traumatic. Sorting out the insurance details, talking to adjusters, and dealing with the other parties involved can create more stress than any injury victim needs.
The Englewood bicycle accident lawyers at Morelli Law Firm can handle your claim, deal with the communications, and work hard to get you results. We have helped countless accident victims to recover significant compensation for their damages, and we are ready to help you.
Contact us today for a free case evaluation.