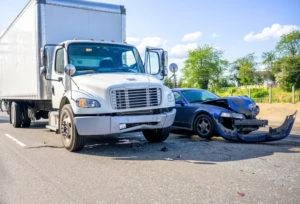 If you were injured in an automobile accident in Englewood involving a commercial motor vehicle driver, you may be entitled to pursue compensation from that driver or a related liable party. A personal injury lawyer from our firm can represent you in your case and help you fight for your financial recovery.
If you would like to discuss your case, our services, and your options with our car accident team, call Morelli Law Firm today at (212) 751-9800. Your initial consultation call is completely free.
Damages You May Recover in a Commercial Motor Vehicle Accident Case
Part of our research into your case will be identifying the ways that the accident impacted your life and cost you money—otherwise known as "damages." Damages and their value are unique for every case, but in general, you may be able to collect compensation for the following damages:
Costs of medical treatment: This includes costs for emergency room treatment, operations, doctor's appointments, medications, physical therapy, and any other form of medical care. If you are not yet fully recovered, we can also estimate your future costs of medical treatment and request this amount.
Loss of income: If the accident made you take time off work and lose wages, salary, or benefits, you might be able to recover this lost income.
Reduced earning ability:If your injuries force you to leave your job and switch to a lower-paying career, this reduced earning ability may also be recovered.
Property damage:This includes costs to repair or replace any property that was damaged in the accident, e.g., your car, jewelry, a cellphone, etc.
Pain and suffering:You may be able to recover compensation for the physical and emotional trauma of the accident and your injuries.
This is not an exhaustive list of potentially recoverable damages. Other things, like disability or scarring. may factor into the compensation you request as well. Morelli Law Firm can conduct a thorough review of your damages when building your case.
Legal Services We Provide to Our Personal Injury Clients
An accident with a commercial motor vehicle can put you in a legal dispute against a large company and their insurance company. This type of case can be overwhelming, especially if you do not have experience filing an insurance claim or lawsuit and negotiating for compensation.
Morelli Law Firm does have this experience, and we regularly put it to use when representing our clients. If you hire a commercial motor vehicle accident lawyer serving Englewood from our firm, they will act as your legal representative and confront the responsible party on your behalf.
However, legal representation is not the only service we will provide you as our client. Some of our other legal services include:
Identifying who may be held liable in your accident
Investigating your accident to see if there is any evidence available to support your accident and injury claims
Notifying of updates about your case, such as court hearing dates or messages you receive
Handling legal paperwork that your case requires to be submitted
Attending negotiation meetings on your behalf
Presenting your case in court if necessary
Responding to any communication attempts from insurance companies or other interested parties so that your case remains protected
Our legal team is also available for advice whenever you have questions about your legal options, your case, or settlement offers you receive. We aim to keep your interests at the forefront and will advise you accordingly.
We Stand Up for Accident Victims Like You Against Large Companies
Our legal team is not intimidated by difficult cases, major corporations or insurance companies. We will do what it takes to fight for your financial recovery. In fact, some of our case results against commercial businesses include:
$265 million settlement for victims who suffered injuries in an Amtrak train accident in 2015
$102 million settlement for Mark Perez, who suffered a severe traumatic brain injury and several other injuries, after falling off a booth while working for Live Nation in 2013
$12 million for the surviving family of an elder man who passed away after being hit by an MTA bus
It can be intimidating to realize that the liable party in your case may be a large company or corporation. This may put you against corporate insurance representatives or lawyers. You may feel like the other party has more resources and power when it comes to the legal process.
Morelli Law Firm is used to taking on powerful companies. We do not back down from a legal challenge and are willing to pursue compensation from any party who is liable for our clients' damages. When you hire us, an Englewood commercial motor vehicle accident lawyer can begin handling all the communication with the responsible party and their representatives for you.
There is a Filing Deadline to Sue in New Jersey
Under NJ Rev Stat § 2A:14-2a, commercial motor vehicle accident victims generally have two years from the date they were injured to submit their personal injury lawsuits. After this deadline, any lawsuit they submit might be dismissed by the court, and they may have no way to compel compensation from the responsible party.
Although two years may seem like a lot of time, your physical recovery and other disruptions from the accident could delay your ability to take legal action. Morelli Law Firm can get started on your case right away while you concentrate on treating your injuries.
Liability in a Commercial Motor Vehicle Case Can be Tied to Multiple Parties
If a commercial motor vehicle caused your accident, and the driver was performing work duties, their employer may be liable for the accident. The legal term for this scenario is vicarious liability.
It is important to note that multiple parties could have a role in causing a commercial motor vehicle crash. These parties may include:
A company in charge of loading the vehicle that failed to balance or secure the cargo, leading to an accident
An automobile manufacturer who released a defective vehicle
A negligent mechanic who did not do their job repairing a vehicle
A company that cut corners with safety protocols or pushed their drivers to meet dangerous work quotas
Morelli Law Firm can take over the duty of proving negligence when we represent you. We can also pursue compensation from multiple liable parties, if necessary. Our legal team will review your case to identify whether one or more parties may be considered liable in your case.
To learn more about working with Morelli Law Firm, call us today at (212) 751-9800 to receive a free case review with our car accident team.
Negligence in a Commercial Motor Vehicle Case is Based on Causal Factors
All drivers must obey the rules of the road. If a driver breaks one of these rules and causes an accident, they may be legally obligated to pay for the accident victim's damages. However, it is the victim's responsibility to prove that the at-fault party was negligent.
Common ways that negligence causes car accidents include:
Speeding
Failing to use a turn signal
Making lane changes or turns where they are not permitted
Disobeying traffic signs and signals
Drunk driving
Texting and driving
Commercial Vehicle Drivers Must Abide By Federal Regulations
Commercial motor vehicles and their operators must abide by additional rules and regulations from the Federal Motor Carrier Safety Administration (FMCSA) to keep other road users safe. These rules include:
Limits on how many consecutive hours a driver can operate their vehicle before they must stop and rest
Special licenses, training, and drug testing for commercial motor vehicle operators
Obligations to perform pre-inspection vehicle safety checks
Morelli Law Firm understands the laws that pertain to commercial motor vehicles and can help you identify where negligence may have occurred in your accident.
Call Morelli Law Firm Today to Start Building Your Case
Morelli Law Firm is ready to help you. Call us today at (212) 751-9800 to receive a free case review from a member of our client intake team. We can go over the basics of your case and our services during this call.
If you decide to hire an Englewood commercial motor vehicle accident lawyer from our firm, we can take over the legal work in your case immediately. Because we work on a contingency-fee basis, you only pay us attorney's fees at the end of your case if we are able to help you recover compensation. No payments are due to start.