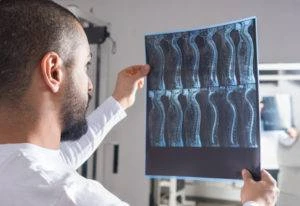 A spinal cord injury can be very serious, often resulting in permanent disability or death. Victims of spinal cord injuries may require a lifetime of medical treatment and care. In addition, if someone else was at fault for a victim's injuries, the victim may have the right to damages.
A financial settlement won't make up for your or your loved one's pain and suffering, but it can make care accessible and secure compensation for other damages. The settlement will also hold the other party accountable for their actions. An Englewood spinal cord injury lawyer from Morelli Law Firm can help you or your loved one secure that settlement.
Common Causes of Spinal Cord Injuries
Your spinal cord injury may be due to one of the common types of incidents in Englewood. These common incidents are:
Pedestrian accidents
Motorcycle crashes
Truck accidents
Bike accidents
Boating accidents
Construction incidents
Violence
Falling objects
Workplace accidents
Slip and fall incidents
Car accidents
According to the Mayo Clinic, car accidents are the most common cause of spinal cord injuries. However, slip and fall incidents are common also.
We Can Help You Regardless of the Circumstances
Our spinal cord injury attorney can help you regardless of the cause of your spine injuries and other circumstances. For example, if the incident occurred due to someone else's negligence, we can help.
The High Cost of Treatment for Spine Injuries
Since spinal cord injuries can be severe, a victim may be deserving of significant compensation. The injuries can cause neurological damage, partial or complete paralysis, and even a loss in life expectancy. Victims with severe injuries may lose decades of their lives and deserve to be compensated for such problems.
The party responsible for your injuries is liable for the costs involved with maintaining your health and wellness. These costs may be substantial, but they should not be your responsibility.
In some instances, with the most severe spine/back injuries, lifetime care can cost millions of dollars, according to the NSCISC. In the most extreme of these instances, medical costs can exceed $1 million in the first year of treatment alone. Additionally, victims can lose their independence and ability to enjoy many activities.
Placing a Value on Your Spinal Cord Injury Claim
A lawyer for spinal cord injuries from our firm will consider all the damages you may be due when calculating the value of your claim. During the calculation, the following and more will be considered:
Doctor and hospital bills
Medical and care costs in the future
Costs involved with rehabilitation and therapy
Lost wages incurred to date
Lost wages you may incur in the future
Pain and suffering
A loss of enjoyment of life
The damages you may be owed can be substantial, but the insurance company may attempt to settle your claim for less than you deserve. A lawyer can protect you from being taken advantage of by the insurance company and can ensure you receive a fair settlement.
Proving Negligence for the Accident that Caused Your Spinal Cord Injuries
Your attorney will gather all evidence needed to establish the other party's fault and prove each of the four components of negligence.
Duty of Care
First, your lawyer will prove that the other party owed you a duty of care. This term is used to describe the legal responsibility individuals and companies have for maintaining standards of reasonable care while doing things that may potentially harm others. For example, a business is responsible for ensuring its facility is free from harmful conditions that may cause accidents.
Breach of Duty
This term describes breaking a duty of care. For instance, if a store owner neglected to clean a spill on the floor and a customer slipped on the spill, this is a breach of duty.
Causation
Causation is evidence that a breach of duty caused an accident and injuries. For example, if you slipped on ice on a neighbor's sidewalk and suffered a back injury because the neighbor neglected to clear the sidewalk, then this may be causation.
Damages
The final component to prove is the real, monetary damages you suffered from the incident. Your lawyer can show these damages with medical bills, proof of lost wages, and other documentation.
A Spinal Cord Injury Attorney Will Fight for Your Right to Compensation
If you want to obtain the compensation you believe you deserve, you will have to prove your claim, and we can help with this. Our spinal cord injury lawyers understand the legal system thoroughly and can make a persuasive argument for your claim. They also know how to negotiate with insurance companies to arrive at a fair settlement.
If a court case becomes necessary, your lawyer will handle the legal process for you. Our firm has medical experts and other subject matter experts we can refer to substantiate a claim in court.
With the assistance of one of our attorneys, you can focus on getting the care you need and making sure family matters are taken care of. In addition, they will take care of everything related to your claim or case.
There Are Time Constraints in Spinal Cord Injury Cases
You may be under a filing deadline for a spinal cord injury case in New Jersey. One of the following statutes may determine your filing deadline:
The personal injury statute of limitations, which is generally two years, according to NJ Rev Stat § 2A:14-2
The wrongful death statute of limitations, which is typically two years from the date of death, according to NJ Rev Stat § 2A:31-3
By retaining an attorney from our firm right away, you allow us ample time to comply with the statute and collect evidence.
Learn About Your Rights By Contacting a Spinal Cord Injury Attorney in Englewood
Contact a spinal cord injury lawyer from Morelli Law Firm to discuss your case and learn about your legal options. You can also read about the case results we have obtained for our clients on our website.
Call our office today at (212) 751-9800 to get help pursuing the compensation you deserve.