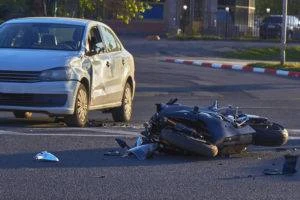 Motorcycles offer riders very little protection in the event of a crash. Because of this, these accidents often result in life-changing injuries. If you have been injured in a motorcycle accident, recovering compensation can be a critical step in getting your life back on track. An experienced motorcycle accident lawyer in Hempstead can help get you the money you need.
At the Morelli Law Firm, we are dedicated to helping motorcycle accident victims get their lives back to normal after a crash. Our team has the knowledge and experience to put you in the best possible position to recover fair compensation. We offer free consultations, so reach out to us today to get started.
What does a Motorcycle Accident Lawyer Do?
When you hire a motorcycle accident attorney, they will take over every aspect of your legal case. By handing over the reins to an experienced professional, you can unload some of your stress and worry and focus on recovering from your injuries. One of the first things your attorney will typically do will be to begin investigating your accident. Steps they will likely take include:
Visiting the accident scene, gathering evidence, and taking photos
Interviewing all witnesses
Speaking with experts
Securing a copy of the official accident report
Examining your medical files related to your injuries
Upon completion of their investigation, your attorney will review all of your damages and calculate the value of your claim. Depending on the strength of your case and how you choose to proceed, the next step will likely be for your attorney to either file an insurance claim with the liable party's insurer or file a personal injury lawsuit with the court.
When filing a lawsuit, your attorney will go through all the steps of the pretrial process while building your case and preparing to represent you in court. However, it is likely that your case will never get that far. Most motorcycle accidents end up getting settled through negotiations before ever making it to trial.
Your attorney will work to ensure that you receive a fair settlement deal if possible so that you can avoid the uncertainty of a courtroom battle.
Motorcycle Accident Lawyers Charge Their Clients Based on Results
Lawyers in many fields charge their clients based on how much time they spend working on their cases. Unfortunately, all the time in the world doesn't guarantee results. When dealing with lawyers in these situations, clients can end up in an even worse position than where they were before hiring legal counsel.
Fortunately, things work differently with personal injury lawyers. Your motorcycle accident attorney will not charge you based on the time they spend working on your case but rather on the results they are able to achieve. Your attorney will collect their fee as an agreed-upon percentage of the money you recover from the at-fault party.
Under this system, your lawyer's paycheck increases when you get more money. Alternatively, should you not collect compensation, your lawyer doesn't make a dime. This setup helps ensure that your lawyer always has your best interests at heart. It also enables any accident victim to obtain experienced legal representation, regardless of their financial situation.
Don't Delay When Filing a Motorcycle Accident Lawsuit
In New York, the statute of limitations for filing a motorcycle accident lawsuit is generally three years from the date of the crash. However, there are exceptions to this timeline. Special circumstances can radically alter the amount of time you have to file a claim. If you aren't careful, you can easily miss out on your chance to collect compensation.
The best way to ensure you don't miss any deadlines is to hire an experienced motorcycle accident lawyer as soon as possible after your injury.
Damages You Can Collect After a Motorcycle Accident
When you sustain an injury in a motorcycle accident, there are many damages you will likely be eligible to claim. The specifics of your case will determine which damages apply. All the losses you suffer can be divided into the broad categories of economic and non-economic damages.
Economic Damages
These types of damages are the losses you suffer that directly impact your financial situation. Any consequences of your accident that result in you having to spend money, or failing to earn money, are considered economic damages. These include both current and future losses. Economic damages that are commonly claimed in motorcycle accidents include:
Medical expenses
Future medical costs
Property damage
Lost income
Decreased earning capacity
Non-Economic Damages
The rest of your losses are grouped together as non-economic damages. While these losses don't impact you financially, they often leave a far greater mark on your life. Many non-economic damages can never be replaced. Because these losses are incalculable, the money awarded for them is typically substantial. Some common non-economic damages include:
Pain and suffering
Loss of consortium
Mental anguish
Lowered quality of life
Punitive Damages
There is another category of damages known as punitive damages. These differ from the damages previously mentioned because they do not concern losses suffered by the accident victim. Instead, the focus of punitive damages is entirely upon the at-fault party.
Punitive damages are only awarded in a small percentage of cases. These damages are reserved for cases where the actions of the liable party were either criminally negligent or carried out with the deliberate intention of causing harm.
Get a Free Consultation from a Hempstead Motorcycle Attorney Today
At the Morelli Law Firm, we have a proven track record of getting favorable outcomes for our clients. Our motorcycle accident attorneys in Hempstead know how essential compensation can be in these cases and will do everything in their power to ensure you get the money you need.
Give us a call or fill out our online contact form today to get started with a free case evaluation.