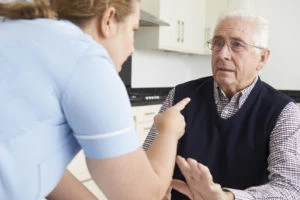 Nursing home abuse used to be a hidden epidemic, but more patients and families are fighting back. Nursing home residents have many rights and can start a nursing home lawsuit on their own. So can families and people with powers of attorney over residents.
If you suspect any kind of nursing home abuse in Englewood against your loved one, call an Englewood nursing home abuse lawyer immediately. You can do more than get compensation; you could save the lives and dignity of the people in that care facility.
Aspects of a Nursing Home Abuse Case
Nursing home abuse falls into six categories: physical, sexual, emotional, psychological, financial, or neglect. Knowing the signs of these abuses can help you find a problem early and stop it before it gets too far.
Neglect
Neglect is probably the most common kind of nursing home abuse we see. Many nursing homes struggle to keep up staffing levels and things can slip through the cracks. Mistakes happen, but a pattern of mistakes is a sign of neglect.
Active neglect is when someone in the nursing home deliberately neglects to do things for a resident. This is a serious danger sign for further abuse. Some types of active neglect include neglecting hygiene tasks, failing to take residents to appointments, keeping food and medication from them, or taking away belongings.
Physical and Sexual Abuse
Any use of force that causes injury, pain, or impairment could be physical abuse, and many sexual abuse cases also involve physical abuse. If you ever see unexplained bruises, scars, burns, or other marks, ask how they happened.
Sometimes the marks can be subtle or psychological. A change in mood or behavior, especially when certain people enter the room, can be a sign that there is a problem. Neglected bedsores are another kind of physical abuse common to nursing homes.
Sexual abusers need to be reported immediately to the authorities at the nursing home and to the police. This abuse doesn't have to happen by the staff. Sometimes residents will try to abuse other residents.
Psychological and Emotional Abuse
Signs of psychological and emotional abuse in a home are tough to detect, which can make it hard to sue. Yet there are some telltale signs that show you may need to look a little further. These include things like:
Sudden weight gain or weight loss
Becoming quiet and withdrawn
Negative changes in behavior (i.e. signs of depression)
Nursing home workers may not yell or verbally abuse residents. This sort of behavior should be reported immediately to the charge nurse or to the home's administration.
Financial Exploitation
According to the National Center on Elder Abuse (NCEA), more than $2.6 billion is lost each year in the United States from the financial exploitation of elders. One way to fight against that is to keep access to your loved one's financial records and look for suspicious transactions.
Be especially wary of any sudden changes to wills, representative payees, powers of attorney documents, or changes in beneficiaries and property titles.
Have You Been Injured In An Accident? Contact Morelli Law
877-751-9800
Contact a Nursing Home Abuse Lawyer in Englewood If You Suspect Abuse
Unless the problem is quite serious, the first rule is to make a complaint and see if the behavior changes. If you suspect serious physical or sexual abuse, or you feel the health of your loved one is in danger, call 911 immediately for help.
In New Jersey, you can register a complaint with the New Jersey Long Term Care Ombudsman. They investigate nursing home complaints on behalf of the state. If they find a problem or evidence of abuse, they will forward their findings to the appropriate regulatory agency.
You don't have to stop there, though. If the investigation comes back with evidence of abuse, then you can file a personal injury claim, or a wrongful death claim should the abuse take the life of your loved one.
Get Help Now for Your Case with an Englewood Nursing Home Abuse Attorney
By making formal complaints and reporting to the Ombudsman, you're creating a trail of evidence that shows neglect and abuse. Our nursing home abuse attorneys in Englewood can use that evidence and help you sue the nursing home.
By suing the home, you can get compensation for what happened and use it to help move your loved one to a different home, get them away from the abuse, and restore their dignity. See what Morelli Law can do for you. Call or contact us online for a free case evaluation.