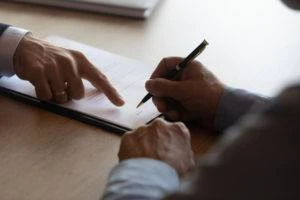 If you own a business in Englewood, you might find yourself tangled in a disagreement with another business, a vendor, or your employees. In these situations, you may need the help of an Englewood commercial litigation attorney at Morelli Law Firm.
Having one of our lawyers on your side early can help you solve a dispute before it becomes a lawsuit. We also provide advisory services to protect you and your interests, whether from a simple employee dispute all the way to federal and state charges.
Why Hire a Commercial Litigation Lawyer?
As a business owner, your attention must be on the day-to-day operations of your business. When a contract dispute arises, or there's a threat of a lawsuit, or even if you just need some legal documents drafted, it can draw all your attention away.
Commercial litigation lawyers serve as a barrier between you and your legal issues. They work to solve your legal problems while you keep focusing one what you do best in your business.
For employees and contractors, hiring a lawyer is even more important. Sometimes, you end up in a dispute that can't be solved through normal channels. If the actions of a business have harmed you, commercial litigation lawyers can tell you if you have a case and represent your interests.
What Cases Fall Under Commercial Litigation?
Commercial litigation usually involves non-criminal disputes between two business parties. This is a specialized area of civil law. Some of the most common types of cases in this field are:
Contract disputes
Payment disputes
Intellectual property cases
Unfair and deceptive trade practices
Violations of non-disclosure agreements and non-compete agreements
Business torts
Fraud claims
Any of these can have a significant impact on your business operations. They could even destroy your business. One task of a commercial litigation lawyer is to find a solution to the problem within the framework of the law.
For example, a lawyer can help both parties come to a new agreement and draw up a fresh contract. They can also pursue damages in court or make claims against business insurance to get compensation for the aggrieved party.
Unlike a personal injury lawyer, commercial litigation lawyers can find themselves on either side of the courtroom. If you're facing a business dispute that you feel is in error, our commercial litigation attorneys in Englewood can help you mount a defense.
Resolving Employee Litigation in Commercial Disputes
The two major employee disputes that may require the help of a commercial litigation lawyer are wrongful termination and whistleblower cases. Violating the laws that protect against these practices can put your business at significant financial risk.
Wrongful termination usually involves an employee of a protected class accusing your business of letting them go because of that class. For example, a pregnant employee who gets fired might think it was because of her pregnancy. This would be wrongful termination.
A whistleblower is someone who comes forward and tells the public about an alleged unlawful activity or dangerous practice performed by your business. These accusations can ruin your company's reputation. Our commercial litigation lawyers can help you respond appropriately without violating New Jersey's whistleblower protection laws.
State and Federal Government Litigation in Commercial Disputes
Another reason to hire a commercial litigation attorney in Englewood is if you're facing charges from the state or federal government. This is where commercial litigation crosses over into criminal defense. Many of the charges are quite serious, including things like:
Security fraud
Racketeering
Corporate tax evasion
Bad faith claims
These and other accusations from the government could open you up to significant liability, and potentially even jail time. If you suspect you are under investigation, immediately call us for a consultation about your situation.
Free Consultations With Commercial Litigation Lawyers in Englewood
Because of the seriousness of these cases, commercial litigation cases are typically taken on by one of our partners. Our aim is to be as efficient and cost-effective as possible while resolving your issues completely.
To learn more about how Morelli Law Firm's commercial litigation lawyers in Englewood can help you, call us or fill out our online contact form today. We give all prospective clients free case reviews.