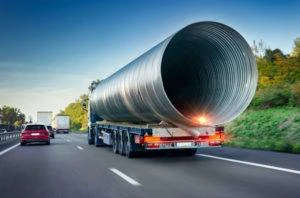 Most of the time, flatbed steel trucks operating in Jersey City do so safely. Occasionally, though, a negligent driver could create a dangerous situation, resulting in an accident with a passenger car, causing significant injuries.
Because the steel truck is so large, the injuries can be devastating for the passengers in the car, leading to lengthy hospital stays and huge medical bills. If another party's negligence caused your accident, they may be liable for these damages, and more.
A Jersey City steel truck lawyer from Morelli Law Firm may be able to represent you in settlement negotiations or a personal injury lawsuit.
At Morelli Law Firm, our team takes pride in defending the rights of those who have suffered injuries at the hands of negligent parties. Call us today at (212) 751-9800 for a free consultation on your case.
Negligence Can Cause Steel Truck Accidents
If any party involved in the operation, ownership, loading, or maintenance of a steel truck causes your accident through their negligent actions, they may be liable for your injuries.
A truck driver operating in the state must obtain a commercial driver's license (CDL), according to the New Jersey Motor Vehicle Commission (NJ MVC). This involves passing a series of tests and undergoing certain amounts of training.
However, a trucking company may attempt to cut costs by hiring someone who does not have the proper CDL certificates or who skimped on training. Should the driver who struck your car and caused your injuries not have the proper licenses, the company that owns the truck and hired the driver could be found liable in a lawsuit.
Even a driver who has the proper training and a CDL could behave negligently and cause a crash that injuries others. Negligent drive behavior includes:
Driving Under the Influence
In New Jersey, any driver who has a blood alcohol concentration (BAC) of 0.08% or higher is violating state law about driving while intoxicated. Intoxicants can include both alcohol and drugs. However, according to the Federal Motor Carrier Safety Administration (FMCSA), drivers operating with a CDL are held to a stricter BAC limit of 0.04%.
Intoxicated driving could make the steel truck operator in your accident liable for your injuries.
Driving While Fatigued
Drivers who spend long hours on the road could be fatigued while operating the truck, which can create a loss in judgment or an error while behind the wheel, potentially leading to a crash.
Violating Traffic Laws
If a truck driver is given an unrealistic schedule for completing deliveries, he or she may feel the need to speed or drive recklessly to try to meet deadlines.
If officers issue the steel truck driver a traffic ticket after a crash, this could be key evidence in proving your case in a personal injury lawsuit.
Working with a Jersey City Steel Truck Lawyer on Your Case
A Jersey City steel truck lawyer from Morelli Law Firm can study the facts in your case and identify the liable party when we represent you. Our investigation may include looking at police reports and interviewing your doctors to determine your long-term prognosis. We may be able to hire accident reconstruction experts to testify in your defense, if necessary.
With this evidence in hand, the team at Morelli Law Firm can determine the exact amount to request in a personal injury lawsuit to compensate you for your medical bills, lost wages, pain and suffering, and more.
Morelli Law Firm will handle all communications and negotiations on your behalf when we represent you. If the responsible party's insurance company is not willing to make you a fair settlement offer, we can take your case to trial.
To learn more about our services and to receive a free consultation on your case, call us at (212) 751-9800.
Use of Flatbeds to Haul Steel
Many times, a truck hauling steel will make use of a flatbed trailer. Flatbeds work for hauling oversized items or those with odd shapes that would not fit well inside a traditional trailer.
Long steel beams or coils of steel have an odd shape and size, often necessitating the use of flatbed trucks.
With the flatbed truck and trailer, sometimes the axles must be spread farther apart than with a typical semi-truck. This means the flatbed trailer may be longer than the typical trailer, which could require greater skill from the driver versus operating a standard semi-truck.
The Danger of Losing a Load of Steel from a Flatbed
Because of the open design of the flatbed trailer, a crash could cause the load to fly off the trailer, putting vehicles and bystanders near the crash in danger from falling or out of control objects.
If the steel beam, coil, or another item on the truck becomes dislodged and strikes a nearby vehicle, the truck driver, the owner of the truck, or the people who loaded and secured the steel onto the trailer may be liable for the victims' injuries.
Morelli Law Firm Can Defend Your Rights
Do not feel like you have to deal with the insurance company for the negligent party on your own. This can be an intimidating process, especially if you are still focused on recovering from your injuries. A Jersey City steel truck lawyer from Morelli Law Firm will handle all aspects of your case when we represent you.
Morelli Law Firm offers free consultations to steel truck accident victims in Jersey City. Call us today at (212) 751-9800 for a free consultation.