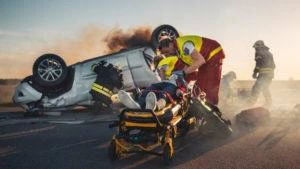 When intoxicated individuals get behind the wheel, they put everyone around them in danger. If you or a loved one has sustained injuries in an accident caused by a drunk driver, the team at Morelli Law can help you pursue a civil lawsuit for compensation.
Our auto accident attorneys in Philadelphia have zero tolerance for drunk drivers, and will take swift legal action to hold them accountable for their wrongdoing. If your case is successful, you'll be awarded damages for any medical bills, property damage, or non-monetary losses you've suffered as a result of the accident.
An Attorney in Philadelphia Can Prove That the Drunk Driver Caused the Accident
One of the most direct ways to prove fault in a car accident case is to show that the other driver violated the rules of the road, and caused a collision. In Pennsylvania, drunk driving is certainly a violation of DUI regulations.
If the other driver in your case is convicted in criminal court for drinking and driving, either as the product of a guilty plea or a jury verdict, it can be used as evidence in your drunk driving accident claim. If the driver isn't convicted, there are a variety of other records and testimonies our attorneys can use to strengthen your case, such as:
Eyewitness accounts
Photos of your injuries
Photos of the accident scene
Video footage from street cameras or residential surveillance
Police report
Phone records
The at-fault driver's blood test or breathalyzer report
Other Services Our Lawyers Provide
While gathering evidence is one of the most important parts of a drunk driving accident case, there are several other actions that need to be taken to build a winning claim. An attorney in Philadelphia will take all the steps necessary to ensure you get the compensated you're owed, such as:
Talking to the involved parties on your behalf
Negotiating a settlement with the other party's insurance company
Complying with state deadlines
Representing you in court if a fair settlement isn't reached
Injured People Can Seek Out Payments for the Costs of Medical Care
It may be obvious that the other driver's choice to drive while intoxicated was the cause of a crash and your injuries. Nevertheless, it is impossible to collect proper compensation after a Philadelphia drunk driving accident if you cannot demonstrate how that event has impacted your life.
Fortunately, our drunk driving attorneys can prove that the guilty party's actions have had a negative effect on your life. They'll win you compensation for medical care by connecting the drunk driver's careless behavior to any of the following expenses you've been burdened with:
A ride in an ambulance
Emergency room care
Surgery
Hospitalization
Expensive medications
Physical rehabilitation
In most cases, a Philadelphia car insurance policy will provide compensation for the costs of medical care. Philadelphia drunk driving accident lawyers from Morelli Law Firm will help you prove that you're entitled to these payments. At the end of your case, you'll walk away with damages for past care and estimated future treatment.
Potential Compensation Stretched Beyond Payments for Medical Care
Car accidents impact people in ways that go beyond physical injuries. For instance, the crash may leave you with nightmares, anxiety, or other forms of emotional trauma. This reduction in your quality of life is a compensable loss. A Philadelphia drunk driving attorney can use testimony from a therapist or psychiatrist to get you compensated for psychological losses.
If the accident has left you unable to return to work, you can receive payment for lost income. This loss applies in situations involving temporary injuries and those that result in a permanent reduction in your ability to work. You'll also be able to receive compensation if your injuries have caused you an excessive amount of pain and suffering.
A Lawyer in Philadelphia Can Request Damages to Punish a Drunk Driver
Drunk driving is a despicable and immoral act that must be discouraged in order to protect the citizens of Philadelphia. If the guilty party in your drunk driving case displayed shockingly negligent behavior during the time of the accident, your attorney may add punitive damages to your claim.
Punitive damages are used to punish individuals for actions that are excessively irresponsible. For example, if the drunk driver that caused your accident had a blood alcohol content that was twice or three times the legal limit, your attorney will likely consider punitive damages.
Statute of Limitations for Drunk Driving Accident Claims
If you've been injured in a drunk driving accident in Philadelphia, knowing how long you have to file a lawsuit is crucial to the success of your case. That's because every personal injury lawsuit is subject to Pennsylvania's mandated deadline, otherwise referred to as the statute of limitations.
This law places a time limit on individuals seeking compensation through a civil claim. According to 42 Pa. C.S.A. § 5524, the legal deadline is two years from the date of injury. Although some plaintiffs may qualify for an extension, hiring a Philadelphia drunk driving accident attorney ASAP will increase the likelihood that you'll receive compensation.
What to Do After a Drunk Driving Accident in Philadelphia
If you've been in a drunk driving accident in Philadelphia, the first thing you should do is seek medical care. Your well-being is the most important part of any accident, so don't delay getting checked out by a doctor. Once you've been treated, there are a few things you can do to help your case, such as:
Report the accident to local law enforcement
Take photos of the accident aftermath
Get phone numbers of witnesses
Take a video of the drunk driver to prove they were intoxicated
Don't accept any monetary offers from the other driver
Don't post anything online about the accident that could be used against you
Taking these steps after an accident will greatly increase your chances of receiving a settlement or favorable jury verdict. Once you've completed them and received medical treatment, you'll want to contact an attorney to get started on your claim.
Drunk Driving in Philadelphia Significantly Increases the Likelihood of an Accident
Being drunk behind the wheel is one of the most reckless things a person can do. Consuming even a small amount of alcohol or any other mind-altering substance can substantially impair one's ability to drive a car. Being intoxicated while driving can result in:
Blurred vision
Swerving
A loss of judgment
A reduced reaction time
Any of these conditions will make driving more dangerous. As a result, Pennsylvania law strictly prohibits driving while intoxicated. One of our lawyers can uncover information that shows how drunk driving led to your accident. They'll use that information in concert with other pieces of evidence to build a powerful case for compensation.
Let a Drunk Driver Attorney From Our Team in Philadelphia Protect Your Rights
Every person who suffers injuries because of the actions of another deserves the compensation they need to be made whole again. This is especially true when an individual makes the reckless choice to drive while drunk or high. As obviously dangerous as this act is, the burden still lies on you to prove that the other driver is liable for yourg losses.
A drunk driving accident lawyer in Philadelphia from our firm can help you investigate your accident, prove that the other driver is liable for your losses, and demand fair payments in and out of court. Contact Morelli Law today to give yourself the best chance at a successful claim. We look forward to representing you!