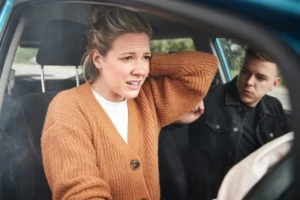 As a passenger in someone else's vehicle, it's easy to forget about your safety, especially if you trust the person who is driving. Whether it is a good friend, family, coworker, or another individual, you place your safety in the hands of the person driving when you get into their car.
You should not have to deal with the financial fallout of a crash, especially if the person who was driving put your life at risk by acting carelessly. A passenger vehicle accident attorney in Philadelphia can help you explore whether you can pursue compensation from the person who caused your crash.
Drivers Must Be Held Responsible
Bringing a claim against a driver when you were the passengers can be difficult if you feel any sense of loyalty to the person who was driving. The idea of bringing a case against a family member or friend can make you incredibly uncomfortable.
However, you're not actually suing them. You're making a claim against their insurance and they will pay you, not the driver. The whole reason auto insurance became mandatory was so that drivers in crashes would have a way to pay victims. They should not have to pay anything out of pocket.
Also, if your driver is a close friend or family member, they should feel a sense of responsibility and want to make sure you're compensated. Let their insurance company handle the compensation, but use a Philadelphia passenger vehicle accident attorney to make sure you get your full compensation as well.
Qualifying for Compensation in Philadelphia
If you pursue legal action against the person who caused your injuries, you will need to establish a few key facts. A passenger vehicle accident is a type of personal injury case. In a personal injury case, you need to show that the other party was negligent in order to receive compensation.
There are four steps to proving negligence:
Duty – First, you must show that the driver owed you a duty of care. In general, drivers have a duty to use reasonable care when driving and make safe driving decisions.
Breach – Second, you must show that the driver did not drive according to this duty of care.
Causation – Third, you must show that your injuries are the direct result of the driver's failure to drive according to their duty.
Damages – Finally, you will need to provide evidence to support the damages you ask for in the lawsuit, such as receipts or invoices.
Recoverable Damages After a Car Accident
There are many types of damages that you can request after an accident. In general, if you had to pay something or were charged for something because of the accident and your injuries, you can claim it in your lawsuit.
A few common types of compensation that you may be able to receive include:
Medical Expenses – This can include emergency transportation bills, hospitalizations, surgeries, medications, co-pays, rehabilitation, and more.
Future Medical Expenses – If you suffer a permanent and potentially life-altering condition, it is important to make sure you request compensation for your future medical needs.
Lost Earnings – Many injury victims have to take time off work. You should not have to suffer the financial consequences of missing paychecks, and you can claim this in a lawsuit.
Reduced Earning Capacity – If you experienced a permanent injury like a traumatic brain injury (TBI) or paralysis, your ability to perform the same job may be compromised. The burden of your reduced earning capacity should not fall on you.
Lost Quality of Life – An ongoing injury can make it hard for you to engage in the same activities you used to enjoy or take care of your family.
Figuring out the amount of compensation that you deserve is a critical step in your lawsuit. It is important to make sure that you ask for the full amount of compensation you deserve because you cannot go back and get more once the lawsuit is finalized.
Examples of Careless Driving You Can Sue For
If you are wondering what it means for a driver to breach the standard of care, there are many common examples. Your lawyer will investigate your case and try to identify exactly what happened leading up to the crash.
Because you were a passenger in the vehicle, you will also be able to provide testimony about what you saw, heard, and experienced. But if it was only you and the driver in the car, it may be your word against theirs.
There are many ways to show that the other driver did not drive according to their duty. Here are a few examples that may apply to your case.
Distracted Driving
When a driver is not paying attention, they can miss things that are happening on the roadway. It doesn't take long for the situation to change and for drivers to find themselves unable to respond adequately. Examples of distracted driving include talking or texting on the phone, scrolling social media, adjusting the radio, tending to pets or children in the car, or eating.
Drunk or Drugged Driving
If someone gets behind the wheel after drinking or taking certain drugs, their ability to drive safely will be severely impaired. As a passenger, you may not always know whether your driver is intoxicated or too drugged to drive, especially if they take prescription medications.
Speeding
Driving too fast is a leading cause of accidents. About one-third of all motor vehicle fatalities involve speeding, according to the National Highway Traffic Safety Administration (NHTSA).
Aggressive Driving or Road Rage
It can be terrifying when the driver of the vehicle that we are riding in starts to display signs of road rage. This dangerous driving behavior includes tailgating, speeding, gesturing, rapid lane changes, and running red lights.
Drowsy Driving
This cause is similar to drunk or drugged driving. When you are too tired to drive, you may find yourself nodding off behind the wheel. If you are a passenger, you may not notice that someone is falling asleep, especially if you are driving at night or on a road trip. A responsible driver knows when to pull over and avoid a drowsy-driving accident.
A Philadelphia passenger vehicle accident lawyer can help you figure out the cause of your accident and whether you should pursue compensation. You can get a free and confidential consultation with a team member if you call Morelli Law Firm now.
Will the Driver Need to Go to Trial?
The odds are high they will never need to see the inside of a courtroom, even if you have to go to trial. Since the insurance company is the party that pays, they will need to go to court. If a case goes this far, both sides should have all the evidence they need from the driver in your crash.
The insurance company will certainly question the driver as part of the claim process, and there's a chance we will need to do so as well through a deposition. This is a sworn statement about what happened from the driver. It does not have to be taken in a courthouse.
Will Their Insurance Rate Go Up?
The rates between an insurer and a policyholder are between them. As a passenger in an accident, you are the victim, not the instigator. If the driver's insurance company decides they need to raise rates on the driver, that's because they see the driver as a risk.
Insurance companies are for-profit companies and seek ways to raise rates where they can. If they believe your driver was responsible for the accident, their rates will go up, but it's not because you were in the car. It was because they got in an accident.
Get a Free Consultation with a Philadelphia Passenger Vehicle Accident Attorney Today
You can learn more about your legal options after a passenger accident by calling Morelli Law Firm now. We can help you understand whether working with a passenger vehicle accident lawyer in Philadelphia makes sense for you.
Learn more aout your potential case by calling us now for a free consultation. You can also schedule an appointment through our online form. We look forward to helping you with your case.