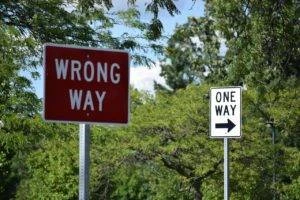 If you were involved in a wrong-way accident in Philadelphia, you may be able to bring a personal injury case against the person who caused the crash. With bills piling up as you recover from your injuries, it can be confusing to know where to start or even how to tell how much compensation you may be owed.
A Philadelphia wrong-way accident lawyer at Morelli Law Firm may be able to help you. You can call our office now for a free consultation with one of our staff members. This is a great opportunity to discuss your situation and the legal options that you may have. Call now at (212) 751-9800.
Damages You Can Recover
If you were injured as a result of a wrong-way accident in Philadelphia, and you or your lawyer can prove it was the other driver's fault, you may be entitled to damages for your injuries and losses. These types of damages fall under the categories of economic and non-economic. Economic damages tend to have a definitive dollar value attached to them. They may include:
Past, present, and future medical expenses
Lost wages due to days missed from work as a result of the injury
Loss of future income due to the inability to perform your work duties as you did before the accident
Non-economic damages do not have a direct value, but they affect your life and well-being just the same. Your lawyer can help you determine a value for these as well. They may include:
Emotional trauma
Pain and suffering
Loss of consortium if you lost a loved one as a result of the crash
If you lost a loved one due to a wrong-way accident, please accept our condolences. Know that you may be able to bring a wrongful death claim or lawsuit against the responsible party. An attorney can investigate the details of your case and determine if your case applies.
How Morelli Law Firm Can Help You
A Philadelphia wrong-way accident lawyer at Morelli Law Firm can handle all aspects of your case from start to finish so that you can focus on your recovery. Our attorney can:
Investigate your case
Gather all evidence, such as the police report, medical records, pictures from the accident scene, surveillance video, etc.
Interview eyewitnesses
Hire experts to testify in support of your case
File all relevant documents in a timely manner
Negotiate with the insurance companies
Take your case to trial if necessary
Keep you updated on the progress of your case
Call Morelli Law Firm today at (212) 751-9800 to speak with a team member about your case during a free consultation.
Establishing Fault in Wrong-Way Driving Accidents
When it comes to proving fault in a wrong-way driving accident, there are many different things that you will need to establish. Although it may seem like liability is straightforward when the other car was traveling down the wrong side of the road, it is important to gather as much evidence as you can to support your case.
There are four things you need to prove before you can receive compensation:
Duty: The other driver owed you a duty to drive with reasonable care and caution. When anyone gets behind the wheel, they owe this duty to other motorists, bicyclists, and pedestrians.
Breach: The other driver did not drive with reasonable care and caution.
Causation: This failure caused the accident to happen.
Damages: You were hurt because of their lack of care and can provide proof of your injuries and expenses.
Breach Is the Most Important Element
It can be hard to know why someone started driving down the wrong side of the road, especially if the accident happened suddenly and without warning. Even if you do not know the exact reason the other party was driving the wrong way, you can still pursue your case. A lawyer will conduct a diligent investigation into your situation to figure out what happened.
Getting a copy of a police report prepared after the crash can help you figure out whether the other driver was intoxicated, for example. And if there are any eyewitnesses to the crash, you may be able to get a statement from them about what happened. Sometimes, other drivers or pedestrians will report a wrong-way driver. This may help you identify where the other driver started driving the wrong way.
The first step in this process is to complete a free and no-obligation consultation with one of our staff members. Call (212) 751-9800 to discuss your case and get started today.
Wrong-Way Accidents
Across the United States, wrong-way driving accidents lead to roughly 300 to 400 fatalities each year, according to the Federal Highway Administration (FHWA). Although this may seem like a relatively small number, the FHWA advises that these crashes tend to be more dangerous because they often lead to head-on impacts at high speeds.
The Causes of Wrong-Way Accidents
It can be surprising to realize that someone has entered the road going in the wrong direction. But there are a few different situations that can lead to a wrong-way driver on the road:
Night driving
Drugs and alcohol
Distracted driving
Improper road design
Poor visibility
Lack of familiarity
There may be other factors at play in your wrong-way accident. A Philadelphia wrong-way accident lawyer at Morelli Law Firm can review your situation and determine whether the other party is at fault for the accident.
Get the Legal Support You Deserve
A wrong-way crash is usually terrifying, traumatic, and painful for the victim. A Philadelphia wrong-way accident lawyer at Morelli Law Firm understands how important it is for you and your family to get the clarity you need regarding your legal options. You probably also want to put this situation behind you as soon as possible without compromising your right to compensation.
We are here to help. Start learning more about your options in a free consultation. Call (212) 751-9800 today.