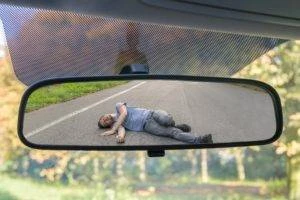 If you were injured in a hit-and-run accident in Philadelphia, a Philadelphia hit-and-run accident lawyer at Morelli Law Firm can assist you with trying to find the person who hit you and explore your legal options. You may be able to file a claim with your insurance company even if you are unable to find the person who caused the accident.
Do not wait any longer to get help with your hit-and-run accident. The longer you wait, the harder it may be to track down who hit you and/or get key evidence for your case. We offer a free consultation so that you can get the answers you need.
Fleeing the Scene of an Accident is Illegal
According to 75 Pa. C.S. §3742, it is illegal to leave the scene of an accident. Drivers have certain duties that they must fulfill if they are involved in an accident, and they cannot leave until they complete them. This includes:
Providing contact information to the other party
Rendering aid as needed, such as making arrangements for someone to go to a hospital
Reporting the accident to the police
A driver who violates this law faces criminal charges for their actions. You can still bring a civil claim against them for damages regardless of any criminal charges against them.
Options After a Hit-and-Run
If you feel like you have no options after a hit-and-run accident, think again. There are a few things that our legal team can help you with to try and find the driver. If possible, we may choose to file a claim through your auto insurer to pursue compensation.
In today's digital world, it can be easier than you think to find someone who fled the scene. We may refer to the following to investigate who the hit-and-run driver might be:
Law enforcement: Filing a police report and telling them what you know about the driver and/or vehicle can help them conduct an investigation. They have resources that can help them track someone down.
Eyewitnesses: If other people saw the accident, they can help you piece together information about the person, such as what they looked like, the car they drove, and the license plate number. They may also have information about which way the car headed after the crash.
Video footage: Many businesses use video surveillance as a safety measure. These cameras can sometimes catch details or information about a crime that happens nearby, like a hit-and-run accident.
The DMV: You can also contact the Pennsylvania Department of Motor Vehicles if you have a partial license plate number or complete license plate number to find more information about who may own the vehicle.
Available Compensation for a Hit-and-Run Accident Victim
There are many types of compensation that you can pursue from the person who hit you and fled the scene of the accident. It is important to understand the rules around compensation and make sure that you account for all of the expenses you have had to pay and will have to pay in the future.
For example, if your injuries are severe or permanent, then it is important to make sure you have enough compensation to cover ongoing medical care. You may also be prevented from working for a period of time and unable to generate income. Some examples of compensatory damages that you might claim in a hit-and-run lawsuit include:
Medical bills
Prescription costs
Medical equipment costs
Physical therapy costs
In-home care support costs
Reduced earning capacity
Loss of income
Reduced quality of life
Pain and suffering
Knowing which expenses are recoverable and calculating your damages can be confusing and stressful for accident victims. You should not have to deal with the stress of this situation by yourself or risk leaving money that you are owed on the table.
Filing an Insurance Claim
If you decide to file an insurance claim, it is important to understand your rights, especially when working with insurance company representatives. There are also different types of insurance to consider when filing a claim about a hit-and-run accident. We may look into what kind of policies you have with your auto insurance, such as uninsured motorist (UM) coverage.
The Insurance Company Will Investigate Your Accident After You File
In general, your insurer will start by investigating the situation to see what happened and who is at fault. They will send someone to inspect the scene of the accident and may also request an inspection of your vehicle. You may have to submit medical records and other information demonstrating your injuries and damages.
The Insurance Company Will Respond to Your Claim
Based on this research, the insurance company will decide whether the crash is covered under your policy, then determine the amount of policy benefits you are entitled to receive. The insurance company may deny coverage or may try to offer you a lowball figure that is less than your policy limits. This can be incredibly frustrating and leave you with the rest of the bills.
Your Lawyer Can Help You Continue Your Pursuit of Compensation if Necessary
Before giving any kind of recorded statement or sending information to your insurance company, it may be a good idea to find out how a Philadelphia hit-and-run accident lawyer from our firm can help.
If the insurance company does not offer a sufficient amount of compensation to cover your damages, our legal team may suggest filing a personal injury lawsuit to continue your pursuit of compensation.
Call Morelli Law Firm for Help Today
Morelli Law Firm is available for a free consultation. Our staff will speak to you even if you have no information about the other party involved in the accident. Take the first step toward getting the help that you need and call (212) 751-9800.