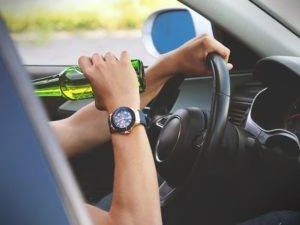 An Albany drunk driving accident lawyer from Morelli Law Firm may be able to pursue a fault-based claim against the drunk driver who caused your accident injuries. It may be possible to hold the driver whose intoxication caused or contributed to your collision accountable through a liability insurance claim or in civil court.
A car accident team member from Morelli Law Firm will review your case for free, assessing your right to compensation and determining your options. Let us evaluate your case at no cost to you. Call (212) 751-9800 now.
Drunk Drivers May Face Both Criminal and Civil Consequences
In Albany, NY, and the rest of the state, there are strict driving while intoxicated rules that apply to drunk drivers. These laws allow for the arrest and prosecution of drivers who knowingly get behind the wheel after drinking. When these drivers cause an accident and injuries, they may face additional–and more serious–charges.
According to the New York State Department of Motor Vehicles (DMV), drunk drivers could face conviction and penalties related to:
Driving While Intoxicated (DWI): A driver has a Blood Alcohol Content (BAC) of 0.08 or higher, or there is other proof they are intoxicated.
Aggravated DWI: The driver has a BAC of 0.18 BAC or higher.
Zero Tolerance Law: A driver commits a zero-tolerance law violation when they have a BAC of between 0.02 and 0.07 and are not yet 21 years old.
Chemical Test Refusal: A driver faces penalties related to a chemical test refusal when they refuse to allow police or medical personnel to test their BAC.
The possible additional criminal charges related to a drunk driving accident include vehicular assault, aggravated vehicular assault, vehicular manslaughter, and vehicular homicide.
While it may provide some comfort to see the drunk driver who caused your accident face criminal penalties, this does little to ensure you receive fair compensation for the injuries, pain and suffering, and other losses you sustained because of their actions.
Call Morelli Law Firm at (212) 751-9800 today to learn if you may be able to secure additional compensation by pursuing a fault-based civil case against the drunk driver.
Proving and Recovering Damages in an Albany Car Accident
After most car accidents in New York, injured victims file a claim based on their Personal Injury Protection (PIP) policy, also known as "no-fault" coverage. This provides payment for medical care up to the policy limits, a portion of lost wages, and a small amount for daily expenses.
However, if your injuries are serious, relying on your no-fault coverage could cause you to lose thousands of dollars as a result of the accident. Meeting an exemption to the no-fault law and seeking pain and suffering damages, as well as additional lost wages and related losses, could ensure you do not suffer from long-term financial hardship as a result of your accident.
In addition, if you can show you qualify to take civil action and prove the drunk driver caused the accident, you can hold that driver accountable for their illegal and dangerous actions. This may be possible through a third-party liability auto insurance claim based on their policy or by naming them the defendant in a civil suit in court.
Morelli Law Firm Represents Albany Car Accident Victims
If you suffered a serious injury because of a drunk or intoxicated driver in Albany, our team wants to ensure you are seeking fair compensation based on your rights and the facts of your case. An Albany drunk driving accident lawyer from Morelli Law Firm may be able to build a case and seek a claim for compensation on your behalf.
We know how to prove our clients qualify to file a fault-based claim and what it takes to hold the drunk driver responsible. This may be possible even if the other driver was not convicted of a DWI or a related charge. We navigate this process for our clients, reducing their stress and letting them focus on healing. You can talk to a team member from Morelli Law Firm today.
Our attorneys work for accident victims in several areas of New York State, including in and around Albany, areas south of Albany, and in and around New York City. We also serve northern New Jersey and Philadelphia. We are standing by to speak with you about your drunk driving accident injuries anywhere in our service area.
Statute of Limitations and Other Deadlines in Your Crash Case
Accident victims must be aware that several deadlines apply following a New York State traffic accident. This includes:
Notification deadlines for their PIP coverage
Filing deadlines for their medical costs and other PIP benefits
New York Civil Practice Law & Rules (CVP) §214, which gives victims up to three years to file a civil suit based on their injuries
Because your legal team may need to survey the scene, work with experts, canvass for witnesses, conduct interviews, and take other steps to gather evidence, we recommend reaching out to us to learn more about how we can help you with your case as early as possible. We regularly work with clients undergoing treatment or rehabilitation and can talk with you as soon as you have an idea about the severity of your injuries.
Discuss Your Options for Compensation with Our Team Today
You may be able to secure a payout in your case with help from an Albany drunk driving accident lawyer at Morelli Law Firm. Our team holds drunk drivers accountable by filing liability auto insurance claims and civil suits when possible. We represent the victims who suffered serious injuries and other losses in these accidents based on contingency.
At Morelli Law Firm, our team offers complimentary consultations for those who suffered injuries in a drunk driving collision in Albany. You can get started with your case today by calling (212) 751-9800.