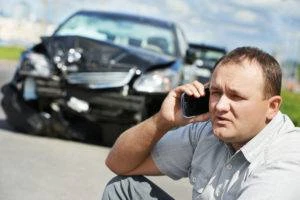 According to the New Jersey state police, drunk driving was one of the top factors behind auto accident deaths in 2020. If you've been injured or lost a loved one in a drunk driving accident, the team at Morelli Law is here for you. Our Jersey City drunk driving accident lawyers will prove that the at-fault party is liable and pursue the highest compensation permissible by law.
We offer legal services on a contingency fee basis, which means we'll represent you for a portion of your settlement. In the unlikely event that your case is unsuccessful, you won't be on the hook for legal fees.
Definition of Drunk Driving in New Jersey
In the state of New Jersey, operating a vehicle with a blood alcohol content (BAC) of 0.08 or higher is considered drunk driving. Even if your BAC is below the legal limit, you could still be charged if an officer determines that the small amount of alcohol you've consumed has negatively impacted your ability to drive.
If you've been injured in an accident caused by an individual who was over the legal limit or slightly impaired, you deserve to seek compensation. A drunk driving lawyer from our firm can source breathalyzer evidence from the law enforcement unit who responded to the accident and use it to hold the guilty driver responsible for your losses.
Damages a Drunk Driving Accident Attorney Can Secure for You
In some cases, your own auto accident insurance can cover medical bills and other expenses from a drunk driving accident. However, if your losses exceed your policy limit, it might be in your best interest to pursue a civil claim against the offending driver.
Our drunk driving accident attorneys in Jersey City can help you build a strong case against the guilty driver. They'll use information from the driver's criminal trial in conjunction with your medical records to prove that the accident had a serious physical and financial effect on you.
If your claim is successful, you can expect to receive any of following drunk driving accident damages that apply to your case:
Medical Bills
Recovering from your injuries could require extensive medical treatment, surgeries, and doctor's appointments. You might also need prescription medication to help you manage pain and other health outcomes. Treatment bills can pile up and take a serious toll on your finances. These damages can help you cover any medical bills you're burdened with.
Lost Wages
Depending on the severity of your injuries, you may have to take time off from work to recover. If you don't have enough sick time or PTO you might have to go on unpaid leave, which could seriously hurt your bank account. Fortunately, our drunk driving accident lawyers can win you damages to replace lost income.
Property Damage
If your vehicle was damaged or totalled in the accident, you shouldn't have to pay for repairs or a replacement. Our team can secure compensation to pay your mechanics bill and cover the cost of a new vehicle. If you need a temporary vehicle to get to work and run basic errands while you wait for your new car, we can also win payment for a rental car.
Vehicle Modifications
If your drunk driving accident has left you with a disability you may need to have your car modified. These damages can cover the cost of installing a wheelchair ramp in your vehicle. They can also cover modifications to your home.
Non-Economic Damages
Non-economic damages can compensate you for losses that are harder to quantify. For instance, if your injuries are causing you a great deal of pain, your drunk driving accident attorney can request damages for pain and suffering.
If you're dealing with anxiety or PTSD as a result of the accident, you might benefit from mental distress damages. They can help you cope with your mental state if you're having nightmares about the crash or if you're experiencing anxious feelings while driving.
Wrongful Death Damages
If your spouse or loved one has passed away in a drunk driving accident, we understand the sorrow and grief you must be experiencing. Our lawyers are prepared to take full control over your claim so that you and your family have space to mourn your tragic loss.
A drunk driving accident lawyer from our firm will file a wrongful death claim on your behalf. If successful, such a claim will yield the funds you need to give the deceased a proper funeral and burial. Wrongful death damages can also compensate for your loss of consortium and income, if you depended on the decedent's wages.
Our Attorneys Can Win Compensation for a Number of Drunk Driving Accident Injuries
Our drunk driving accident lawyers in Jersey City can secure the aforementioned damages for a variety of different drunk driving accident injuries. Here are some of the injuries we see on a regular basis and will be able to build a claim for:
Back injuries
Lacerations
Spinal injuries
Traumatic brain injuries
Broken bones and fractures
Internal injuries
Disfigurement
Loss of limb
Whiplash
Foot, knee, and ankle injuries
Soft tissue injuries
If you're suffering from one of these injuries, we wish you a speedy recovery! We'll do our best to win the payment you need to get back on your feet and return to your normal life. Morelli Law provides the expert legal counsel required to win your drunk driving accident case.
Deadline for Drunk Driving Accident Claims in New Jersey
Like all civil torts, drunk driving accident claims must be filed within the relevant statute of limitations. A statute of limitations is a legal deadline that claims for compensation must be filed before. Waiting too long to file could put your claim in jeopardy and cause you to go uncompensated.
New Jersey Stat. § 2A:14-2 gives drunk driving victims two years to submit a claim, but there may be exceptions to this provision. To give yourself the best chance possible at receiving payment for your losses, you'll want to speak to a drunk driving attorney as soon as possible. They'll know if your case warrants a deadline extension.
Contact Morelli Law Firm to Pursue Legal Action
Our attorneys are committed to holding drunk drivers accountable for the accidents, injuries, and financial losses they cause. If your life has been turned upside down by an individual who made the poor decision of operating a vehicle under the influence, we can help you recover compensation.
Contact the Jersey City drunk driving accident attorneys at Morelli Law Firm today to get started on your civil claim. We offer free case evaluations for all DUI accident victims in the New Jersey area. If we determine that you have a legitimate case, we'll commence our investigation as soon as possible.