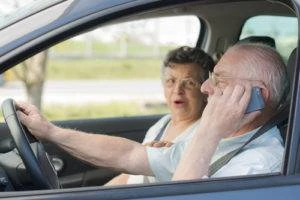 Although many seniors are safe drivers, some may suffer from conditions that make them dangerous behind the wheel. Their family and loved ones may be trying to discourage them from driving, but as long as they have a valid driver's license, they are legally permitted to get behind the wheel.
In 2018, nearly 7,700 elderly individuals aged 65 and older were killed in traffic crashes, while a quarter of a million were treated for injuries at an emergency department, according to the Centers for Disease Control and Prevention (CDC). And as the Baby Boomer generation reaches their golden years, more elderly drivers will be navigating Philadelphia roadways.
If you were hurt in a car accident involving an elderly driver, you may be entitled to compensation. At Morelli Law Firm, a Philadelphia elderly driver accident lawyer may be able to help you determine whether you can bring a claim against the person who caused the accident and the amount of damages that you are eligible to receive. For a free consultation, call our office now: (212) 751-9800.
Financial Compensation After A Car Accident
If someone causes a car accident that leaves you with injuries, medical expenses, and other bills, you can bring a personal injury claim against them to recover compensation. There are a variety of factors to consider before you pursue your claim, such as whether you have enough evidence to prove the essential elements of a personal injury case. The plaintiff has the burden of proving that the elderly individual was negligent. In general, negligence is defined as failing to use the same level of reasonable care and skill that a careful and prudent person would use in the same situation.
A few examples of negligent driving include:
Driving on medication that impairs driving
Driving without a valid driver's license
Distracted driving such as talking on the phone or referring to a map
Falling asleep behind the wheel
Failure to stay within your lane
Failure to use appropriate turn signals
Near-miss accidents
Becoming angry, frustrated, or emotional while driving
One of the most challenging aspects of a personal injury case is proving that the other driver was negligent in some way. Accidents often happen suddenly and without warning. This means that you may not even have seen the other car approaching, making it difficult to know what they were doing. A few types of evidence that your lawyer will try to track down on your behalf include:
Police reports prepared regarding the accident
Eyewitness statements
Video surveillance
Photographs
Inspections of the vehicles involved in the crash
Inspection of the scene of the accident
Consultations with an accident reconstructionist specialist
Your recollection of the events leading up to the accident can also be helpful, such as whether you had the right-of-way at the time of the accident. Working with a lawyer to gather the evidence you need can help take some of the pressure off during this traumatic and chaotic time. If you are dealing with severe or potentially permanent injuries, it can also be difficult to manage your personal injury claim.
Get The Compensation That You Deserve
If you can successfully show that the other driver was negligent, then you can recover compensation for your injuries and damages. There are specific categories of damages that you are eligible to claim:
Emergency transportation fees
Emergency room admission charges
Hospitalizations
Surgeries
Medications
Doctor's appointment copays
Rehab and physical therapy
Lost wages
Reduced earning capacity
Disfigurement or scarring
Pain and suffering
To learn more about the damages you may be entitled to in a personal injury claim or lawsuit, call to speak to a team member today: (212) 751-9800.
The Dangers of Elderly Driving
There are a variety of situations that impact elderly drivers and that compromise their ability to drive safely. They may include:
Medical emergencies while driving
Medications that impair driving abilities
Glaucoma
Dementia or Alzheimer's Disease
Increased risks of stroke or heart attack
Arthritis or limited mobility
Your lawyer will attempt to determine whether some of these factors affected the driving ability of the elderly driver who hit you. If someone is driving too slowly, cannot stay in their lane appropriately, gets lost when traveling regular routes, or ignores traffic laws, then it may be time to reconsider their driving privileges. Unfortunately, not every elderly individual has family or friends close enough to identify whether these are becoming risk factors for their driving.
Morelli Law Firm offers a free consultation during which you can discuss your accident with one of our staff members and find out whether a Philadelphia elderly driver accident lawyer can help you secure the financial recovery that you deserve.
Call Morelli Law Firm for Your Free Consultation Today
Bringing a claim against an elderly driver can be a conflicting experience. Even if they did not intend to cause an accident, they still owe other drivers a duty of care if they choose to get behind the wheel. Although you may feel sympathetic towards someone suffering from a disease like Alzheimer's or dementia, you have medical expenses and other bills that you should not have to take care of on your own.
At Morelli Law Firm, we offer a free consultation to help you figure out your options. This includes discussing the difficult aspects of your case and providing you with legal counsel regarding how to proceed. While you focus on your recovery, we will ensure that your case is being pursued in a timely fashion while keeping you informed in the process. To learn more about whether a Philadelphia elderly driver accident lawyer can help you, call now: (212) 751-9800.