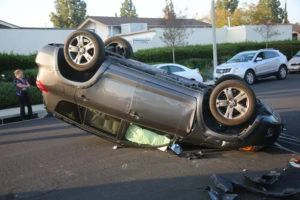 If you were injured or someone you love was fatally injured in a rollover collision, our car accident team might be able to help you file a personal injury lawsuit against the at-fault driver. Doing so can help you recoup the costs of the accident and ensure you are not forced to pay these expenses on your own.
Contact our car accident team to find out how a New Rochelle rollover accident lawyer might be able to help you fight for monetary compensation. Call (212) 751-9800 to reach Morelli Law Firm and start building your financial recovery lawsuit today.
Establishing Negligence in a Rollover Accident
Rollover accidents can be especially violent and lead to severe physical and financial damages. Finding out what caused the rollover accident you were involved in might help our case review team prove the at-fault driver's negligence. Once negligence is proven, you might be able to establish your right to financial compensation.
The National Highway Traffic Safety Administration (NHTSA) points to some factors that might lead to impacts forceful enough to cause vehicle rollovers, including:
Taller vehicles, like trucks and SUVs
Exceeding the posted speed limit
Driving too fast for conditions
Alcohol use, which impairs judgment
In some instances, rollover accidents might occur as the result of routine driving maneuvers that point to driver error as the underlying cause. These driver errors might include distractions, inattentiveness, or fatigue. Our legal team may be able to help you use your crash report and other evidence to prove the cause of your accident and the liability of the at-fault driver.
Your Crash Report May Be the Foundation of Your Case File
Because your vehicle likely sustained substantial damage or may even have been damaged beyond repair in the accident, filing a crash report is a legally mandated obligation in New Rochelle. According to the New York State Department of Motor Vehicles (DMV), a report is also required if the accident resulted in injuries or fatalities.
Your crash report will tell our team how to contact all involved parties, what factors and causes contributed to the initial impact of the collision, what witnesses saw and heard, and what police officers observed at the scene. In addition to your crash report, we may also build your case file using:
Medical bills
Injury photos
Medical records
Insurance forms
Vehicle repair bills
Employment records
Accident scene photos
Vehicle replacement costs
Save a copy of your official crash report and any additional information you have available that may support your case. A New Rochelle rollover accident lawyer might be able to assist you in using the information in your case file to substantiate your right to financial recovery. Get in touch with Morelli Law Firm by calling (212) 751-9800 today.
You May Be Entitled to Financial Compensation After a Rollover Accident
A rollover accident might leave you with a wide range of physical injuries as well as significant vehicle damage. You might be able to recoup the costs of these financial expenses and losses from the at-fault driver through a lawsuit. According to New York Insurance Law (ISC) §5102, you may be entitled to:
Current and future medical expenses
Current and future loss of income
Required non-medical care and assistance
Property repair or total replacement
Physical pain and suffering
Mental and emotional anguish
When our team helps assess your financial damages, we work to ensure your lawsuit is accurately valued and no valid expense is overlooked.
Understand the Danger of Filing Your Lawsuit Too Late
New York State determines the amount of time you have to file a lawsuit after a car accident in New Rochelle. If the allotted amount of time expires before your lawsuit is filed, you may not be allowed to file it at all. In that case, the at-fault driver's representative may ask for the immediate dismissal of your case—a request that is likely to be granted.
If that happens, you might not have any other options for legally compelling the at-fault driver to compensate you. With that, there are two primary timelines you need to be aware of because they may affect your right to compensation.
Generally, the deadline for filing a personal injury lawsuit is three years, according to New York Civil Practice Law & Rules (CVP) §214. Because rollover accidents can be particularly violent, they may result in loss of life. If someone you love was fatally injured in a rollover crash, the general deadline for filing a wrongful death lawsuit is two years, according to New York Estates, Powers & Trusts (EPT) §5-4.1.
The sooner you involve our legal team in your pursuit of financial compensation, the more time we have to make sure your lawsuit is filed on time. Early involvement also means we have time to locate witnesses and build a strong evidence file.
Recover from the Impact of a Rollover Accident
Because of the potential for significant injuries and devastating property damage, recovering from the physical and financial impact of a rollover accident might be particularly costly. You do not have to pursue the at-fault driver on your own.
Our legal team might be able to help you build a solid case for financial compensation. Contact Morelli Law Firm by calling (212) 751-9800 today to learn more about how a New Rochelle rollover accident lawyer can help you.