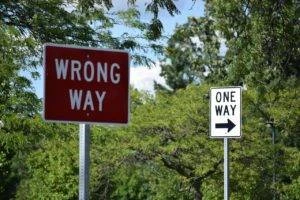 According to Insurance Information Institute (III) statistics, 1,243 wrong-way accidents were reported in 2018, accounting for 2.4% of all accidents that year. A wrong-way accident happens when one car travels against the flow of traffic and collides with another car.
To seek compensation from the liable driver, our team may be able to help you prove that their actions breached their responsibility to provide you with ordinary care. We can also help prove that the at-fault driver's negligence caused your physical injuries and led to your financial damages.
If a wrong-way driver injured someone you love, you might be able to hold the individual financially liable for the physical and financial consequences of the accident. A New Rochelle wrong-way accident lawyer can help you build an effective lawsuit and prepare it for timely filing. Contact Morelli Law Firm's personal injury team by calling (212) 751-9800 when you are ready to seek financial compensation.
Understanding New York's Statute of Limitations
You can pursue a wrong-way driver for the negligence that led to your accident by filing a personal injury lawsuit that allows you to seek compensation. You are required to file your lawsuit within an allotted time. According to New York Civil Practice Law & Rules (CVP) §214, your personal injury lawsuit must generally be filed within three years of the accident date.
Failing to file your lawsuit within that time might put your ability to collect compensation at risk. It may mean:
You will not be permitted to file your lawsuit at all.
Your lawsuit will be dismissed without ever being heard.
By involving our team in your pursuit of compensation early, we may have time to ensure the timely filing of your lawsuit. Timely filing may also allow us to avoid the harmful consequences of missing the deadline.
Understand Your Potential Financial Compensation
When a wrong-way driver causes a collision in New Rochelle, New York, state law allows you to seek compensation for your injuries, health care, and any related expenses. According to New York Insurance (ISC) §5102, the at-fault driver might be financially responsible for:
Economic losses, including medical bills, property damage, and income loss
Non-economic damages, including pain and suffering, mental anguish, and emotional distress
Your recoverable economic damages may include emergency, hospital, therapy, and rehabilitation expenses. We may assist you in compiling the documents, pay stubs, and receipts that prove the financial damages you incurred. Our case review team may work with you to assign a financial value to your potential lawsuit.
Common Wrong-Way Accident Injuries
The injuries you sustain in a wrong-way accident in New Rochelle might change your physical appearance and abilities. Depending on the severity of your injuries, you might be faced with prolonged pain and discomfort that prevent you from returning to work or taking care of your personal needs. Your injuries may include one or more of the following:
Concussion
Whiplash
Broken bones
Fractures
Spinal injuries
Your health care team can develop a treatment plan that our legal team might be able to use to prove the current and future costs of your injuries. In addition to known and anticipated medical care, you may also be entitled to the costs of in-home domestic or medical assistance and any required assistive medical devices.
Get a Copy of Your Crash Report
As soon as your crash report is available, obtain a copy for your records and share one with our team. We may pull important details from your crash report that help prove the at-fault driver was driving the wrong way. It may also indicate the extent of your injuries at the accident scene and help establish your right to compensation for your medical expenses.
Additionally, your crash report may provide us with the following details that could help us conduct an independent investigation:
Police photos
Contact information
Vehicle damage
Vehicle speeds
Vehicle direction
Investigative notes
Accident diagrams
Points of impact
The New Rochelle wrong-way accident lawyer who helps you navigate the financial compensation process may request additional evidence. In addition, we may also identify, locate, and interview witnesses who substantiate your recollections of the accident.
You do not have to fight for financial recovery alone. In addition to proving the cause and financial impact of the accident, we may also negotiate a financial settlement on your behalf. Contact the personal injury team at Morelli Law Firm by calling (212) 751-9800 today.
We May Negotiate a Favorable Financial Resolution to Your Lawsuit
A financial settlement between you and the at-fault driver may allow both parties to avoid going to court while still resolving your pending lawsuit. Our team may assign a monetary value to your injuries that guides our negotiations. After you accept an offer, you may sign a waiver relieving the at-fault driver of any further financial responsibility.
Because the waiver you sign is binding, we can review your lawsuit's value as well as the feasibility of each monetary amount you are offered. Our goal is to ensure that you receive a favorable settlement for the compensation to which you are entitled. If you cannot reach a settlement agreement with the at-fault driver, our team could represent you in court.
Let Our Team Fight for Your Personal Injury Compensation
The injuries you sustain after a wrong-way accident could require lengthy recovery time. If someone you love was injured in a wrong-way accident, you may also require significant time to aid in their recuperation.
While you focus on your health care, our New Rochelle wrong-way accident lawyer might be able to get the personal injury compensation process started for you. When you are ready to put our team to work on your financial recovery, contact a team member at Morelli Law Firm by calling (212) 751-9800 immediately.