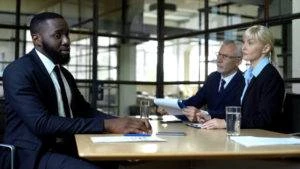 If you experienced employment discrimination in Passaic, you may be able to file a claim against your employer with help from our law firm. An employment discrimination lawyer from our team can build a case that proves your right to recover compensation for the harm this behavior caused you.
Your Workplace Protections May Qualify You for Damages
Discrimination in the workplace is illegal in the U.S., according to the Equal Employment Opportunity Commission (EEOC). Employment discrimination is any discrimination in the workplace based on personal factors, such as a person's sex, gender, religious beliefs, or any disability they may have. It can involve:
Harassment
Unfair treatment
Denial of reasonable changes in the workplace, when requested for religious or disability reasons
Inappropriate questions about your genetic/medical information
Employer retaliation
If you experienced discrimination that does not fall into these categories, this does not necessarily bar you from filing a claim against your employer. Our team can explain this further when we review your case.
How an Employment Discrimination Lawyer Can Help You Build Your Case
A lawyer from our team at Morelli Law Firm can help you file a claim against your employer for discrimination. Some of the advantages we can provide during this process include:
Examining your case for evidence of discrimination
Proving your employer's liability
Collecting evidence to support your claim
Demonstrating how you were affected by the discrimination
Communicating with the defendant and their lawyer
Keeping you well-informed
What to do After Experiencing Discrimination in the Workplace
There are two steps to taking action after workplace discrimination: filing a complaint with the EEOC and filing a personal injury claim against your employer.
Filing a Formal Complaint with the EEOC
Before you can file an injury claim, you must have a complaint on file with the EEOC.
Depending on the workplace discrimination guidelines in your employee handbook, you may have to file a complaint through your employer before filing a complaint with the EEOC.
Typically, you have 180 days from the first instance of discrimination to file a complaint. If you are unsure if your date to file has passed, our team can provide this information.
Filing an Employment Discrimination Injury Claim
Once you file your EEOC claim, you can begin your discrimination injury claim against your employer. A personal injury claim allows you to seek damages to compensate you for the discrimination.
Compensation in these types of claims can cover any wages you lost at work while the case was in progress, any emotional distress you suffered, and other damages.
We Represent Victims in All Types of Employment Discrimination Cases
The following are the most common types of discrimination experienced in places of employment in the United States. Our team can build an employment discrimination injury claim around any one of these.
Gender or Sex Discrimination
The EEOC states that the Equal Pay Act of 1963 (EPA) protects workers from discrimination based on their sex or gender. This includes protection during:
Hiring: Potential employers cannot discriminate against job applicants you simply their sex or gender.
Firing: Employers cannot terminate employment based on sex or gender.
Promotions: Employees cannot be passed over for promotions if they are eligible and have equal experience to the person who is chosen solely because of their gender or sex.
Pay scales: A female employee cannot be paid less than a male coworker for the same job if they have equal skills and experience levels.
Gender or sex discrimination by an employer may come out in other ways as well, such as denying training to a woman that a male coworker received. Title VIII of the Civil Rights Act of 1964 also protects against:
Sexual harassment
Pregnancy discrimination
Discrimination due to sexual orientation or gender status
Race, Color, or National Origin
Title VIII of the Civil Rights Act of 1964 protects U.S. employees from discrimination based on race, color, or national origin, as stated by the EEOC. Employment discrimination based on these factors can be far-ranging, but they may include refusing to promote you based on the color of your skin or making inappropriate comments about your nationality.
Age Discrimination
The Age Discrimination and Employment Act of 1967 protects employees from discrimination based on age, such as setting preferences for hiring employees of a certain age. This also includes denying benefits to older employees.
Religious or Cultural
An employer may not discriminate against you due to your religious or cultural beliefs, according to Title VIII. This includes discrimination due to assumptions about your lifestyle or your partner. It also includes denying you certain rights or workplace accommodations necessary for your religious beliefs.
Disability Discrimination
According to the U.S. Department of Labor (DOL), the Rehabilitation Act of 1973, the Americans with Disabilities Act (ADA), and several other federal laws protect qualified workers with disabilities in the workplace. This protection includes protection in the hiring, firing, and other employment processes.
Employer Retaliation
Federal discrimination laws also protect you from retaliation by your employer when you file an employment discrimination claim. For example, your employer cannot fire you for reporting such behavior. Other examples of employer retaliation include:
Forcing you to change job positions (demotion)
Harassing you
Changing your pay rate or benefits
Forcing you to take an unpaid leave of absence
A member of our team can review your case and discuss if your situation puts you in a position to file an employment discrimination claim in Passaic.
Take Action Against Employment Discrimination Today with the Attorneys on Our Team
If you or a loved one are experiencing employment discrimination, you have legal options. You can learn more about these options when you get in touch with our team.
Contact Morelli Law Firm today at (212) 751-9800 and let us put our proven case results to work for you.