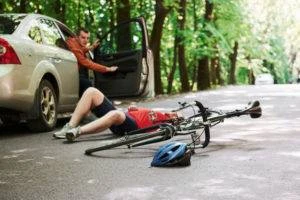 Bicycle accidents can have physically, mentally, and financially devastating consequences. If you've collided with a car, truck, or bus while riding your bike in Passaic, a bicycle accident lawyer from our firm can help you take legal action.
An attorney from Morelli Law will assist you in investigating your accident, constructing a bicycle accident claim, and negotiating a settlement with the at-fault driver's insurance provider. Once your claim is resolved, you'll have the money you need to pay medical bills and take time off from work to recover.
Our Lawyers Can Secure Compensation for Your Passaic Bicycle Accident
Bicycle accidents typically result in a number of different monetary and non-monetary losses. To secure compensation for all the losses you've suffered, your attorney will need copies of your medical bills, pay stubs, and any other records you have that are relevant to your case.
Once your lawyer has determined exactly how much compensation you're eligible to receive, they'll file a bicycle accident claim in Passaic for the following damages:
Medical bills. These damages can cover the cost of any medical treatment or prescription medication your injury requires. In addition, they can cover current and future expenses.
Lost income. If you have to take unpaid time off from work to recover from your bicycle accident injury, a Passaic attorney can win payment to make up for the income you miss out on.
Lost or decreased earning capacity. Serious injuries can make it difficult or even impossible for victims to complete the work their employers expect from them. If your injuries prevent you from fulfilling work duties, your bicycle accident attorney can add these damages to your claim.
Bike damage. If your bicycle was damaged in the accident, these damages could cover the cost of repair or replacement.
Pain and suffering. Some injuries can cause prolonged and chronic pain. If your bicycle accident has caused you to suffer day after day, a lawyer from our firm can get you compensated.
These are just a few of the damages you may be entitled to after a bicycle accident in Passaic. Our attorneys will evaluate your situation and secure the highest amount of compensation possible for your suffering and financial loss.
Negotiating a Bicycle Accident Settlement With Insurers in Passaic
The majority of bicycle accident claims in Passaic, NJ, are resolved via a settlement from the guilty party's insurance provider. To get you the money you need to pay your bills, our lawyers will bring your claim to the driver's insurer and negotiate a settlement.
Insurers are known for their reluctance to settle, but our bicycle accident lawyers are known for their first-rate negotiation skills. They'll use their expertise to persuade the insurance company to offer a settlement that covers all of your losses.
Types of Bicycle Accident Injuries Our Attorneys Can File a Claim for
When negligent drivers collide with unsuspecting cyclists, there's a lot that can go wrong. Fortunately, our bicycle accident lawyers in Passaic can help you file a claim no matter what kind of injury you're dealing with. Our team has won compensation for clients suffering from a number of different injuries, including:
Skull fracture
Brain contusion
Facial and dental fractures
Broken bones
Lacerations
Eye or vision damage
Spinal injury
Neck and back injury
Organ damage
Internal bleeding
If you've suffered one of the injuries listed above in a bicycle accident, the team at Morelli Law can help you make a full recovery. We'll investigate your accident, prove that the offending driver is liable for your losses, and build a convincing claim on your behalf.
Benefits of Hiring One of Our Passaic Bicycle Accident Attorneys
When you hire a bicycle accident attorney from Morelli Law, you're enlisting the services of a lawyer who has secured favorable results for hundreds of accident victims in Passaic, NJ. If you choose to work with one of our attorneys, you'll enjoy a number of benefits, such as:
Peace of Mind
Once you've handed your case off to an experienced bicycle accident attorney, you won't have to worry about your meeting deadlines or anything else related to your claim. Your lawyer will manage every aspect of your case, so you can relax and focus on recovering from your injury.
Effective Communication
Our attorneys will keep you informed on their progress throughout the entirety of your case. Whenever a new development arises, you'll be the first one to know. You won't have to worry about your lawyer leaving you in the dark or failing to fully explain an issue with your claim, because the entire team at Morelli law possesses excellent communication skills.
Contingency Fee Representation
Our lawyers offer representation on a contingency fee basis for all bicycle accident victims in Passaic. A contingency fee is a portion, typically one-third, of the settlement you receive from your claim. A contingency fee agreement will make your life music easier, as you won't have to pay any upfront or out-of-pocket legal fees.
Contact Our Attorneys Today to Begin Your Bicycle Accident Injury Case
Don't wait another day to get the compensation you need to recuperate from your injuries. Delaying your claim any further could cause you to miss the deadline set by New Jersey's statute of limitations. Contact a bicycle accident lawyer in Passaic today to make sure your claim is filed on time.
In addition to meeting important deadlines, our attorneys will investigate your accident, build your claim, and pressure the guilty party's insurance company until they offer the settlement you deserve. Contact Morelli Law to schedule a free case evaluation.