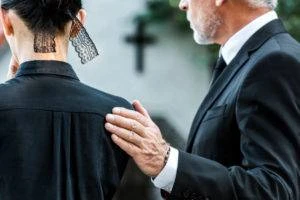 With the help of a wrongful death lawyer from our firm, you may be able to recover damages to pay your bills, support your family, and more after losing a loved one to another party's negligence. We charge no attorney's fees upfront, and you only have to pay us if you receive damages. Our team is ready to support you in your Passaic wrongful death case.
Legal Representation Can Take the Burden Off Your Shoulders
After losing a loved one, you should not have to deal with filing stacks of legal paperwork and negotiating with insurance companies or attorneys. A wrongful death lawyer from Morelli Law Firm can manage your case on your behalf to limit any further stress and responsibility you are now facing.
Our team can do all of the following and more in pursuit of your compensation:
Defer payment: You will pay us nothing out of pocket. Instead, we take a percentage of your compensation if—and only if—we win your case.
Advise you about your options: We make sure our clients are well-informed so that they can make the best possible legal decisions.
Investigate the accident: We can seek evidence to prove that the liable party was negligent, and their negligence caused your loved one's accident.
Identify all liable parties: The investigation may confirm that the liable party is who you think it is, exposes the actual liable party, or show that there is more than one liable party (in which case, you can sue them all).
Negotiate for compensation: If the liable party's insurance company is willing to offer a settlement, we will make sure that it includes everything you need.
Go to trial: Not all cases end up in court, but we do not shy away from the courtroom. If the only way to get you fair compensation is through a trial, we will schedule one as soon as possible.
On behalf of everyone at Morelli Law Firm, we are sorry for the loss of your loved one. We want to help you through this difficult time by fighting on your behalf for monetary compensation. Members of our team are standing by to discuss your case.
Compensation in Passaic Wrongful Death Cases
Receiving compensation after a wrongful death serves several purposes. In addition to holding the liable party responsible for their negligence, the funds you receive will make sure you have one less thing to worry about as you rebuild your life.
Non-Economic Damages
You may qualify for non-economic damages if your loved one's injuries caused them physical and mental distress as well as emotional distress you and your family experienced because of the loss. Examples include but are not limited to:
Loss of companionship: Your loved one can no longer provide you with comfort, affection, or guidance.
Pain and suffering: The injury was psychologically and physically traumatic for your loved one prior to their passing.
Economic Damages
You may qualify for economic damages if your loved one's injuries cost them or your family money. Examples include but are not limited to:
Funeral expenses: If the costs associated with laying your loved one to rest and settling their estate fell on your shoulders
Medical expenses: If your loved one sought treatment for their accident injuries, such as an ER visit, surgery, home nursing, and so on
Loss of employment: If your loved one missed out on wages between the accident and their death
Loss of financial support: If you depended on your loved one's income to support yourself and your family
How many different kinds of compensation do you qualify for, and how much money can you expect to recover? The answers to these questions vary on a case-by-case basis. Our team at Morelli Law Firm can help you account for every damage and fight for the recovery you deserve.
Finding Out if You are Eligible for Damages
According to NJ Rev Stat §2A:31-1, priority for wrongful death damages is given to those who were dependent on the deceased, particularly a surviving spouse or child. If any such individuals wish to file a lawsuit, they must do so within two years of the death, per NJ Rev Stat §2A:31-3. Many types of fatal accidents are compensable, including but not limited to:
Car accidents
Truck accidents
Construction accidents
Medical or surgical errors
Accidents caused by defective products
Proving Your Right to Recover Damages
The key to receiving compensation is demonstrating that someone else's careless or reckless behavior caused the fatal incident. You can hire a lawyer from our firm to investigate your loved one's death and collect evidence from sources like:
Medical records: This can be useful in any case for damages, as it creates a connection between the accident and your loved one's fatal injuries.
Statements from experts: An expert from the same field as the liable party can explain how the liable party's actions went against standard practices.
Statements from witnesses: Anyone who saw your accident can confirm what happened or provide additional context.
Personal photos or video: Footage was taken by you or a witness can also corroborate your story.
Security video: Cameras from nearby buildings may have caught the incident on tape.
Police reports: If the police were called (i.e., to report a motor vehicle accident case), they likely filed a report about the accident containing important details.
Our Team of Attorneys is Ready to Discuss Your Case
Morelli Law Firm is proud to serve communities throughout the mid-Atlantic states, including cities like Passaic, New Jersey. If you are looking for a wrongful death lawyer to manage your case, call our office at (212) 751-9800 as soon as possible. We can begin your consultation in one quick, free phone call.