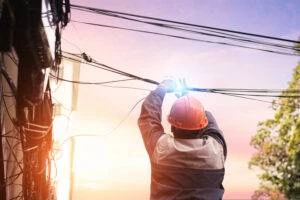 Passaic County, New Jersey, is known for its vital efforts in manufacturing and contributions to economic growth. Surrounded by Sussex, Morris, Essex, and Bergen, Passaic's innovative and technology-driven history makes it a hub for industrial jobs like electricians, high-tension line workers, factory workers, and more.
Needless to say, the focus on technology and manufacturing also increases people's exposure to fatal shock hazards. Electrocution wounds can be among the most dangerous and unpredictable types of personal injuries that a person can sustain. The high voltage can cause catastrophic injuries that create long-term life changes.
Legal help for those who have experienced electrocution harm is one of many ways to maximize your settlement. The Passaic electrocution attorneys of Morelli Law are available to help you collect compensation if you have been seriously injured.
Financial Compensation for Electrocution Victims in Passaic County
For Passaic County electrocution victims, receiving financial compensation can be crucial to getting back on your feet and taking care of the numerous expenses incurred by a major accident. A Passaic personal injury lawyer can help with the aftermath.
Because safety violations or employer negligence frequently result in electrocution deaths and injuries, the victim (or their family in situations of death) may be entitled to financial compensation through a personal injury lawsuit.
The average electrocution personal injury settlement covers:
Medical expenses

Reduced income

Long-term disability or disfigurement

Pain and suffering

Emotional distress

Property damage
Since each factor is unique, the amount awarded will be relevant to the details of your Passaic electrocution accident. A skilled workplace injury lawyer from our firm will estimate the value of your claim closer to the end of your medical treatment to request the most accurate amount in your compensation demand letter.
Who is At Fault for Accidental Electrocution?
Depending on the situation, several parties may be at fault for an accidental electrocution incident. Potentially culpable parties can all receive a demand letter to request compensation for your sustained injuries. Our Passaic electrocution lawyers have frequently found the following parties to be liable:
Owners/Occupiers of Real Estate Can Be Liable for Shock Hazards
If an electrocution happens on a third party's property, the owner or occupier may be held accountable if they neglected to keep a safe environment or ignored known electrical hazards. This could involve problems like poor wiring, exposed electrical parts, insufficient signage or warnings, or poor electrical system maintenance.
Contractors/Electricians May Be At-Fault for Poor Electrical Safety
The contractor or electrician in charge of the job may be held liable for negligence if the electrocution was caused by shoddy electrical work or inappropriate installation. This might apply to instances when electrical equipment was improperly grounded, wiring was improperly installed, or safety regulations were not followed.
Manufacturers/Suppliers Can Be Sued for Defective Items
In some situations, an electrical product or component with a flaw may be to blame for the electrocution. If it can be shown that the flaw in the product directly caused or contributed to the accident, the manufacturer, distributor, or supplier of the defective goods may be held accountable for the injuries.
Employers May Be Responsible For an Electrocution Workplace Incident
If an employee is electrocuted at work, the employer could be held liable if they failed to maintain a safe working environment as mandated by the Occupational Safety and Health Administration (OSHA) or disregarded safety protocols. Inadequate training, a lack of safety procedures, a failure to examine or maintain electrical equipment, or a failure to address electrical dangers that have been identified are examples of this.
Individuals Could Be to Blame for the Increased Risk of Shock
In some circumstances, the electrocution may have been caused directly by the actions or negligence of an individual. For instance, if someone purposefully ignored safety measures or tampered with electrical equipment, they may face personal liability.
Finding fault necessitates a thorough investigation, a review of the available evidence, and an evaluation of the relevant legal and regulatory framework. It is essential to speak with an experienced Passaic personal injury lawyer who can evaluate the particulars of your situation, compile evidence, and choose the best legal course of action to increase your settlement.
Health Conditions Caused By Electrocution Accidents
Depending on the specifics of the incident, electrocution accidents can result in a variety of medical illnesses and injuries that can range in severity from minor to severe. The National Library of Medicine reports that at least 30,000 electrocution mishaps end up being non-fatal, but potential health issues include the following:
Burns

: Burns from electrocution incidents can be classified as

thermal burns

, electrical burns, or both. Thermal burns can happen if the person comes into contact with heated objects or surfaces during the occurrence, as opposed to electrical burns, which are caused by the heat produced by the electric current as it goes through the body.

Cardiac problems:

Electric shocks may interfere with the heart's natural rhythm and increase the risk of cardiac issues such as

arrhythmias

, heart palpitations, and cardiac arrest.

Neurological trauma:

Damage to the nervous system from strong electric shocks can result in neurological problems such as nerve damage, loss of feeling, muscle weakness, paralysis, and even long-term neurological illnesses.

Musculoskeletal injuries:

such as fractures, dislocations, sprains, and strains, can be brought on by the powerful muscular contractions that can take place during an electric shock.

Respiratory issues:

Electrocution incidents may result in respiratory problems, such as breathing difficulties, lung damage, and even respiratory arrest.

Psychological trauma:

Due to the horrific nature of the incident, survivors of electrocution accidents may also have psychological trauma, such as post-traumatic stress disorder (PTSD), anxiety, depression, or other mental health issues.
Even if there are no obvious injuries, it is imperative to get medical help right away if you or someone else has been in an electrical accident. A medical expert will be able to determine the severity of the wounds, administer the proper care, and suggest any required aftercare.
Consult With a Passaic County Lawyer for Free About Your Electrocution Case
The attorneys at Morelli Law understand the difficulties of medical bills, loss of wages, and other damages that can arise from an electrocution accident. Our experienced electrocution lawyers in Passaic, NJ, are well-versed in the ins and outs of personal injury law and can help you get the compensation you deserve so that you can focus on recovering from your injuries.
We have decades of experience representing clients in Passaic County and look forward to meeting with you in a free consultation case review session to discuss the value and expectations of your claim. Contact us today!