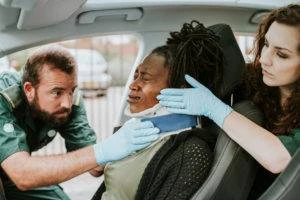 Did you know even minor whiplash can cause a spinal cord injury? Spinal cord injuries can require years of medical care and may never fully heal. You don't want to be stuck with the bill for your medical care and lost income from your injury if someone else caused it.
Fortunately, there is hope. You can contact one of our spinal cord injury attorneys in Passaic for a consultation. We will listen to your story and determine if you have a case worth pursuing through the civil justice system. The Morelli Law Firm is on your side.
What Compensation Could I Get for My Spinal Cord Injury?
Any consequence you've experienced because of your injury could be an opening to compensation. In legal terms, these unwanted consequences are called damages. Compensation from a personal injury claim should repair these damages.
While no amount of money can fix some consequences, the law allows you to get something if your case qualifies. Some things you can receive compensation for include:
Past and future medical bills
Lost wages and disability payments
Renovations to your home to accommodate your recent injury
Medical equipment
Property repair and replacement (e.g. your car after an accident)
Therapy for the mental trauma you've experienced
There are many other kinds of damages, like pain and suffering, that can multiply the amount of money you can get from a claim or a lawsuit. It takes a lawyer with experience to know all the consequences of spinal injuries and how to build a case to claim those damages.
What Should I Do After My Accident?
Maybe you had some whiplash and a bit of a headache after your accident, but feel fine now. If you haven't seen a doctor, do so immediately even if you think you're okay! Your body might still be in shock.
Early detection and treatment by your doctor will give you a much better outcome for your health and for your case. By going to a doctor as soon as you can, it shows that you care about your health and, should there be an injury, that your accident caused your injury. This is an important part of winning a case.
After you've seen a doctor, contact a spinal cord injury lawyer in Passaic from Morelli Law Firm. Our testimonials show how much we've helped our past clients who have suffered from injuries that weren't their fault.
What Will My Spinal Cord Injury Lawyer Do for Me?
Spinal injury lawyers have the same duties as any other personal injury lawyer. Their job is to represent your interests and advocate for compensation you're owed. Here are some of the many things your lawyer will do for you:
Conduct interviews and request records to build your case
Corroborate your story and find out who the responsible parties are for your injury
See if they're insured and for how much
Submit claims and talk with insurers on your behalf
Negotiate with all parties to come to a fair settlement, if possible
Take your case in front of a judge if necessary
Keep you in the loop about what's happening with your case
Give you legal advice to preserve your claim and maximize your chances of compensation
In short, they will do everything they can to deal with your legal situation while you focus on healing from your injuries.
How Do I Pay a Spinal Cord Injury Lawyer?
Everyone has the right to pursue a civil court claim should their case meet the requirements. Financial ability is not one of the requirements. All personal injury lawyers use a contingency fee system for their clients.
What this means is that you do not have to pay us anything unless you win your case. All attorney's fees are taken out of the settlement amount. Often it's a percentage of the entire amount, rather than a flat fee. This ensures that you can pay your lawyer's fee regardless of what you win.
If you lose your case, you do not have to pay us anything. It is our punishment for failing a client and an incentive to do the best job we can. We will explain all the details of our contingency agreement at your consultation if we feel you have a case.
Getting Started With Morelli Law Firm
To see if one of our Passaic spinal cord injury attorneys can help you with your situation, call Morelli Law Firm or use our free case evaluation link. We will schedule an appointment with you to discuss your situation and explain your legal options.
Your consultation is free and without obligation. If you cannot come to us because of your injury, we can make arrangements to meet with you or speak with a representative on your behalf.