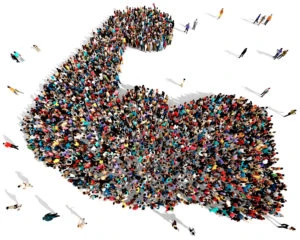 When people are harmed by an organization, they need a representative that is well-versed in civil law. If you are aware of a group of people being injured or otherwise harmed by negligence, descrimination, or harassment by big business, you have the right to pursue compensation.
Class action lawsuits offer power to people who may not otherwise have the financial means to pursue their claims. As trusted advocates for victims, Morelli Law Firm can help you to take on the giants of the world.
With representation from our Passaic class action attorneys, you can face down giant corporations, government agencies, or educational institutions that have caused you harm.
How to Choose the Best Attorney for Your Class Action Lawsuit
You may be seriously considering filing a class action lawsuit, but you don't know where to begin or how to find the right attorney for your situation. These guidelines can help you to decipher which lawyer will best suit your needs and offer the best outcome for your particular situation.
Experience and Success With Class Action Lawsuits
This is a primary concern. It's critical to find an attorney who serves as the lead counsel in class action cases. A Passaic class action attorney will have expertise that is specific to class action filings and procedures.
Some skills they should be very familiar with include filing appropriate paperwork, pleading and proving class certification, and finding the best representatives in your class to represent the group, to name a few. An experienced class action lawyer will evaluate your case and offer guidance on filing a suit by yourself or filing a class action.
Consider the Location
Class action litigation can be somewhat localized or in some cases, the geographic distribution of people affected may be nationwide. Identifying where jurisdiction in the case lies and filing the claim with the correct court is important because courts will only hear cases in their jurisdiction.
Your case may be tried in state, district, or even federal courts depending on the jurisdiction and circumstances of your case. The procedural difference between courts can be vastly different from municipal courts, so it is critical to hire an attorney with experience working in higher courts, and who understands the jurisdictional possibilities of a class action lawsuit claim.
Compatibility With the Attorney
As the primary plaintiff in your class action suit, you will be spending a lot of time communicating with your lawyer. While the attorney doesn't necessarily have to be your best friend, it is wise to select one that you get along with and who can communicate appropriately with you.
Having a solid working relationship with your class action lawyer is important in making the process go smoothly. You may want to consider the following questions when you are selecting the attorney for your case.
How do you get along with the lawyer?
Are your questions answered in a way that is understandable to you?
How comfortable do you feel talking openly with the attorney about the case?
How available is the attorney? Is accessibility a problem?
This is by no means an exhaustive list, but it will help you to think of these questions as you proceed to your next steps. Find a class action law firm that is experienced and responsive. Then, make sure that the lawyer and their team also take the time to answer questions, value your input and take you and your concerns seriously.
Fee Structure for Your Case
Choosing a lawyer who is open and transparent about their fees should be of paramount importance when you are in the selection process. Usually, class action attorneys work on a contingency fee basis, meaning that they only get paid if your case is successful. The lawyer's fee is a percentage of the award or settlement in the case.
Avoiding misunderstandings with the attorney will go a long way in securing your comfort level throughout the process and having it in writing is critical before signing on to a lawsuit. If there are any questions about fee structures for your attorney, you shouldn't be afraid to ask. They should be happy to discuss it and get it ironed out efficiently before you sign the dotted line.
Is It Difficult to Get Class Certification for a Class Action Lawsuit in New Jersey?
Before you can pursue a class action suit in Passaic or anywhere else, it is necessary to have your class certified by a judge. Your lawyer will stand before the court to petition that you and your peers have a valid case legally, and that enough people were harmed by the complaint to constitute a class action.
Obtaining class action certification for your case can be challenging. When people begin to organize and take action on suing a large corporation, their attorneys have good reason to fight against your certification. But first, the certification process assesses whether these four requirements appear to be met:
Numerosity
There is not a set legal guideline as to how many people must be involved on the plaintiff's side of a class action lawsuit, but generally more is better. If there are less than a few dozen, a judge is not likely to proceed with a class action certification. In some cases, your Passaic class action attorney can petition for certification if your numbers are small but the case warrants it.
Commonality
There has to be a common question to be answered in order to meet the requirements of commonality. A general allegation of fraud without specifically identifying and defining the common fraud that class members have been victims of isn't enough. A skilled class action attorney can argue the commonality of your complaint if it becomes a factor.
Typicality
As go the claims of the class representatives, so go the claims of the class. A claim is typical if all the class members have complaints that resulted from the same behavior or situation that created their problem, and if they are based on the same legal theory.
Typicality means that your interests are the same as those of your class. In other words, while you are pursuing a claim for your own interests, you are advancing the interests of the other members in the class.
Adequacy of Representation
The representatives of your class action must not have any major conflicts of interest with any of the other class members. Further, your attorney must be competent and ready to fight vigorously for your interests, and there must be adequate financial resources available.
The judge will decide these factors to ensure that you are represented fairly before certifying your class.
An attorney skilled in class action lawsuits will conduct an investigation to find the strongest representatives for the suit to present in court. They will be prepared to counter the defendant's arguments against class certification, as well as provide you with ample legal representation for the entire hearing.
Why Choose the Class Action Lawyers of Morelli Law?
Morelli Law Firm is the preeminent firm for civil litigation whether it is in Passaic County or nationwide. Our world class attorneys possess a combined legal experience spanning decades. Our precedent-setting results have delivered over $1 billion in compensation to countless individuals and families who both needed and deserved it.
Our firm is unwavering in our advocacy for victims, bringing aggressive and effective litigation to negligent corporations. Our firm is founded by Benedict Morelli, one of the most recognized and successful trial attorneys in the nation. Mr. Morelli manages some of the most high-profile cases in the country, delivering jury trial verdicts and settlements that are truly outstanding in the industry.
Whether you have a complaint against a consumer goods company, a government entity, or a pharmaceutical company, you can be certain that our team will fight vigorously for your recovery.
Call Us Today for a Free Consultation to Learn More About Your Class Action Options
It can be difficult to decide whether or not to take part in a class action case. If you or someone you know would like to learn more about class actions and how they apply to your situation, a class action lawsuit attorney can be your most valuable source to assess any potential claims.
Our class action lawyers in Passaic are ready to listen to the details of your situation, offer guidance, and help you get started. Contact Morelli Law to learn more about your options. Get started today with a free case evaluation and learn how you can fight back against negligent parties to see that justice is served.