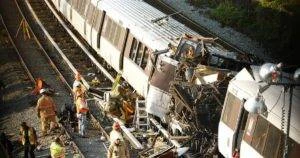 Railroad accidents can lead to devastating injuries with permanent consequences for the victim. In 2019 alone, there were 7,867 injuries and 907 fatalities that resulted from railroad accidents, according to the National Safety Council (NSC).
The injuries that railroad accident victims suffer often require extensive and even ongoing medical treatment. In many cases, a victim must take time off work to recover or step down from their job altogether if the accident led to permanent disabilities.
If you or a loved one suffered injuries from a railroad injury accident in Hempstead, you could bring a civil case to seek compensation for damages related to the accident. At Morelli Law Firm, a Hempstead railroad accident lawyer may be able to represent you in pursuing compensation.
Our team can help you navigate this process and advocate for the compensation that you deserve. For a free consultation, call our office now at (212) 751-9800.
Types of Railroad Accidents
The news is full of reports of tragic railroad and train accidents that cause life-threatening injuries. There are a few common factors that can lead to a railroad accident:
Improper maintenance of trains or train tracks
Lack of operator training
Intoxicated employees
Excessive speed
Hazardous track designs
Operator negligence
Poorly marked railroad crossings
Even if the situation that led to your or your family member's injuries is not on this list, it is still worth determining whether negligence played a role. There may be multiple factors involved in the crash or aspects of train operation that are too complex for a layperson to understand.
You may need to bring a lawsuit against a government entity if one is involved with the operation and maintenance of the railroad or train from the incident. There are different processes that you must follow when bringing a case against a municipality or other government organization.
Working with a Railroad Accident Lawyer
One of the first things that your lawyer will do is speak with you about your situation and the facts leading up to the accident. It is important to provide as much information as you can. Sometimes, a fact that seems unimportant to you may have a significant impact on your case and your right to compensation.
Next, your lawyer will investigate and gather as much evidence as possible to try and prove that the railroad operator, company, or designer acted negligently and caused the accident. There may be multiple parties who wind up being liable for your injuries, so it is important to conduct a diligent investigation.
A few other duties that your lawyer will take care of for your case include:
Negotiating with insurance companies
Filing documents with the court
Calculating the amount of damages you are eligible to receive
Keeping track of key deadlines in your case
Ensuring you comply with procedural rules and important requirements
Preparing you for a deposition or court appearance
Attending court hearings on your behalf
Keeping you informed about the process and what to expect
To learn more about potentially working with a Hempstead railroad accident lawyer, contact Morelli Law Firm now at (212) 751-9800.
Proving Your Right to Compensation
Proving that the defendants acted carelessly and that this led to your injuries is the key task at hand in your case. This is why it is essential to gather as much evidence as possible regarding the situation and the dangerous condition that led to your injuries.
If your case is the result of operator negligence, for example, you will need to gather evidence to show that they did not operate the train properly. A worker can incorrectly switch tracks or fail to follow adequate safety procedures when connecting cars. If cars are left on a track and not removed before another train arrives, this can also lead to crashes.
If an equipment failure caused your injury, you will need to pinpoint the exact piece of equipment or component that the railroad company failed to maintain. This can include:
Faulty brakes
Broken warning lights, audio alerts, and gates
Broken communication devices
Defective handrails or onboard safety features
Broken rails that can cause derailment
Your case may involve a combination of malfunctions and human error. While you focus on your recovery, a railroad accident lawyer can get to the bottom of what happened and make sure that you are compensated fairly according to the law.
Damages in Railroad Accidents
A railroad accident can lead to a variety of serious and even permanent injuries, such as:
Broken bones
Traumatic brain injuries
Organ damage
Severe lacerations and bruising
Dismemberment
Burns
Disfigurement
These injuries can have significant financial consequences. For many railroad accident victims, calculating the amount of compensation they are eligible to receive is a key concern. In general, you are entitled to compensation for any expenses or losses that are related to the accident, such as:
Emergency vehicle transportation fees
Hospitalization
Medications
Doctor appointments
Surgeries
Physical therapy
Lost wages
Reduced earning capacity
Disfigurement or scarring
Reduced quality of life
Pain and suffering
Keep diligent records of your expenses so that you can use them as evidence in your case. When in doubt, hang onto a receipt or bill and speak with your attorney about whether the expense can be compensated in the lawsuit.
Get a Free Consultation About Your Case
Morelli Law Firm offers a free consultation so that you can learn more about how a Hempstead railroad accident lawyer could help you fight for the compensation that you deserve. It is important to act quickly to ensure that you preserve your rights. Call now at (212) 751-9800.