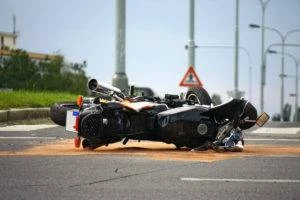 When a motorcycle and a car collide, the biker typically takes the brunt of the impact. Motorcycles offer very little protection to riders. Because of this, motorcycle accidents often result in life-changing injuries. Recovering fair compensation is essential to helping you move on after a collision.
At the Morelli Law Firm, we have a long history of helping motorcycle accident victims recover compensation after a crash. Contact us today for a free case evaluation. We will review your claim, answer your questions, and advise you of your legal options.
What a Motorcycle Accident Lawyer does
After you hire a motorcycle accident lawyer, one of the first things they will do will be to begin investigating your accident. The aim of this investigation will be to establish liability and gather evidence in support of your compensation claim. Steps in this investigation will likely include:
Visiting the crash site to take photos and collect evidence

Interviewing witnesses to the crash

Consulting several experts

Obtaining a copy of the official accident report

Reviewing your medical records
Once they have completed their investigation, your lawyer will assess your damages and calculate the full value of your claim. They will then inform you of the strength of your case and advise you on your options for moving forward. After that, they will likely either file a lawsuit with the court or file an insurance claim with the liable party's insurer.
They will then proceed to go through the steps of the pretrial process in preparation for representing you in court. All the while, they will also be in contact with opposing counsel, attempting to negotiate a plea deal. Most motorcycle accident lawsuits are settled out of court because it offers a quicker end to the case and allows both sides to avoid an unpredictable trial.
Damages You Can Claim After a Motorcycle Accident
After a motorcycle accident where you suffered a serious injury, you will likely be eligible to claim a wide variety of damages. The particular damages that apply will depend on the specifics of your case. All potential damages can be grouped into the following categories:
Economic damages

Non-economic damages

Punitive damages
Economic Damages
Economic damages are the name for any losses you suffer due to your accident that directly impact your financial situation. Economic damages cover both money you failed to acquire and money you needed to spend because of your accident. These damages can cover both losses you have already suffered and losses you are projected to face in the future.
Common economic damages claimed in motorcycle accident cases include:
Property damage

Lost wages

Decreased earning ability

Medical bills

Future medical expenses
Non-Economic Damages
Any other losses you suffer are categorized as non-economic damages. Non-economic damages tend to cause harm that is far greater than a hit to your wallet. Because the losses covered by non-economic damages are often irreplaceable, the money awarded for these damages is frequently substantial.
Non-economic damages commonly awarded in motorcycle accident cases include:
Diminished quality of life

Pain and suffering

Loss of consortium

Mental anguish
Punitive Damages
Punitive damages are unique among the damages awarded after a motorcycle accident. While all other damages are designed to compensate the accident victim for their losses, punitive damages instead focus on punishing the at-fault party for their actions.
Punitive damages are reserved for cases where the liable party acted in a particularly egregious manner. A judge will only award punitive damages if the at-fault party is determined to have been criminally negligent or if they acted with the intent of causing harm to others.
The Statute of Limitations for a Motorcycle Accident Lawsuit in New Rochelle
In the state of New York, motorcycle accident victims generally have three years from the date of their accident to file a lawsuit against the liable party. Failure to file in time can result in the loss of your right to collect compensation for the damages you suffered.
It is essential to note that there are many exceptions to the three-year window you have for filing. For instance, when your accident was caused by a government agency, you will have significantly less time to seek compensation.
Hiring an experienced New Rochelle motorcycle accident lawyer as soon as possible after your injury is the best way to ensure you meet all deadlines and protect your right to collect money for your damages.
Motorcycle Accident Lawyers Charge Based on Results
Many attorneys charge their clients based on how much time they spend working on their cases. However, things work a bit differently with motorcycle accident attorneys and other personal injury lawyers. These legal professionals generally work on a contingency fee basis.
Under this system, your lawyer's fee is contingent upon the money they are able to secure for you. When you hire a motorcycle accident lawyer, you will agree to pay them a percentage of the compensation you receive from the liable party as their fee. This is the only money they will get for working your case, and it is taken directly from the money paid out by the defendant.
This system ensures that your motorcycle accident lawyer will do whatever it takes to get you as much money as possible for your injuries, since the more you receive, the more money they make. Alternatively, if you don't receive compensation, your lawyer will have worked on your case for free.
Speak With a Motorcycle Accident Attorney in New Rochelle Today
At the Morelli Law Firm, our team of motorcycle accident lawyers in New Rochelle knows how devastating a motorcycle accident can be. We have a proven track record of helping the victims of motorcycle accidents recover the compensation they need to move on after a crash.
Give us a call or fill out our online contact form today to schedule a free consultation with a member of our team.