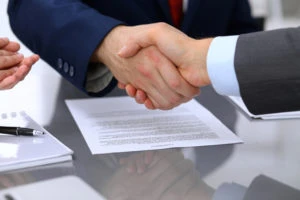 Businesses make deals all the time. They're the language of commerce. Unfortunately, sometimes, two businesses don't speak the same language, or deliberately mislead their partner for their own benefit. The sooner you can clear up the matter, the sooner you can get back to business.
If you can't clear up the matter, it may go to litigation. Whether you're suing someone or defending against a lawsuit, our commercial litigation lawyers in Hempstead at Morelli Law Firm can help you develop a strategy to protect the interests of your business.
Why Have a Commercial Litigation Lawyer on Your Side?
There are many situations where you may need a commercial litigation lawyer on your side, from a simple contract dispute all the way to defending yourself against federal antitrust regulations. When these matters arise, they pull your attention away from operating your business.
This can cause your business to suffer or even collapse. Someone else needs to handle the problem so that you can keep your business running. Even before litigation happens, our team can help you draw up contracts and other legal documents to protect your rights and handle edge cases that could draw you into litigation.
Commercial litigation lawyers can also file lawsuits on your behalf when another business, a third party, or an employee harms your business. We can mount a vigorous attack and demand your right to compensation from the opposing party.
Types of Commercial Litigation Cases
Forbes states that around 90% of all businesses have some manner of legal dispute each year.  Morelli Law handles commercial litigation cases for all sizes of businesses. Some of the case types we've helped with include:
Business torts
Contract disputes
Antitrust and trade regulations
Ownership and management disputes
Franchising and distribution disputes
Real estate litigation.
If you're uncertain if a business situation rises to the level of commercial litigation, find out by speaking with one of our lawyers.
When do I Need to Hire a Commercial Litigation Lawyer?
If you have already received notice of a lawsuit, call a commercial litigation lawyer immediately. If another lawyer has gone that far, there is a serious case against you and you should respond in kind before you get pulled into negotiations.
If you're planning to sue someone yourself, the time to hire is as soon as you consider it. Your lawyer can tell you if you have a valid lawsuit and work with you on a winning strategy. If you wait too long, you could violate the statute of limitations and lose your chance to sue.
The best time to hire a commercial litigation lawyer in Hempstead is before you have a business dispute. Many business owners, especially small businesses, do not have the background in law to create good legal frameworks in their businesses. A well-worded contract can keep you from the costs and risks of litigation.
Help Protect Your Business With Morelli Law
Regardless of whether you're suing or you're being sued, our commercial litigation lawyers can protect your interests. Let us fight for you. We will work hard to understand the situation and provide a solution to bring the matter to a quick close. Let us help you get the most favorable outcome.
Contact Morelli Law Firm by phone or through our website for a free case evaluation. One of our commercial litigation attorneys in Hempstead can help you explore your legal options.