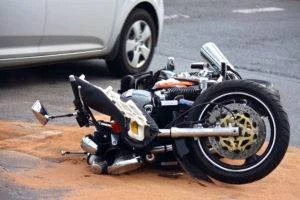 Motorcycle accidents frequently result in serious injuries. Many factors contribute to this, but the main reason is that these vehicles provide riders with very little protection in the event of a crash. If you have been injured in a motorcycle wreck, chances are you are facing expensive medical treatments and are unable to work.
At the Morelli Law Firm, we help motorcycle accident victims recover fair compensation after a collision. Our team of motorcycle accident lawyers in Long Island can help you get the money you need to put your life back together after a crash. We offer free consultations.
How a Motorcycle Accident Lawyer Can Help After a Crash
Hiring a motorcycle accident lawyer to help you recover compensation after a crash will begin to benefit you before they even start working on your case. Stress is harmful to the healing process. Handing your legal case off to a professional can greatly decrease your stress levels and let you focus on the healing process.
When a motorcycle accident lawyer begins working on your case, one of the first things they will do will be to investigate your collision. The aim will be to establish who is liable for your damages and gather evidence to support your claim. Steps in the investigation will likely include:
Visiting the scene of the crash to gather evidence and take photographs
Interviewing any witnesses to the accident
Consulting with experts
Obtaining a copy of the official accident report
Reviewing your medical files
After concluding their investigation, your lawyer will assess your damages and calculate the value of your claim. They will then discuss your case with you, explain the strength of your claim, and advise you on how best to proceed. Depending on the course of action you choose, they will most likely either file a claim with the liable party's insurer or file a lawsuit with the court.
If going the personal injury lawsuit route, your attorney will go through the steps of the pretrial process as they prepare to represent you at trial. However, they will also be in contact with opposing counsel, attempting to negotiate a fair settlement deal. Settling your case out of court has the benefits of getting you paid quicker and avoiding the uncertainty of a courtroom trial.
The Statute of Limitations for a Motorcycle Accident Lawsuit in New York
When filing a motorcycle accident lawsuit in Long Island, you will generally have three years from the date of the accident. However, a variety of special circumstances may apply, which could alter the timetable for filing. For example, you will have far less time to submit your lawsuit if the at-fault party was a government agency.
To ensure that all deadlines are met and your right to recover compensation is protected, it is best to hire a motorcycle accident lawyer as soon as possible after you suffer an injury.
How Much does a Motorcycle Accident Charge?
Motorcycle accident attorneys don't charge their clients based on an hourly rate. Instead, like all personal injury lawyers, they typically charge on a contingency fee basis. This means that their fee is contingent on securing compensation for their clients.
When you hire a motorcycle accident lawyer, you will agree to pay their fee as a set percentage of the money you get from the liable party. They will get paid directly from the compensation you receive, which means you will never pay them a penny out of your own pocket.
Since your lawyer gets paid as a percentage of the money you get, that means they will be motivated to ensure you recover as much as possible for your damages. If your lawyer is unsuccessful in getting you compensation, they don't make any money. Their fee is 100% results-based.
Claiming Damages After a Motorcycle Accident
When you get injured in a motorcycle wreck due to another party's negligence, you will likely be eligible to recover a variety of damages. These damages can all be sorted into three main categories:
Economic
Non-economic
Punitive
Economic Damages
Any damages you suffer that directly affect your financial situation are considered economic damages. This can include income you fail to earn because of your accident, as well as any expenses you accrue. You can recover compensation both for current losses and projected losses you will face in the future. Some of the most common economic damages include:
Property damage
Medical bills
Future medical costs
Lost income
Diminished earning capacity
Non-Economic Damages
All the other losses you suffer are categorized as non-economic damages. There is no direct financial impact of these losses. However, the effect on your life is often far more profound. Many non-economic damages are irreplaceable losses. Because of this, compensation for non-economic damages is often quite high. Frequently claimed non-economic damages include:
Mental anguish
Decreased quality of life
Permanent disability
Loss of companionship
Punitive Damages
The last major category of damages is punitive damages. These are different from the compensatory damages listed above in that they are not focused on the losses of the victim. Instead, the purpose of punitive damages is to punish the at-fault party.
Punitive damages are not awarded in the majority of cases. Instead, they are reserved for cases where the liable party's actions were deemed to have been criminally negligent or performed with the intention of causing harm.
Get a Free Case Evaluation From a Motorcycle Accident Attorney in Long Island
At the Morelli Law Firm, we aim to ensure that accident victims get the money to which they are entitled. Our team of Long Island motorcycle accident attorneys has a proven track record of recovering fair compensation for our clients.
Fill out our online contact form or give us a call today to get started with a free consultation. We'll review your case and answer all of your questions.