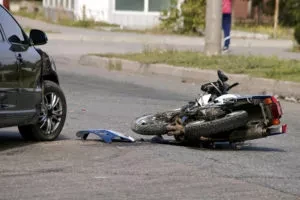 If you were hurt in a motorcycle accident in Newark caused by another driver, you can possibly recover compensation for your medical expenses, lost wages, and other damages. When another party's negligent actions cause an accident, the innocent victims should not be responsible for the bills.
A Newark motorcycle accident lawyer may be able to identify the liable party in your accident and pursue them for damages on your behalf. While you focus on your medical treatment, your attorney can manage your settlement negotiations or personal injury lawsuit.
Statistics Regarding Motorcycle Accidents in New Jersey
There are thousands of motorcycle accidents in New Jersey on a yearly basis. According to the New Jersey Department of Law and Public Safety, in the year 2016 there were 2,200 motorcycle accidents and 69 motorcyclist fatalities
The Department further reported that 82% of the motorcyclists who were in accidents between 2013 and 2017 were left with some type of injury. With each of these accidents, it's accurate to assume that many of the motorists were struck by another driver who made a careless driving decision. Motorcycle accident lawyers can help these victims get back on their feet.
What to Do After a Motorcycle Accident in Newark
The aftermath of a motorcycle accident may be confusing. You may be unsure what steps you should take next, especially if you were seriously injured in the collision. However, there are a few things you should accomplish, if at all possible. Make sure that you:
Seek treatment:

See a doctor for an evaluation of your injuries. It's recommended you comply with all treatment recommendations they make.

Retain evidence

: Make sure to preserve all evidence from the accident, including photos, videos, witness contact information, police reports, and medical documents.

Use caution

: When communicating with insurance companies about your accident, be vigilant. Insurance agents can use your statements to reduce or deny your claim.
If you hire a Newark motorcycle accident lawyer, they can handle all evidence gathering and communications with insurance companies on your behalf.
Investigating the Cause of Your Motorcycle Accident
A Newark motorcycle accident lawyer will investigate the cause of your accident. This may include:
Visiting the scene of your accident

Reviewing police reports

Speaking with any witnesses from the accident

Requesting access to surveillance footage

Working with an accident reconstruction specialist
There are a number of common causes of motorcycle accidents. In many cases, other drivers cause these accidents because they are not paying attention to motorcyclists on the road. Drivers may simply look past you if they are:
Distracted by a handheld mobile device

Operating a vehicle while under the influence of alcohol or drugs

Driving aggressively or operating a vehicle too quickly
Frequently, drivers will turn into the side of a motorcycle or move over into a lane where a motorcycle is driving. In these situations, the other driver could be responsible for your accident.
New Jersey Laws That Could Affect Your Personal Injury Claim
By hiring a personal injury lawyer, you can be informed of state laws that could affect when you should be filing your claim by, how much you're eligible to receive, and how much could be deducted from your total compensation.
Statute of Limitations
You will need to act quickly if you are hurt in a motorcycle accident because New Jersey enforces a deadline on civil lawsuits. According to New Jersey statute of limitations §2A:14-2, you have two years to file your case. You risk having your claim dismissed if this deadline passes.
Contributory Negligence
If you are partially liable for the accident, New Jersey Statute §2-A:15-5.1 allows you to still recover damages under the contributory negligence rule. The percentage you are responsible for your injuries, however, is deducted from your award.
Cap on Damages
New Jersey does not place a cap on how much you can receive from non-economic damages in personal injury cases. Punitive damages however are limited to $350,000 or five times the amount of compensatory damages (whichever is a larger amount).
Motorcycle Accidents Cause Serious Injuries
Motorcyclists are at a high degree of risk in any collision. While cars, trucks, and vans provide significant protection to their occupants, motorcyclists may only have their helmets and garb to protect them in the event of an accident. For this reason, motorcyclists could end up left with:
Road rash, cuts, and burns

Head and brain injuries

Damage to their neck, back, and spine

Broken bones in their arms or legs

Internal injuries and organ damage
Because of the severity of these injuries, motorcyclists should seek medical treatment quickly after a collision. A doctor can provide the care required to treat these injuries and evidence of this hospital visit can demonstrate that your injuries were actually the result of your accident. This could help you secure compensation for your medical expenses.
Pursuing Compensation After a Newark Motorcycle Accident
New Jersey is a no-fault car accident state. This means you must initially seek compensation from your own insurance company after an accident, regardless of who caused the collision. However, you may be able to seek additional compensation.
A Newark motorcycle accident lawyer can review your case to determine what you are eligible to be compensated for. In some situations, you could file a claim with the other driver's insurance company, allowing you to seek damages for your:
Medical expenses

Vehicle repair costs

Pain and suffering

Lost wages

Property damage

Lost earning potential
Your motorcycle accident attorney can handle settlement negotiations with the responsible party's insurance company when they represent you. If they are unwilling to make you a fair offer, your case will go to trial.
Motorcycle Accidents and Negligence
Since no two motorcycle accidents are the same, it can be difficult to determine whether you qualify for compensation without first discussing your claim with a licensed attorney. The main thing that must be established to validate your claim are the four elements of negligence:
There was a duty of care:

The at-fault party had a legal obligation to act reasonably and prevent harm to others. For example, other drivers must obey the rules of the road.

The duty of care was breached:

The at-fault party acted negligent and did not adhere to this duty of care. Therefore, others got hurt.

Causation exists:

Your injuries were the direct result of the defendant's breached duty of care.

You suffered damages:

The crash caused you financial loss which can include medical bills, lost wages from missing work and/or property damage.
Reach Out to Morelli Law Firm Today
If you were hurt in a motorcycle crash and are suffering financially, physically, and emotionally as a result, a Newark personal injury lawyer from Morelli Law Firm may be able to help you secure compensation for your losses.
Find out more about your legal options with a free consultation when you contact one of our experienced attorneys. We will work with you on a contingency-fee basis. You do not owe us any money unless we win you a fair and full compensatory award.