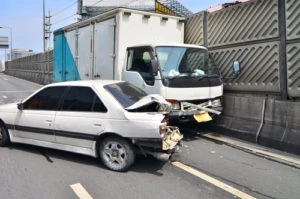 Moving van accidents are unfortunately common. Some factors that act as catalysts for these accidents include the sheer size and weight of these vehicles as well as the fact that many people who rent them are inexperienced with operating them.
These accidents can involve virtually any company that rents moving vans or vehicles, including U-Haul, Budget, Enterprise, Penske, and others. Many of these companies market their vehicles as being easy enough for anyone to operate, but this simply is not the case for everyone. If a driver does not exercise appropriate caution or adjust their driving to account for the different type of vehicle they are driving, an accident can happen in the blink of an eye.
If you were hurt in a moving van accident, you are probably wondering whether the person who caused the accident owes you compensation for your injuries and expenses. An Englewood moving van accident lawyer can help you get answers to these questions. Call Morelli Law Firm at (212) 751-9800 for a free consultation to speak with one of our team members.
Liability in a Moving Van Accident
Establishing that someone owes you compensation after a moving van accident can be more complex in this type of case due to the legal relationship between the moving company and the person who rented the vehicle. There are even some situations where the one who was driving the vehicle at the time of the accident was not the one who rented the vehicle.
In short, there could be many different persons and companies who owe you compensation after an accident. It is important to name every possible defendant in your legal action. If you leave a liable party out, it could make it harder for you to receive the full amount of compensation that you are entitled to receive.
One common defendant in a moving van accident case is the rental company. When someone signs paperwork to rent a moving van, their auto insurance may not provide coverage for any accidents or consequential injuries that arise from their operation of that moving van.
The rental company may give the option to purchase temporary coverage at the time of the rental. Your attorney can help you analyze the specific facts of your situation to determine whether your insurance, the other driver's insurance, and/or the rental company's insurance are available to you after your injury accident.
Bring a Claim Against the Liable Party
If you pursue legal action against the company that rented the moving van or any other responsible party involved in your accident, you will need to show four things:
They owed you a duty to operate with reasonable care and skill.
They failed to act according to this duty.
Their failure to act according to their duty was the direct cause of your injuries.
You suffered injuries and/or other financial damages as a result.
When it comes to the duty to operate with reasonable care and skill, moving van companies, especially, are required to perform proper maintenance and repairs on their vehicles. If they fail to keep the brakes in good working order, for example, it could have devastating consequences for the renter and other motorists.
The New Jersey Office of the Attorney General also requires moving companies to obtain proper licensing before they can operate. If they do not have the right licenses, it could be grounds for showing that they failed to meet their duty of care.
The moving van company also has a duty to make sure that any renters have a valid driver's license and are of the appropriate age to rent a moving van. For example, if they rent to someone who is underage or who does not have a driver's license, they have breached their duty of care.
Hire an Englewood moving van accident lawyer now to learn more about holding a careless moving van company liable. Morelli Law Firm offers a free consultation so you can discuss your situation and figure out if you are owed compensation. Call now at (212) 751-9800.
Pursue Compensation from the Moving Van Driver
Your injuries may have left you with debilitating injuries that keep you from going about your daily life as you normally would. It is not right for you to suffer like this, so consider suing the responsible party for your damages. The types of damages you can recover are below.
Medical bills: This award can cover your emergency transportation, hospital stays, lab work, surgeries, medications, medical devices, and doctor's appointments.
Lost income: You may have had to miss work because your injuries could have been too painful for you to go or you had to get treatment. In other cases, maybe you have had to take a lower-paying job that accommodates your injuries better than your job previous to the accident.
Pain and suffering: Your painful injuries keep you from participating in activities and other events you once enjoyed.
Disfigurement and scarring: Your injuries may have restricted your range of motion or changed your appearance.
The above is not a comprehensive list of the damages you can recover. A lawyer can help you figure out the damages for which you qualify and their value.
Seek the Compensation You Are Entitled to Collect
An accident involving a moving van can leave you with serious injuries, a stack of medical bills, and countless questions. Learn what an Englewood moving van accident lawyer at Morelli Law Firm can do for you in a free consultation. Because our firm works on a contingency-fee-basis, we do not charge any fees unless we win a settlement or judgment in your favor, so you have nothing to lose. Call us now at (212) 751-9800 to get started.