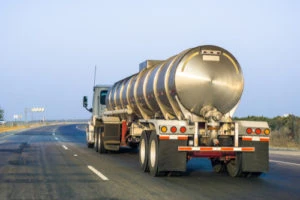 Tanker trucks regularly transport hazardous fluids and gases across the country. Drivers must undergo additional training to obtain their commercial driver's license (CDL) and safely drive these vehicles, as the risk for injury and death can be high should a tanker truck get involved in an accident.
The reality is, tanker trucks rarely get into accidents. The Federal Motor Carrier Safety Administration (FMCSA) stated that large trucks carrying hazardous material only accounted for three percent of fatal truck accidents and two percent of large truck accidents that led to injuries and property damage in the United States.
However, while trucks carrying hazardous materials might not get involved in too many accidents, the collisions they do get involved in can be dangerous, even deadly, especially if the hazardous materials are flammable. According to the FMCSA, about 54 percent of fatal large truck accidents that released hazardous materials involved flammable substances like gasoline and oil.
If you or a loved one got into an accident with a tanker truck in Englewood, New Jersey, you might be eligible to collect compensation for any injuries and damages you sustained in the accident. Call Morelli Law Firm today at (212) 751-9800 to hire an Englewood tanker truck accident lawyer to work on your case. When you call, you can get a free consultation with one of our team representatives, who can explain what our legal services include.
Tanker Trucks Bring Unique Hazards to Motor Vehicle Collisions
Tanker trucks might bring additional hazards to a collision that can cause severe injury or death, such as:
Hazardous cargo: Tanker trucks often carry flammable liquids, such as fuel and oil, and compressed natural gas (CNG). They can also carry toxic chemical substances, such as acids.
Spills: If hazardous materials spill out of the tank during a collision, the materials might cause severe burning or catch on fire. In other cases, spilled fluid might make the road more slick and slippery, potentially causing other vehicles to get into an accident.
Explosions and fire: If the impact of the accident is strong enough, a tanker truck might explode or burst into fire at the moment of collision. If smoke begins to appear from the truck, all involved parties might only have a few seconds to escape to avoid serious injury and death.
High-risk accidents: Due to the dimensions and weight of tanker trucks, these vehicles are more prone to jackknife, rollover, and side-impact collisions. The tank can swing or lose its balance in a collision, which might lead to multiple vehicles getting caught in the accident.
An Englewood tanker truck accident lawyer from Morelli Law Firm can review the details of your accident and determine what needs to be done to build your case, whether that means consulting an accident reconstruction analyst or requesting black box data from the trucking company, among other investigate steps.
Call our firm at (212) 751-9800 today, and tell us as much information you know about how the accident occurred in a free consultation. From there, we can then discuss what kind of damages you experienced and help you evaluate how much your case might be worth.
Have You Been Injured In An Accident? Contact Morelli Law
877-751-9800
Our Team Can Help You Fight for Compensation
A tanker truck accident can cause multiple forms of damages that might be compensable if you can prove the truck driver or some other party was responsible for the accident and your subsequent injuries.
In personal injury cases, damages are typically divided into two categories: economic and non-economic damages, which summarize your financial and general losses. For example, you might be compensated for the following economic damages if they apply to your case:
Costs for medical treatment
Mileage costs for traveling to and from doctor's appointments
The income you lost due to having to stay home or at a hospital to heal from your injuries
Reduced earning capacity if your injuries hinder your ability to work at your regular performance level
Costs to repair or replace your vehicle or other property
If you pursue a lawsuit, you may be able to get compensated for a variety of non-economic damages, such as:
Pain and suffering, which can be interpreted as both physical and emotional pain
Loss of enjoyment or quality of life
Loss of society
Scarring or disfigurement
Permanent disability
Your lawyer may suggest other damages to pursue based on your case's circumstances and what is allowed by the state.
Compensation for Wrongful Death
If you lost a loved one in a tanker truck accident, you might be eligible to file a wrongful death claim or lawsuit on their behalf. With this action, you might receive compensation for the following damages:
Funeral costs, including costs for burial or cremation
Loss of consortium
Loss of guidance, companionship, and affection
Loss of financial support
Determining Who and When to Sue
Because many tanker truck drivers work for trucking companies, it is reasonable to consider whether the truck driver was working at the time of the accident, especially if the collision occurred on a weekday during standard working hours. Your lawyer might investigate whether you might be able to pursue compensation from multiple parties, such as:
The trucking company
The individuals who loaded the tanker truck
The maintenance company responsible for the upkeep of the tanker truck
The tanker truck's vehicle manufacturer, including the parts manufacturer
The local government responsible for the road conditions if environmental factors led to the accident
A third party who caused or contributed to the accident
Once you determine who to sue, you must file your case quickly so that you make the statutory deadline. The New Jersey Revised Statutes §2A:14-2a generally gives plaintiffs two years to file a personal injury lawsuit for an accident that led to an injury, which means you have two years from the date of the accident to file.
If you are filing a wrongful death lawsuit, you also generally have two years to file, per the New Jersey Revised Statutes §2A:31-3.
Call Morelli Law Firm to Hire a Truck Accident Lawyer
If you are currently overwhelmed with financial damages and personal losses, let Morelli Law Firm lend you a helping hand and push you forward in a personal injury case. Tanker truck accidents can be catastrophic and deadly, so we understand if you are still trying to process having to heal from severe injuries, live with a permanent disability, and/or cope with the loss of a loved one. Let an Englewood tanker truck accident lawyer from our firm serve as your legal representative and manage your case for you.
Call Morelli Law Firm today at (212) 751-9800 for a free consultation. We can explain what kind of services our team provides to clients. Our lawyers also work on a contingency-fee-basis, so you do not have to add the cost of our services to your financial stress. We take our fee out of your compensation award only if we win your case, and we discuss our rates with you before starting your legal journey.