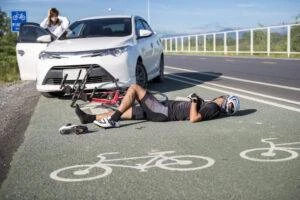 Who do you turn to after you've been in a bicycle accident? Can you make an insurance claim against the other driver? What should you do if they drive off before you can talk with them? You don't have to answer these questions yourself. Instead, call on Morelli Law.
Our team of personal injury lawyers in O'Fallon can answer all of your legal questions and help you fight back against insurers who want to pay you a pittance for your injuries. With one phone call and a free consultation with our O'Fallon bicycle accident lawyers, you can put our decades of successful legal representation to work for you.
Winning a Bicycle Accident Claim
Illinois is an at-fault state for accidents. Victims have to prove that the other party committed an act of negligence that caused their accident and injuries. The best way to do this is by hiring an O'Fallon bicycle accident lawyer to help you with your claim or lawsuit.
Winning a negligence claim requires four components:
Duty of Care
All people who use the road have a duty of care to act reasonably around others to protect their safety. All drivers, riders, and pedestrians assume this duty by using the road. Requiring this duty is why you can't sue the passengers in the vehicle that hit you (barring rare cases where they contributed to the accident).
Breach of Duty
The next thing to prove is a breach of the duty of care. If the police were called to your accident and cited the other driver, that could be proof of this. A citation can show that the other driver broke the law and put you and others in danger. It's not the only way to prove a breach, though. Your lawyer's investigation may turn up other evidence to point to one.
Causation
A breach may be enough for a driver to get a ticket, but breaches don't always cause accidents. The third thing to prove is that the accident was caused by the breach of duty and not by something else. This is another place where a crash report can help your lawyer.
Damages
Damages are the negative financial and non-financial consequences you suffered because of your accident. These must be documented for the insurance company and negotiated for a fair value, especially non-economic damages.

Without a lawyer, you're stuck proving these things yourself or relying on the opinion of an insurance adjuster about what happened. You don't have to fight the insurers and recover from your accident at the same time. Contact our attorneys instead for a free consultation.
What Damages Can I Claim in a Bicycle Accident?
Any financial or non-financial harm you've suffered because of your accident could become part of your damages. Damages are what we seek to cover through financial compensation. We can demand the right amount of compensation for you by studying the evidence of how your damages have affected you.
Economic damages

are any costs that come with a bill attached or come from lost income opportunities. They include your medical bills, lost wages, bike repair, transportation to specialists, and even disability payments if you can't go to work again.

Non-economic damages

are things like

pain and suffering

, loss of enjoyment of life, and other intangible harms you've suffered. These don't have a firm dollar amount, but an O'Fallon bicycle accident lawyer can negotiate the amount with the insurance company. The value of these is often much more than the economic damages.
How May the Insurance Company Fight My Claim?
There are many tactics that the insurance company could use to fight your insurance claim. A lawyer can protect you from many of them if you act quickly to hire one early in your case. Some tactics you could see include:
Trying to get you to take a lower settlement quickly before you can mount an offense.

Delaying your claim for a long time to financially pressure you to settle.

Claim that your injuries were caused by something else

Claim you aggravated your injuries after your accident

Claim you didn't follow medical advice

Ask how you're feeling and use what you say against you later.
Insurance companies will use your ignorance of the law and industry to put you in a bad position. They want to get you to give up your claim or settle for less.
How an O'Fallon Bicycle Accident Lawyer Can Help
Our lawyers protect you against the tactics of the insurance companies and serve as your guide through your accident claim. If the insurers refuse to come to a fair settlement, we will take them to court and argue your case before a judge and jury. Our firm has recovered billions for accident victims.
We also investigate what happened to uncover all the damages you've suffered from your bicycle accident. There's more you can claim besides the medical bills. You could be eligible for lost wages, pain and suffering, and many other damages.
Our team will find the evidence to prove these damages so you can get the most from your claim. Once you settle, you cannot get more money. Make sure you get what you deserve by working with a bicycle accident lawyer from Morelli Law.
Reach Out to Morelli Law for Help
You don't have to face the insurance companies alone, and you don't have to accept their lowball settlement offers. You have enough to worry about with your recovery. Turn the challenge of getting compensation over to our O'Fallon bicycle accident lawyers by contacting Morelli Law.
We'll schedule a free consultation with you to discuss your case and your chances of success. All consultations are without obligation, so there is no financial risk to reaching out to us. If you choose us for your case, you will owe us nothing unless you recover compensation. Learn how we can help you get justice by calling our offices now or sending us an email.