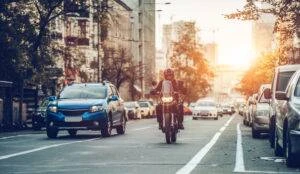 When you're a motorcyclist, you're driving a smaller vehicle than most drivers on the road. You have the advantage of being able to merge easier and more visibility. But there are also cons.
You're more vulnerable to accidents and severe injuries due to the small size and lack of protection. A St. Charles motorcycle accident lawyer can help you if you've been in an accident. At Morelli Law Firm, our St. Charles personal injury lawyers team is ready to build a strong case for you.
Who Is Liable For Your Motorcycle Accident Injuries?
There could be multiple parties responsible for your injuries after your motorcycle crash. Our St. Charles motorcycle accident lawyers can help you hold the following parties accountable:
The Driver
The driver of the vehicle that collided with the motorcycle could face liability if their negligent actions directly caused or contributed to the crash. Failing to use due care by all traffic laws while operating a motor vehicle is considered negligence.
Some specific examples of negligent driving that could make the driver liable include failing to check mirrors and blind spots before changing lanes and merging, speeding beyond the legal limit or too fast for conditions, running a red light or stop sign, swerving between lanes aggressively, tailgating, making improper or unsafe turns, driving while intoxicated or impaired by alcohol or drugs. As the injured motorcyclist, you may recover damages if we show the driver breached their duty of care.
Transportation Agencies
Transportation departments responsible for roadway design, construction, and maintenance are responsible for keeping areas under their control in a reasonably safe condition for motorists. If the agency failed to properly design, sign, or maintain parts of the roadway, and this contributed to the accident by causing limited visibility, hazardous conditions like potholes, or lack of safety features, the agency could be found partially at fault.
For example, failing to replace damaged signs warning of lane merges, intersections, or sharp curves in time, neglecting to repaint worn road markings, or not promptly repairing known dangerous drainage issues.
Equipment Manufacturers
Motorcycle and motorcycle part manufacturers are legally responsible for ensuring their products are free of defects, reasonably fit for their intended uses, and incorporate adequate safety features and warnings before distribution. You could recover compensation from manufacturers if our legal team shows that a design, manufacturing, or warning defect in the vehicle or its components unreasonably contributed to injuries suffered during an accident caused by another party.
For example, brakes that failed prematurely due to a manufacturing fault. Strict product liability laws apply regardless of fault.
Establishments Serving Alcohol
Bars, restaurants, and any business establishments that serve alcoholic beverages must monitor patrons' alcohol consumption and cut off service to visibly intoxicated individuals. If our St. Charles motorcycle accident lawyers can prove that the establishment overserved an at-fault driver who later caused a dangerous accident, you could have a valid dram shop liability claim.
We must show that the driver was intoxicated and impaired due to the establishment's negligent overservice, which was a proximate cause of the crash. Liability stems from contributing to the driver's unsafe condition through irresponsible acts.
What Injuries Can You Suffer in a Motorcycle Crash?
Bikers are at a higher risk of more severe injuries because they don't have the protection that cars do. Here are some common injuries you could suffer:
Head and brain injuries

: Not wearing a helmet risks traumatic brain injuries like concussions and contusions. Crashes can also fracture skulls.

Spinal cord injuries

: The lack of a rolling cage makes motorcyclists prone to injuries involving the spine, such as fractures, herniated discs, or damage to the spinal cord itself.

Chest injuries

: Collisions break ribs, puncture lungs, and injure the heart and other internal organs in the chest cavity.

Upper extremity injuries

: Outstretched arms and hands during accidents result in fractures of the clavicle, shoulder, arm, wrist, and fingers. Ligament tears are also frequent.

Lower extremity injuries

: Impacts can trap or crush legs, incurring fractures, dislocations, and ruptured knee ligaments. Ankle and foot injuries are also common.

Burns

: Friction from skidding or sliding along pavement after a fall causes second or third-degree burns to exposed skin areas.
What Is the Deadline To File a Motorcycle Accident Claim?
According to Missouri code § 516.20, you have five years to file a claim after you've been injured in a motorcycle accident. This deadline is longer than other states give, but filing your claim as soon as possible is still important.
Your case may be subject to a different filing deadline because of the crash details. You can meet with our St. Charles motorcycle accident lawyers at Morelli Law Firm to determine your deadline.
Filing your claim is the first thing you should do after you've received medical care. Getting medical care first allows you to get a diagnosis, which may make you eligible for more damages.
Damages You Can Recover After a Motorcycle Accident
After you've suffered injuries, you could be eligible to recover compensation through economic and non-economic damages. Here are some of the damages our St. Charles motorcycle accident attorneys can help you recover:
Loss of income
Medical expenses
Loss of consortium
Loss of companionship
Pain and suffering
Mental anguish such as PTSD
Loss of household services
How Do You Prove Negligence in St. Charles Motorcycle Accident?
To hold the liable parties responsible, our St. Charles motorcycle accident lawyers must prove the four elements of negligence. The four elements of negligence include:
Duty
The defendant owed you a duty to act with reasonable care. In a motorcycle accident case, this usually means drivers of other vehicles must carefully operate and obey all traffic laws for the safety of motorcyclists sharing the road.
Breach of Duty
The defendant failed to fulfill that duty and acted unreasonably, typically violating a traffic law. Common breaches include failing to yield, improper lane changes, running red lights or stop signs, distracted driving, speeding, and driving under the influence.
Causation
The defendant's breach of their duty was the actual and proximate cause of your injuries. This requires showing the specific negligent actions of the defendant directly led to the accident and resulting harm.
Damages
You suffered a compensable injury or monetary loss due to the defendant's negligent actions. We will use evidence to prove your losses and how they've affected your life.
Contact Us After You've Been Injured in a St. Charles Motorcycle Crash
At Morelli Law Firm, our St. Charles motorcycle accident attorney can help you get compensation for the losses you've suffered. We understand the pain and stress you're feeling, and we're ready to help.
Contact us today for a free consultation.