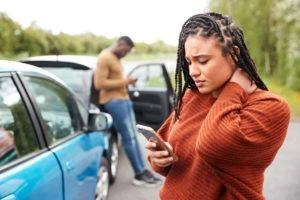 Do you want compensation after a car accident in St. Charles, Missouri? You can start working on a legal claim with our team at the Morelli Law Firm. We provide comprehensive services for drivers in your position.
You can contact a personal injury lawyer in St. Charles immediately after a collision. Your lawyer can investigate your case and assess the value of your claim. Find out more by calling us or completing our online contact form.
Can You Secure Damages After a Car Accident in St. Charles?
When can you receive compensation for your losses in a St. Charles car accident? Generally, you have a chance to file a legal claim if:
Another driver owes you a duty of care

The other driver violates their responsibility to you

The driver's actions cause your accident

The accident causes you injuries or financial losses
All drivers owe one another a duty of care in St. Charles. Generally, this represents a responsibility to follow the rules of the road by adhering to the speed limit, obeying traffic signs, and driving safely.
Drivers who ignore the laws cause accidents and may face legal repercussions.
What Compensation Can You Secure Following a Car Accident?
A St. Charles car accident lawyer can review the facts of your case to determine what kind of compensation you could receive. However, many drivers in your position receive funds to cover their:
Medical Expenses
You may require extensive medical care after a car accident in St. Charles. Many drivers end up facing:
Broken bones

Head and brain injuries

Neck and back injuries

Internal injuries

Cuts, burns, and abrasions
In this situation, you could receive funds to cover your current and future medical care and any physical therapy you require. In addition to covering medical fees, the other driver may cover your lost wages at work during your recovery.
Property Damage Expenses
Car accidents often result in vehicle damage. In some cases, your vehicle could end up totaled by the actions of another driver. They may have to cover the costs for repairs or replacement in this situation.
Non-Economic Losses
Finally, you may receive non-economic losses following a car accident. These losses focus on things like your pain and suffering. You can discuss all your expenses today with a St. Charles car accident attorney.
What Services Do St. Charles Car Accident Attorneys Provide?
According to the Missouri State Highway Patrol (MSHP), tens of thousands of people get injured in accidents every year throughout the state. Many of these drivers try to handle the legal fallout of the collision on their own.
However, working with a lawyer can help you feel more confident about the success of your claim. Our team provides comprehensive services as we:
Answer all your legal questions

Take care of the communication with insurance agents

Investigate the causes of your accident

Review all your losses

Track important deadlines

Help you file an insurance claim

Represent you in court
We handle each case on an individual basis, looking into the unique aspects of your accident. We draw on our experience to build a personalized claim and let our reputation speak for itself. Our team has helped clients secure:
$5.5 million for a client struck by a vehicle when crossing the street

$5.4 million for a delivery man killed in a motor vehicle accident

$2.65 million for an 11-year-old in a car accident
Find out more about your options for compensation by contacting us now.
How Do Lawyers Investigate Car Accident Claims?
Our team uses years of experience and training to investigate the causes of car accidents in St. Charles. We get to work immediately once we take on a claim, providing you with guidance about your next steps.
As you focus on recovering from your injuries, we can:
Conduct interviews with everyone who saw the accident

Get a copy of your police report

Review the scene of the accident

Work with car accident experts

Look for available video surveillance
Note that we may not perform all these steps in every car accident claim we take on in St. Charles. We personalize the services we offer to meet your unique needs.
How Long Can You Wait to File a Car Accident Claim in Missouri?
Missouri Code section 516.120 gives drivers throughout the state several years to file a claim after a car accident. However, after this period, the statute of limitations expires, increasing the difficulty of securing compensation for your losses.
Sometimes, drivers have less time to move forward with a claim. For example, you generally have less time to seek compensation if your accident involved a government worker or vehicle.
Learn more about the time frame for your claim with a St. Charles car accident lawyer.
What Do St. Charles Car Accident Attorneys Charge?
Car accident lawyers working in St. Charles charge different rates for their services. Generally, law firms charge a percentage of your settlement or the funds awarded by the court if you file a lawsuit.
Many car accident firms work on a contingency basis, meaning they only charge legal fees after resolving your claim. However, discussing the specific charges used by a law firm before you sign any paperwork is always a good idea.
Speak to St. Charles Car Accident Lawyers About Your Claim
You can start working with a St. Charles car accident lawyer today to secure legal help after a collision. Our team at the Morelli Law Firm stands ready to help you build claims and secure compensation for your losses.
Find out more by calling us or completing our online contact form.