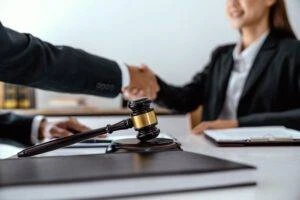 When conflicts arise between businesses, the stakes are high. Reputations and financial interests hang in the balance with every legal decision made. This is why it's essential to have an experienced St. Charles commercial litigation attorney on your side.
For years, the St. Charles personal injury lawyers at Morelli Law have helped countless companies just like yours resolve complicated disputes and level the playing field. Whether addressing contract breaches, intellectual property issues, or complex business torts, our team of trial-tested lawyers will zealously advocate for your interests.
We understand the intricacies of business law and have achieved successful outcomes in both state and federal courts. It's time to partner with a law firm that will fight for your rights and maximize the chances of prevailing. Let our lawyers handle it – we get results.
Commercial Disputes
Whether a contractual disagreement with a supplier, intellectual property conflict with a competitor, or deceptive business practices from another company, commercial disputes can threaten revenue, reputation, and stability.
Our skilled commercial litigation attorneys in St. Charles have deep experience successfully resolving a wide variety of business disputes through mediation, arbitration, or litigation if necessary.
Shareholder and Partnership Disputes
As a business grows and evolves, disagreements may arise between owners over operational decisions, accounting practices, ownership transfers, or profit divisions. Changes within the company or its leadership over time can breed tension and conflicts between shareholders and partners if proper protocols aren't followed.
Our legal team understands the intricate legal responsibilities and nuances within shareholder and partnership agreements, like vesting schedules, buy-sell arrangements, and voting structures.
We can efficiently and cost-effectively navigate any disputes that arise through proven negotiation, mediation, and arbitration strategies to minimize disruption for the business if full litigation is not necessary.
Intellectual Property Protection
Strong intellectual property protection is crucial for long-term viability. We aggressively enforce clients' trademarks, copyrights, and patents against unauthorized use. Our commercial litigation lawyers in St. Charles diligently vet new products/services for infringement concerns as well.
Conduct Thorough Due Diligence
Before launching any new endeavor, take steps to uncover and address potential IP issues upfront to avoid costly litigation down the road. Our preemptive due diligence services give strategies for smooth market entry.
Contract Disputes
Whether drafting, reviewing, or litigating agreements, our attorneys limit risk and maximize compliance through meticulous contract language evaluation.
We aggressively negotiate when necessary or litigate issues such as contract breaches, terminations, ambiguities in terms, non-compete clause disputes, and more.
Getting agreements vetted by experienced business lawyers can help avoid issues down the road that end up costing much more to remedy in both legal fees and business ramifications.
Real Estate Matters
Our real estate litigation practice assists commercial landlords and tenants, as well as buyers and sellers, with all types of complex property issues.
Whether dealing with easements, boundary disputes with neighbors, defective construction matters, problematic leases, or unexpected title issues, our attorneys have extensive experience successfully handling various real estate litigation needs.
We can guide clients through issues involving easements, such as disputes over rights-of-way or proper usage. Boundary and title disputes are approached meticulously by reviewing all applicable records and laws. Lease and title problems are untangled skillfully. Our real estate litigation team can help you continue with your property endeavors efficiently.
Collection Matters
To collect outstanding debts efficiently and minimize lost revenue or resources, our first recommendation is often to pursue resolution through less expensive means than a courtroom battle.
We will draft and send a demand letter as a first step to make the debtor aware you are serious about obtaining what is owed. If that does not work, our team considers the full spectrum of appropriate dispute resolution options, including mediation or arbitration, which can sometimes achieve collection more smoothly at a lower cost than litigation.
However, we are fully prepared to litigate collection matters aggressively in court if no other approach succeeds.
Employment Disputes
From Discrimination to Non-Compete Agreements, our employment law team advises on personnel issues and litigation when conflicts arise. We help navigate disputes efficiently.
Free Consultations
Our St. Charles attorneys are available for complimentary consultations to discuss your unique situation. During this time, we'll carefully analyze all relevant details to develop a tailored plan of action. You'll leave confident the best path forward is clear.
Contact a St. Charles Commercial Litigation Law Firm Today
At Morelli Law, we understand that commercial disputes can take a significant toll without the right guidance. That's why our team is dedicated to providing personalized attention and unparalleled litigation expertise to help you resolve problems efficiently.
Whether seeking a settlement, injunction, or damages award, we'll explore the best strategies specific to your goals. You have our word that we will work relentlessly and pursue all viable legal avenues to achieve the outcome you deserve.
Don't leave the future of your business up to chance. Contact us today to schedule a free consultation and find out how we can put our experience to work for you. You have nothing to lose and the protection of Morelli Law to gain.