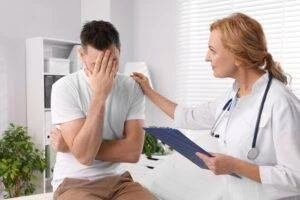 Sustaining a serious injury or condition due to the careless actions of a medical professional can leave you feeling betrayed and deeply worried about your future. If you've been injured due to medical negligence, you have the right to take legal action against the at-fault doctor or nurse.
That said, filing a lawsuit without the assistance of an experienced personal injury lawyer from St. Charles can be incredibly difficult. Fortunately, a St. Charles medical malpractice lawyer from Morelli Law can help you move forward with a lawsuit. They'll calculate your losses and fight for the compensation you need to move on with your life.
Medical Malpractice Cases A St. Charles Lawyer can take on
At Morelli Law, our medical malpractice lawyers in St. Charles have helped individuals like yourself recover financial losses after a number of different medical malpractice incidents. Regardless of how complicated or severe your situation is, our team can put their experience to work for you and fight tirelessly for a fair outcome.
We'll do everything we can to help you recuperate from one of the following forms of medical malpractice:
Misdiagnosis or delayed diagnosis

: When a healthcare provider

fails to accurately diagnose

your medical condition or delays the diagnosis, it can lead to delayed treatment and worsening of your condition.

Surgical errors

: Surgeons can make mistakes during surgical procedures, such as operating on the wrong body part or leaving surgical instruments inside your body.

Medication errors

:

Medication errors can include prescribing the wrong medication, prescribing an incorrect dosage, or administering the medication improperly
These are only a few examples of the medical malpractice scenarios our team can help you file a claim for. If you've been injured by a negligent doctor in another way, reach out to our firm to discuss your legal options moving forward.
Understanding Medical Malpractice Cases in St. Charles
Medical malpractice refers to instances where healthcare providers fail to meet the accepted standard of care, resulting in harm or injury to a patient. In St. Charles, laws are in place to protect patients' rights and ensure accountability for negligent actions or omissions by medical professionals.
If you've been injured by a medical professional due to their failure to uphold the standard of care they are legally required to provide, you have the right to take legal action. An experienced medical malpractice attorney from St. Charles can review the details of your situation, determine if you have grounds for a lawsuit, and fight for your compensation.
How a St. Charles Medical Malpractice Lawyer Can Help You
A knowledgeable medical malpractice lawyer from St. Charles can help you understand your rights and guide you through the necessary legal procedures. They will work closely with you to gather evidence, interview witnesses, and consult medical experts to determine if there was a breach of the standard of care.
Furthermore, a skilled lawyer can negotiate with malpractice insurance companies on your behalf to secure fair compensation for your injuries, medical expenses, lost wages, and other damages. They will also advocate for your rights in court if a settlement cannot be reached.
Finally, an attorney can keep you updated on their progress throughout the entirety of your case. They'll also be available to answer any questions you have about the legal process and can provide the advice you need to make educated legal decisions.
Compensation Our St. Charles Medical Malpractice Attorneys Can Pursue
A malpractice injury can leave you with expensive medical bills, severe pain, and even emotional trauma. Luckily, an attorney can pursue many different forms of compensation by filing a claim or lawsuit. Depending on the losses you've incurred and the challenges you've faced due to your injury, a successful case may yield the following damages:
Current and future medical bills
Cost of prescription medication and assistive devices
Lost wages
Decreased earning ability
Pain and suffering
Emotional distress
Loss of enjoyment of life
If your spouse or family member has passed away due to a medical malpractice injury or condition, you can file a wrongful death suit. If your lawsuit yields compensation, you could receive several or more of the following financial remedies:
End-of-life medical treatment costs
Funeral and burial expenses
Loss of inheritance or financial support
Pain and suffering
Mental anguish
Loss of consortium
Schedule a Free Consultation With a Trusted Medical Malpractice Lawyer
Hiring a St. Charles medical malpractice lawyer is the smart choice when dealing with potential cases of medical negligence. Having a seasoned advocate who understands the laws that apply to your case can give you the support you need to recover maximum compensation.
Contact Morelli Law today to schedule a free consultation with an experienced attorney. They'll meet with you to discuss your situation, injuries, and losses. If they find that you are eligible to take action against the negligent medical professional, they'll get started on collecting evidence and building your case right away.