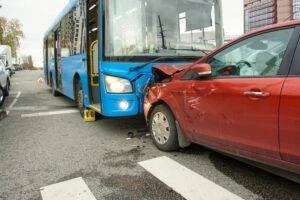 Bus accidents are traumatic events, often leaving victims and their families grappling with unexpected challenges. The physical, emotional, and financial toll can be overwhelming, and in such times, seeking legal help is crucial. Having a New York car accident lawyer who knows the ins and outs of bus accident claims is crucial in these cases.
We at Morelli Law are ready to stand by your side, aiming to help you secure the compensation you deserve and get your life back on track. This article serves as a guide, shedding light on the statute of limitations for bus accident claims, and providing vital information to help you understand your options.
Understanding Bus Accident Claims
A bus accident claim arises when you or a loved one gets injured due to a bus-related incident. These claims can involve different parties, including bus drivers, bus companies, or other negligent parties. Identifying the liable party is a critical first step in pursuing a claim.
Common causes of bus accidents include driver negligence, vehicle malfunction, or hazardous road conditions. Each scenario demands a thorough investigation to establish fault and responsibility. Knowing the cause of the accident plays a crucial role in building a strong claim.
The Statute of Limitations for Bus Accident Claims Explained
So what happens if a bus hits your car? The answer is likely legal action – but you need to be aware of the deadlines to file, which vary from state to state but generally range from two to five years in the five states we serve.
It's crucial to be aware of these differences to protect your legal rights. Here's a breakdown for New York, New Jersey, Pennsylvania, Illinois, and Missouri:
New York
For bus accident claims, you generally have three years from the accident date.

However, if a government-operated bus is involved, a 90-day notice of claim is required.

Wrongful death claims must be filed within two years from the death date.
New Jersey
The statute of limitations for bus accident claims is two years.

Claims against government-operated buses require a 90-day notice of claim.

Wrongful death claims also follow a two-year filing period from the death date.
Pennsylvania
You have two years to file a bus accident claim.

Special circumstances, such as accidents involving minors, might alter this timeframe.

Wrongful death claims in Pennsylvania must be filed within two years from the death date.
Illinois
The statute of limitations for bus accident claims is two years.

For wrongful death claims resulting from a bus accident, you also have two years from the death date.
Missouri
Bus accident claims can be filed within five years from the accident date.

Wrongful death claims must be filed within three years from the death date.
Whether it's a personal injury or a wrongful death claim, time is of the essence. Act quickly to preserve your legal rights and enhance your chances of securing the compensation you deserve.
Why Timing is Crucial
Time is of the essence when it comes to bus accident claims. As time passes, evidence may become harder to collect, and witnesses' memories might fade. Quick action ensures all necessary evidence is preserved, bolstering your claim's strength.
Prompt legal action also means quicker resolution, helping you and your family move forward. Delaying can lead to unnecessary complications, making the legal process more challenging. Prioritizing timeliness ensures you take control of the situation, paving the way for a smoother legal journey.
Ensuring Timely Action: Our Steps in Your Bus Accident Claim
Once you entrust your bus accident claim to us, we immediately spring into action to safeguard your legal rights and ensure we meet all crucial deadlines. Here's how we diligently work on your behalf:
Conducting a Comprehensive Investigation
We swiftly initiate a detailed examination of the accident.

This process involves gathering crucial evidence, speaking with witnesses, and laying down a robust foundation for your case.
Facilitating Clear and Constant Communication
We make sure that all relevant parties are promptly informed and aware of your claim.

Our team manages all negotiations with precision, striving to attain a just settlement for you.
Preparing for Every Eventuality
Should negotiations not yield the desired outcome, we stand ready to fervently represent you in court.

Our commitment is unwavering, ensuring you have strong representation at every stage.
Keeping You in the Loop
We prioritize clear and transparent communication, ensuring you remain well-informed throughout the process.

You can trust us to navigate the complexities of your case, providing guidance and support every step of the way.
With us, you're not just gaining legal representation; you're gaining a dedicated ally committed to safeguarding your rights and ensuring timely action on your bus accident claim.
Potential Compensation in Bus Accident Claims
The compensation you get for a bus accident depends on various factors, and generally fall into three categories.
Economic Damages
Cover medical bills, including future medical care

Compensate for lost wages and potential loss of earning capacity
Non-Economic Damages
Address pain and suffering endured due to the accident

Include compensation for emotional distress
Punitive Damages
Apply in cases of gross negligence or intentional misconduct

Aim to punish the wrongdoer and deter similar behavior in the future
Contact a Bus Accident Attorney Today
Bus accidents are life-changing, and the path to recovery is long and complex. But you don't have to walk it alone. Taking immediate action is crucial, and we are here to help.
At Morelli Law, we understand the challenges you face, and we know how to overcome them. We are committed to securing the compensation you need to move forward.
We are ready to stand by your side, fight for your rights, and help you reclaim control of your life. Let's take this journey together, starting now. Contact us today.