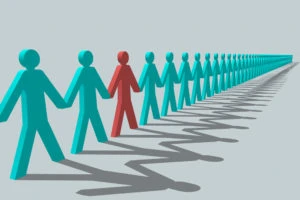 You do not need to feel intimidated by the financial strength of giant corporations or big industries anymore. Class action lawsuits make your voice heard so that you don't have to face these institutions alone. No matter the size of your injuries, you and your peers can partner with a class action attorney in Philadelphia to stop the damage being done by big businesses.
Class action lawsuits allow you to stand up and expose negligent actions that may be harming many others. No matter how big or powerful they are, you can speak up, and Morelli Law Firm will be there to lead the charge. The outcome of a civil suit of this magnitude can bring restitution, change regulatory procedures, and even have lasting effects on an industry.
It took only one David in a massive army to slay Goliath. You can be the first plaintiff to face the giant down and stop them from inflicting their harm.
When Is It Time to Contact a Class Action Attorney?
When you have become the victim of a corporation's negligence or greed, you can get in touch with a class action lawyer in Philadelphia within days of suffering harm. You have the right to pursue compensation from a big business, but most people don't have the resources to match the legal armies and enormous litigation budgets of a giant corporation.
While you don't have financial resources, you have the power of people. If a company's actions affect hundreds or thousands of people, a consumer class action lawsuit might be appropriate. If one person was harmed by a company, a jury might be swayed. But when crowds of people speak up against a single entity, their complaints will almost never be denied.
What Is a Primary Plaintiff in a Class Action Lawsuit?
The first step in a class action lawsuit is to decide with your peers and fellow complainants who will be the primary plaintiff designated to bring the suit against the defendant. In exchange for being the primary plaintiff, that person usually receives a larger piece of the settlement or compensatory damages.
The lead plaintiffs are obligated to present evidence, consult on the case, be deposed, and generally participate in the class action, where the class does not. This can be a considerable commitment of time because your schedule will need to be cleared for hearings and court dates.
Although the lead plaintiff hires the class action attorney, there is no responsibility for paying attorney fees as class actions are usually brought on a contingency basis. You will likely be reimbursed for your expenses related to the case. There can be more than one lead plaintiff designated.
What Are the Steps of Filing a Class Action Lawsuit?
With a primary plaintiff established, we'll continue to fill out your complaint. With an accounting of your losses, we then calculate your estimated compensation to better serve you in the negotiating process.
After the complaint has been filed, there must be a request to become certified as a class. In order to be certified as a class action case, there must be enough plaintiffs to join individual cases. Further, the complaint must be common in nature to all the plaintiffs, and the lead plaintiff should represent all of them fairly and adequately.
If these conditions are met, the class action suit will be approved as long as the court decides that the action is in the pursuit of justice and that there are enough similarities between the parties to outweigh differences.
How Many People Are Needed to Start a Class Action Lawsuit in Philadelphia?
There is always strength in numbers when it comes to filing a class action, but do not be discouraged if you have only a few dozen people at first. There is no rule about the number of people legally needed to be certified as a class, but over 20 will usually fit the bill.
One important standard in proving your claims for a lawsuit of this type includes establishing a pattern of harm, so sufficient evidence would depend upon having plenty of people. Some of the biggest settlements of all time were from cases that began with only 40 or so people, and hundreds joined along the way.
Depending on how widespread the problem is, some class actions can involve millions of people. If you are feeling discouraged because you are standing alone, a class action lawyer in Philadelphia can still ask a judge to certify your case in certain circumstances, or even suggest mass torts or other legal options that can be used in your pursuit of justice.
Benefits of a Class Action Lawsuit
If you are wondering whether or not to file a class action, there are some things to consider that may help you decide how you would like to pursue your case. There are many benefits to a class action that make practical sense depending on the situation.
Time
Justice takes lots of time. Court dockets are overwhelmed and when thousands of people have the same complaint the class action lawsuit offers an avenue for justice to be served without waiting years for a court date. The proceedings will take time, but the long wait for individual cases can be avoided.
Strength
When a company is harming an abundance of innocent people, the courts tend to listen. You can get results with big numbers. No matter how big the corporation is or how rich and powerful an individual appears, they will have a much more difficult time proving a significant amount of people wrong.
If you are wondering if there is already a class action regarding your issue, you can You can also check online resources for similar cases. For example, the U.S. Department of Justice (DOJ) lists current and recent class action cases in the United States.
Financial Recovery
If all the plaintiffs file for class action and sue the company at the same time, their chances of receiving compensation are improved. In the settlement for class action suits, the money is spread about evenly among all the plaintiffs.
If many people file cases at the same time, only the earliest plaintiffs may actually see the money they have been awarded. Individuals who file separately may lose out to the people who filed first if the company declares bankruptcy.
Cost of Litigation
Money is always a factor in the cost of litigation and the practicality of filing a separate lawsuit for a smaller injury is not generally advisable or useful. When going the class action route, the litigation fees can be spread among a group of plaintiffs, or handled by contingency basis and then taken from the final settlement.
The court will hear your voice no matter how small your injury or damages. Going to court with an abundance of plaintiffs minimizes the cost of litigation. Groups of individuals become one great voice that can now afford to take on enormous corporations with a legal department of legions.
Uniformity in the Solution
When you bring a group action against a company, it is often likely that you want to see the problem solved so that other people are not harmed in the future. Instead of multiple interpretations of the law being delivered in thousands of cases, a class action answers the problem resoundingly with one single verdict or decision.
When multitudes are filing separate cases, the decisions may be scattered and loopholes can be found to skirt further legal problems. In the case of a class action, only one decision is issued, leaving defendants and similar companies with no doubt about how to behave in the future.
Talk to Our Class Action Lawyers in Philadelphia About Your Case Today
The Morelli Law Firm represents class representatives and others in class action lawsuits. If you believe you may have a class action case, reach out to our class action lawyers in Philadelphia. We provide free consultations and handle these cases based on contingency.
Our attorneys have helped people just like you achieve desired results in high-profile cases of product liability and consumer class action lawsuits. Call Morelli Law now for a free case evaluation and to learn if you may be able to bring or join a class action lawsuit based on your injuries.