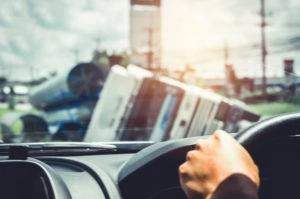 After a truck accident, life isn't the same. Tasks you used to consider easy might be hard or impossible after enduring life-threatening injuries. You may be grieving the freedom you once enjoyed or the death of a loved one in a big rig accident.
You didn't ask for this. You didn't expect to end up in the hospital. Now you're hurt, battling a long recovery, and paying medical and repair bills you might not be able to afford. If this sounds like your situation after a truck accident, it is time to hire our Marion big rig accident attorneys.
Morelli Law Firm fights for victims. We will help you pursue a claim for compensation to cover your expenses and lost wages after a big rig accident. If you're looking for legal advice, we've got you covered.
Who Could Be at Fault for a Big Rig Accident?
To receive a payout, your lawyer must prove that another party was liable for your big rig accident. Truck drivers are not always responsible for accidents. In fact, many companies are typically involved with big rig transportation, and accidents can be due to numerous variables.
Aside from truck drivers, who can liabilty fall on? Potentially liable parties can include:
Trucking companies
Shipping companies
Truck and parts manufacturers
Tire manufacturers
Truck technicians
Cargo loaders
Third-party vendor
Always call the police to file a crash report if you are injured. The responding police department can help to determine fault while at the scene.
Fault after a truck accident can also be analyzed with the help of a big rig accident lawyer in Marion. Talk to an attorney if you believe you may have a claim for compensation after a truck accident in Illinois.
What Does Big Rig Accident Compensation Cover?
If you've been in an accident, your finances have probably taken a hard hit from medical and repair expenses. Payouts from the guilty party to the victim aim to cover these economic and non-economic damages after a big rig accident in Illinois.
Property Damage
The at-fault party or parties will have to pay to repair or replace your items. For vehicle damages, you could be awarded the funds to repair your car or the current market value.
Medical Bills
Injuries from a big rig accident can be mild or serious. Either way, you will require medical attention to treat your wounds. Payouts will consider past, current, and future medical bills from a truck-related accident.
Lost Wages
Due to the severity of your injuries, you're likely unable to work after a truck accident. Or maybe the breadwinner of your household has died in a crash. If you cannot pay your bills, a big rig accident lawyer can help you file a claim for compensation.
To make a claim for lost wages, victims must:
Prove they are unable to work
Calculate the approximate amount of lost wages
Future Income
If you're going to be out of the office for an extended period or unable to return to work permanently, you may be able to make a claim for future earnings. This process is similar to proving you have a claim for lost wages. You must:
Prove you will be unable to work in the future
Calculate the approximate amount you would have earned
Who Can File for Wrongful Death in Illinois?
Too often, victims don't survive accidents with large trucks. The high death rate is because of the massive weight difference between cars and big rigs. Commercial trucks may weigh over 30 times heavier than a passenger vehicle, depending on the cargo they are transporting during the accident.
If you've recently lost a relative in a truck accident, we're so sorry for your loss. After speaking to our big rig accident lawyers in Marion, you may be able to file a claim for wrongful death. Under 740 ILCS § 180/2, the following people are eligible to file a lawsuit after a person has died in a truck accident:
Spouses
Parents
Children
Siblings
Wrongful Death Compensation
If you have a successful claim for wrongful death, money will be awarded to the surviving spouse or family of the deceased to cover standard expenses like:
Funeral costs
Medical and repair bills
Loss of companionship
Loss of consortium
Loss of instruction from parent to child
Loss of household income
We Handle Various Truck Accident Claims
Large trucks can be beneficial. However, due to their size and heavy cargo, tragic accidents can occur if negligent behavior is involved. Our big rig accident lawyers represent many claims each year, including:
Driver fatigue
Driving under the influence
Texting while driving
Equipment issues
Mechanical failure
Driver negligence
Hazardous weather conditions
The cause of a truck accident is not easy to identify. If you're planning to file a claim after a truck-related accident, speak to a truck accident lawyer for assistance.
Our Truck Accident Results
Accidents involving trucks end very badly. Many victims suffer serious injuries or even death. Those who do survive have a long road of recovery ahead. The path to healing is filled with costly expenses and numerous medical procedures.
Victims with successful claims often win huge settlements to cover these damages. Our skilled staff has won over $1 billion in compensation for personal injury clients. A few of our highlighted cases include:
$2.65 million after a moving truck hit a client
$7.4 million after a truck hit a delivery man on his bicycle
$11.2 million after a speeding truck hit a 76-year-old woman in her vehicle while attempting to make an illegal turn
Truck accident cases can be complex and complicated. Results may vary from case to case, depending on the severity of injuries and damages. Not everyone will have a successful claim.
Hire a Marion Big Rig Accident Lawyer
Are you not sure how to move on after a truck accident? Are you sad, scared, and alone? You don't have to be. A Marion big rig accident lawyer at Morelli Law Firm can help you file a claim for compensation.
Don't wait to get help. Assistance is available for you. Close the door to trauma and painful memories and step towards a happier future after filing a claim for compensation after a big rig accident. Contact us today to request a free case evaluation.