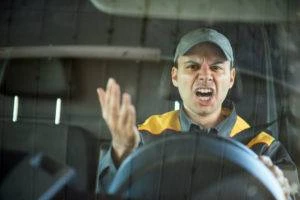 Aggressive driving can cause trucking accidents when the truck driver is frustrated or angry and not fully focused on operating his vehicle. According to the Insurance Information Institute (III), aggressive driving on the part of the at-fault truck driver might include:
Following too closely
Erratic lane changes
Driving on the shoulder of the road
Driving on the sidewalk
Driving in the median
Aggressive passing
Sudden accelerations
Failure to yield right of way
Ignoring traffic signs
Ignoring traffic signals
Ignoring on-vehicle warnings
Failure to signal properly
Ignoring the posted speed limit
Speeding or racing
Making improper turns
You might be entitled to financial compensation if the at-fault truck driver's negligent behavior caused your trucking accident. A personal injury lawyer might be able to help you recover from the financial aftermath of the truck accident in a lawsuit.
Reckless Truck Drivers Put Passenger Car Occupants at Risk
According to the Insurance Institute for Highway Safety (IIHS), the drivers and occupants of the smaller vehicle in collisions between cars and large trucks are at a greatly increased risk of injury or fatality. IIHS research from 2018 indicated that 16% of the fatalities in these types of accidents were truck occupants, while 67% were passenger car occupants. Factors that may contribute to the passenger car occupant's injury and fatality rate include:
Large trucks might be 20 to 30 times heavier than passenger cars.
The height of a truck might cause a smaller car to underride the truck.
Cargo-laden trucks might require 20% to 40% greater stopping distance.
In addition to these vehicle factors, truck drivers might inadvertently contribute to accidents by driving more than their allowable number of hours, which might lead to truck driver fatigue. Your lawyer might be able to help you uncover the frustration, irritation, or annoyance behind the at-fault truck driver's aggressive behavior.
Seek Compensation for These Truck Accident Injuries
A collision with an aggressive truck driver might lead to injuries that change your physical appearance and abilities. Injuries you may sustain in a collision with a large truck might include:
Head and neck injuries, including whiplash, concussion, and traumatic brain injury (TBI)
Back and spinal cord injuries, including chronic pain and temporary or permanent paralysis
Broken bones, including ankles, legs, arms, ribs, and collarbones
Keep track of the treatment plans your injuries require. Your medical records may help your lawyer determine the current and future cost of treating your injuries. This information is an important part of assessing the financial value of your compensation claim.
Benefits of Hiring a Personal Injury Lawyer
When you hire a personal injury lawyer to represent you, you may have more time to focus on your physical recovery. During that time, your lawyer can concentrate on your financial recovery by:
Reviewing and analyzing your medical records and bills
Completing and submitting required insurance forms
Reading and reviewing your crash report for details
Assigning an accurate monetary value to your lawsuit
Determining the appropriate at-fault party to pursue
Your lawyer may also keep you updated on the progress of your case and help you consider and weigh each settlement offer you receive. The final decision to accept or reject a settlement offer is yours, but your lawyer may have insight that helps you make an informed decision.
A Lawyer May Help You Meet the Statute of Limitations
Filing a personal injury lawsuit requires a plethora of moving parts. One of the most important factors is ensuring your lawsuit is filed on time. Your lawyer can examine your lawsuit, figure out its basis, and determine the appropriate filing deadline according to your state's statute of limitations.
Failure to comply with the statute of limitations is risky and might result in you having your lawsuit dismissed without being heard. In many cases, you might not be able to file your lawsuit late at all. If that happens, you may lose the ability to compel compensation from the at-fault party. Your legal team will use accident-related documents to ascertain the filing deadline and ensure compliance.
Put Our Legal Team to Work Building Your Claim for Compensation
Aggressive driving by truck drivers might have a number of contributing factors. Our team might be able to help you uncover why aggressive driving causes trucking accidents and how it led to the accident you were involved in. We may also be able to help you determine the underlying cause of a collision between your passenger car and a large truck. Contact Morelli Law Firm by calling (212) 751-9800 today.