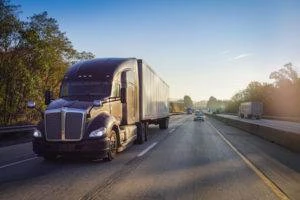 FedEx truck accidents are more dangerous than your typical vehicle accident due to the size and weight of the vehicle. If you or a family member has been injured in an accident caused by a FedEx driver, you may be left with bills and worried about your family's financial stability. You may also question who is accountable for your accident.
We have the resources and expertise to handle commercial truck accident cases. Our FedEx Truck Accident lawyer in Marion, Illinois, will investigate the cause of your accident and assist you in obtaining the financial assistance and medical treatment you deserve.
Determining Who Was At Fault in a FedEx Accident
Safety measures are in place to prevent mishaps at FedEx. Cargo loading must be done correctly so it doesn't move and cause a collision. FedEx drivers can be held liable for mishaps.
For the truck driver to be held responsible, an act of negligence or recklessness must have resulted in the accident in the first place. A wide range of conduct is judged careless or negligent, including:
Driving while intoxicated

Drowsy driving or falling asleep behind the wheel

Speeding and other forms of reckless driving

Running a red light or jumping through a stop sign

Driving when

impaired by drugs

or alcohol
How to File a Lawsuit in a FedEx Truck Accident
If you were injured in a collision with a FedEx truck, call an accident lawyer as soon as possible. Having a lawyer on your side is a good idea before you agree to settle for a less deserving amount.
Insurance firms target victims of FedEx truck accidents in an attempt to lower their settlements. Alternatively, they may persuade you to blame yourself for the accident. Because of this, it is advisable to consult with a knowledgeable truck accident lawyer before making any decisions. Your lawyer will contact FedEx and its insurance company.
How Long Do You Have to File a Lawsuit?
In Illinois, the statute of limitations to file a lawsuit for a truck accident is two years. There are two years after the accident to bring a lawsuit. If you don't file a case within two years after the incident, you might lose the right to file a lawsuit and collect damages from the responsible parties. However, this doesn't always hold and might vary depending on the case. Due to the limited time available, you should contact a truck accident attorney at the earliest possible.
How Can a Marion FedEx Truck Accident Attorney Help?
It is necessary to show that the driver's or trucking company's carelessness was the cause of your injuries before you may be awarded compensation. Alternatively, it might be because the driver or delivery firm was careless. The assistance of a personal injury attorney with expertise in delivery truck accidents may be useful to you.
Our lawyers have expertise in suing large trucking firms like FedEx for compensation. If you want to win your lawsuit and obtain the money you deserve, you need evidence. Due to our extensive legal experience, we have access to crucial evidence, including:
Photographic evidence

Record of a FedEx truck's "black box"

Timetable and mileage records of FedEx drivers

Outcomes of a Drug Test

Truck inspection and maintenance records

Testimony from witnesses and other sources

Police reports
Having access to evidence improves our chances of winning the lawsuit.
Who Can File a Claim for FedEx Truck Accidents?
The trucking company, driver, or insurance might be sued by anyone injured in a trucking accident. Drivers of other vehicles, drivers of other commercial vehicles, motorcyclists, and pedestrians are all examples of those who can file a claim if they were injured in the accident.
If your loved one was killed in a collision with a commercial vehicle, you might be entitled to bring a wrongful death claim. You are liable to file a wrongful death claim if you are the child, spouse, or parents of the deceased. Contact a personal injury lawyer in Marion to discuss your case and file a claim.
Damages Covered in a FedEx Accident Lawsuit In Marion
The compensation for an accident involving a FedEx truck might vary greatly. You can't estimate a median settlement or a median judgment award without getting your case evaluated by an attorney.
After a thorough investigation and financial analysis, a truck accident lawyer can give you an idea of how much compensation you are due. You may be able to claim compensation for:
Medical treatment expenses

Medical rehabilitation costs

Miscellaneous expenses and costs

Loss of wages

Loss of future income
Get Your Case Evaluated by Marion Truck Accident Attorney
If you or a loved one has been injured in an accident involving a FedEx truck, the attorneys at our law firm will help you through the legal system. Additionally, we manage negotiations with witnesses, other lawyers, and insurance carriers. We will fight for your rights to ensure you obtain a fair settlement.
Our FedEx truck accident attorneys at Morelli Law Firm have a proven track record of successfully suing commercial businesses and securing settlements on behalf of our clients. We have a team of personal injury attorneys with a long history of success in the courts, and we are certain that we can help you. Get a free evaluation of your case today.