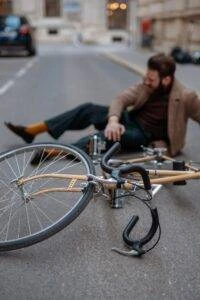 Bicycle riders wear helmets, use hand signals, and put lights on their bikes to stay safe while on the roads. Yet all this protection means nothing if a negligent driver ignores you. If you've been hurt while riding, it's time to contact a personal injury lawyer in Marion to help you.
Morelli Law has helped the victims of bicycle accidents get just compensation for their injuries, pain and suffering, bike replacement, and many other damages. Find out how much your case is really worth by contacting our Marion bicycle accident lawyers as soon as possible after your accident.
Damages in a Bicycle Accident
Like a car accident, you can file an insurance claim against the driver who hit you or sue them with the help of a Marion bicycle accident lawyer. In your claim, you can demand compensation for the damages you've suffered. These damages include:
Medical bills related to the accident, now and in the future
Bike repair or replacement
Lost wages while you recover from your injuries
Disability payments if you cannot return to work
Pain and suffering and other non-economic damages
Wrongful death damages if you've lost a loved one
Insurance companies will want to pay as little as possible for these or deny your claim completely. They're not on your side, and that's why you need a lawyer to hold them accountable. We will fight for you to ensure you get the most you can from your bicycle accident claim.
How Our Lawyers Can Help You
Our lawyers have recovered over one billion dollars for accident victims across the country, but how does a lawyer help you get more money for your accident?
First, we can hold insurers accountable in court if they refuse to settle for a fair amount. Insurers would prefer to avoid court if they can, though some cases end up before a judge. The threat of a lawsuit is enough to get them to settle most of the time.
Second, we know the law, and we know the evidence necessary to maximize the value of your accident claim. We know how to negotiate with insurers in their language, so they're forced to give you a fairer deal.
I Couldn't Talk to the Police. Do I Still Have a Case?
First responders may have taken you straight to the hospital for your injuries, so you didn't have a chance to talk with the police, the other driver, or record any evidence. This doesn't mean your case is hopeless, though. Morelli Law can investigate these things on your behalf.
If you can hold a conversation, then you can consult with us about your situation. You can also contact the police yourself and give a report. The police may even reach out to you once they know you've recovered enough from your injuries to talk.
The sooner you talk with the police and a lawyer, the better your chances will be. There is a deadline for you to sue before you lose your opportunity for compensation, so an early start gives your lawyer time to investigate your claim and negotiate.
Can I Afford a Marion Bicycle Accident Lawyer?
Everyone who gets injured should have access to legal representation. That's why we offer free consultations, and we only charge contingency fees for our services. We only collect compensation when you win compensation with our help.
If you lose your case, you will owe us nothing. Consultations help us evaluate if you have a claim and how hard it will be to win. You also get to size us up and see if we're the firm for you or not.
Contingency fees are a percentage of the final settlement or award. We can only take our payment from this source. Your personal assets are safe.
When Would My Case Go to Court?
You have two years to start a lawsuit in Illinois, but most cases settle out of court. When would your case go all the way to trial? It depends on many factors. Here are the most important ones to know.
First, if either side refuses to accept a settlement offer before the trial date, then your case will go to court. Sometimes, a Marion bicycle accident lawyer will start a lawsuit but will settle before the trial date. Until the actual trial, either side can call for a settlement. Once it starts, it's in the hands of a judge and jury.
Second, if your case qualifies for punitive damages, it may be in your best interest to go to court. A court awards punitive damages and they aren't part of pre-trial negotiations. Therefore, the only way to get them is to push the case to trial.
Trial is risky and expensive for both parties, but you could win much more than you could from insurance alone. Your lawyer can advise you about the pros and cons of trial for your situation and what is the best way to achieve justice.
Contact Our Lawyers Today
If you've been hit while riding your bicycle in Marion, IL, then contact Morelli Law now for a free consultation. Our bicycle accident lawyers in Marion are ready to hear your case and explain your legal options.
All initial consultations are free and without obligation, and you will owe us nothing unless you win your case successfully. Thus, there is no financial risk to working with us. Call today to see if you have a case and to learn how we can help you.