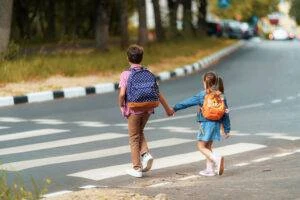 How do you recover from a pedestrian accident? If you don't have an emergency fund, or if your losses are severe, the process may take years. Fortunately, there are methods through which you can fight for post-accident financial support. What's more, you don't have to go into that fight alone.
You can work with the pedestrian accident lawyers in Marion, IL, to demand the compensation you deserve after a negligence-based accident. Morelli Law Firm can step in and manage your case to give you the best chance of winning that essential support.
Want to learn more about our services? You can book a free case evaluation with the personal injury attorneys in Marion today.
Who Can You Hold Responsible for a Pedestrian Accident?
Your right to hold another party liable for your pedestrian accident depends on your ability to prove that:
Another party owed you a duty of care
That other party engaged in dangerous negligence
That negligence resulted in economic losses that continue to negatively impact your life
You make these points by presenting Illinois civil courts with hard evidence of another party's misconduct.
The evidence you gather may not always point to an obvious party, though. Some of the parties that you may find liable for your pedestrian accident losses can include the following:
Government officials
Construction crews
Automotive manufacturers or mechanics
Commercial drivers, including rideshare drivers
Other pedestrians
Bicyclists
Motorcyclists
Motorists
Remember: you can't make a claim about liability if you don't have evidence putting responsibility for your accident on someone else's shoulders. With that in mind, don't make any assumptions about liability until you or an attorney have had time to investigate your accident scene.
When Should You File a Pedestrian Accident Claim?
Illinois's personal injury statute of limitations, 735 Illinois Compiled Statutes section 5/13-202, dictates the timeline on which you need to file a civil claim. This statute gives you no more than two years to bring your pedestrian accident to a judge's attention.
This means that you must investigate your losses and compile your claim by the second anniversary of your accident. If you don't bring your claim forward within that two-year period, you may lose your right to demand a fair settlement in civil court.
Should You Open an Insurance Claim Against Your Liable Party?
You may have the right to open a claim with the offending party's insurance company after an accident. Before you do, though, you need to determine whether or not said party has coverage. Under- or uninsured parties can't provide you with the support you need through these avenues, meaning that you may need to find others if you want to get post-accident support.
Fortunately, there are parties whose insurance may cover some of your losses. If you find out that the party that caused your accident has coverage, you can work with an attorney to compile your claim and submit it.
Be prepared for pushback, though. Insurance claims adjusters want to prioritize their finances, not yours. Some insurance providers may attempt to deny your pedestrian accident claim. Others may minimize your losses to try and save themselves money.
Don't let them get away with this bad faith behavior. You can call a pedestrian accident lawyer in Marion and ask that they stand up to an insurance provider on your behalf. Our team can continually demand that companies and liable parties alike fully recognize the extent of your losses.
Should You Calculate Your Right to Compensation Ahead of Time?
If you want to bring your pedestrian accident losses to a civil judge's attention, you need to calculate the value of your losses ahead of time. Fortunately, you're not the one who has to do all the math. If you choose to work with a pedestrian accident lawyer, Marion's experienced team can break down your economic and non-economic damages.
The losses you can most often integrate into your request for support can include the following
Pain and suffering
Property damage
Emotional distress
Property rentals
Mental anguish
Medical expenses
Lost opportunities to pursue work
Lost wages
What Right Do You Have to Economic and Non-Economic Pedestrian Accident Damages?
Your right to economic and non-economic pedestrian accident damages hinges on your ability to tie related losses back to your liable party's negligence. In other words, you need evidence to prove your right to support. If you don't bring the evidence you need to appropriately value your case, a liable party may attempt to get some of your requests for support dismissed.
Do You Need to Work With a Lawyer to Win Pedestrian Accident Compensation?
You are not obligated to work with a Marion pedestrian accident lawyer to secure pedestrian accident compensation. That said, an experienced lawyer can make the process much simpler.
We step in and manage communications with liable parties, insurance companies, and the court system on your behalf. Moreover, we can manage an investigation into your losses, meaning that you won't have to return to the scene of your accident to try and find evidence of negligence.
Morelli Law Firm's team has several combined decades of experience helping people in your exact situation get the financial support they deserve. You can put that experience to the test and give yourself the time you need to recover from your losses.
Are you still wondering whether or not working with an attorney is worth the effort? Consider booking a FREE pedestrian accident case evaluation with our team. We can use this time to go over our services and outline your right to fair compensation.
Schedule a Free Pedestrian Accident Case Evaluation Today
Morelli Law Firm understands that the civil process can appear daunting. That doesn't mean that you shouldn't try to use it to your advantage, though. If you work alongside someone who understands the legal process, like our Marion pedestrian accident lawyers, you can win the compensation you need to recover from your losses.
Our team strives to make it as easy as possible for you to bring your pedestrian accident losses to a judge's attention. What's more, we offer our services on contingency. You can come and chat with us to learn more about our contingency fee agreements and the legal services we offer.
Contact us to book your free pedestrian accident case evaluation now.