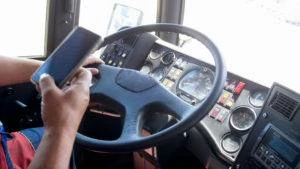 According to the Federal Motor Carrier Safety Administration (FMCSA), distracted driving can cause trucking accidents when a truck driver divides their attention between their driving and anything else inside or outside of his truck. The FMCSA lists the following potential driving distractions that might lead to a trucking accident:
Billboards
Texting
Dispatch devices
Smartphones
Reading
Writing
Paper maps
GPS devices
Eating
Drinking
If a distracted truck driver caused your accident, their negligence might entitle you to financial compensation for your injuries, property damage, and other accident-related expenses and losses. A personal injury lawyer in your area might be able to help you prove the negligence that led to the trucking accident, assign financial liability to the at-fault driver, and negotiate a monetary settlement.
Proving the Actions that Caused Your Trucking Accident
Your lawyer may help you compile evidence that the at-fault truck driver was distracted at the time of the accident. They may start with your crash report, which might indicate the type of distraction that diverted the truck driver's attention. The crash report may also indicate each driver's actions immediately preceding the collision. Provide your legal team with your crash report as soon as possible.
Your crash report might also indicate whether or not other drivers or pedestrians witnessed the accident. If so, it may note their names, contact information, and observations. Your lawyer might be able to locate and interview these witnesses. After proving the at-fault driver's neglect of the duty of care they owed you, your lawyer may help you assign a financial value to your injuries and their related expenses.
Establishing the Financial Value of Your Potential Compensation Package
After assigning financial liability to the responsible party, one of the first things your lawyer may do is help you assess your potentially recoverable damages. Depending on the nature of your trucking accident and injuries, these damages might include:
Health care bills to date
Upcoming health care bills
Income loss to date
Upcoming income loss
Property damage
Property destruction
Pain and suffering
Mental anguish
Emotional distress
Physical impairment
Physical disfigurement
Share any documents and proof of your expenses and losses you have with your legal team. Your lawyer can use this evidence to help you carefully calculate your potentially recoverable damages.
Building a Solid Evidence File
Because your lawyer and the at-fault truck driver's representative were not present at the time of the accident, they may have to rely on your accident's paper trail to understand its cause. Legal and insurance company representatives on both sides might request:
Medical records
Medical bills
Treatment plans
Prognosis documents
Rehabilitation bills
Therapy bills
Employment records
Repair bills
Car value estimates
The crash report
Witness statements
Accident photos
Insurance forms
Tickets and violations
Your lawyer may conduct an independent investigation of the accident to produce additional evidence, if necessary. If your car was totaled in the trucking accident, you might also need its title or other proof of ownership. If the accident forces you to miss school, you might need proof of your enrollment. Your lawyer may ask for additional documents not included on this list. Be sure to comply with requests for information right away.
Negotiating for a Favorable Settlement
The law allows you to pursue an at-fault driver for compensation after an accident caused by distracted driving. The law also limits the amount of time you have to seek financial recovery. Each state has its own filing deadline, and your legal team may explain the relevant timeline to you.
If you miss the filing deadline in your case, the at-fault driver may request and receive an immediate dismissal of your lawsuit. A lawyer can help you meet the statute of limitations and ensure your ability to seek financial compensation.
Our Team Is on Your Side
Distracted driving can cause trucking accidents by diverting a driver's attention from the full focus required for driving. If you were hurt in an accident caused by a distracted driver, Morelli Law Firm might be able to help you recover compensation for your damages in a personal injury claim.
You do not have to fight for justice on your own. Contact the client intake team at Morelli Law Firm by calling (212) 751-9800. We offer free case reviews and represent clients on a contingency-fee-basis with no payments due upfront.