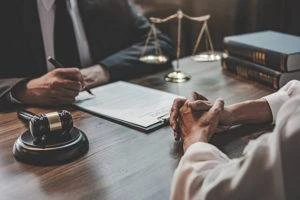 Dump trucks are responsible for safely transporting materials like asphalt and waste and can carry about 14 tons. But if you're driving behind a dump truck that isn't driving safely, you could be at risk for a dump truck accident. Whether the truck rear-ends you or dumps its materials on your windshield, you could sustain severe injuries.
When dump truck drivers engage in unsafe practices, a lawyer can help. Our dump truck accident lawyers in Marion, IL, at Morelli Law Firm are ready to evaluate your case and tell you if you have a case.
The Time You Have to File a Claim is Limited, But We Can Help
When you get hit by a dump truck, you only have two years from the date of the accident to file a claim. Being on a strict time limit can be stressful when you're dealing with a legal issue. But our team of dump truck accident lawyers in Marion can ensure that you file your claim on time.
The amount of time you have to file may differ depending on the details of your accident. But by talking to one of our attorneys you can find out exactly how long you have to file a claim. The faster you file your truck accident claim, the higher your chances are of getting your full compensation amount.
It's crucial to file before the two-year deadline because if you don't, you won't be able to recover any compensation or file again. Our lawyers can make sure that you file on time, and we can help with any paperwork.
How Negligence is Proven in Dump Truck Accidents
There are four elements that must apply to the party that you believe is responsible for your injuries for them to be negligent. The first element you must prove is that the party owed you a duty of care. A duty of care is the obligation to provide a reasonable amount of care so that someone doesn't get hurt.
The second element of negligence is that the party or defendant ignored the duty of care. And the third element is proving that you have suffered an injury. For example, if the dump truck driver was speeding, had a large load of material, and crashed into you, they disregarded the duty of care.
The last element of negligence that you must prove is that the defendant's breach of the duty of care directly caused your injury. Proving negligence can be difficult, but a lawyer can gather relevant evidence to prove the parties' negligent actions.
Damages You Can Collect After a Dump Truck Accident in Marion, IL
If you have a dump truck accident case, you may be able to recover damages for your injuries and other losses. Our Marion dump truck accident attorneys can help you collect damages such as:
Current and future medical bills
Loss of income
Mental anguish
Loss of future earnings
Loss of consortium
In-home services
Loss of society
Punitive Damages
You may be able to also recover punitive damages if an attorney can prove that the dump truck driver or another party involved in the accident purposely caused you harm. Punitive damages are intended to punish the defendant and discourage them from repeating the actions.
For example, if the dump truck driver deliberately swerved into you and your lawyer can prove it, you may be able to collect punitive damages. Whether you receive punitive damages is usually determined by a judge or jury, but your lawyer can tell you more about this if you qualify.
The damages you are eligible for depend on the severity of your injuries, if you have a case, and the details of the dump truck accident. A lawyer from our firm can help you determine what damages you can recover to cover your costs.
Handle the Insurance Company with a Qualified Dump Truck Attorney By Your Side
A common task that you must do after a truck accident is to meet with the insurance company. This may be one of the most intimidating parts of the legal process aside from taking your case to court. Meeting with the insurance company can be anxiety-provoking because the claims adjuster doesn't want you to get a settlement amount that actually matches your case's worth.
To try to prevent you from getting the settlement you qualify for, the adjuster will use every tactic they can to deny your claim. But our team of lawyers knows how insurance companies work. A Marion dump truck accident lawyer on our team can accompany you to the meeting with the insurance company.
We can shut down all the stalling and tactics that the claims adjuster may try. We can show them the evidence that proves the negligence of the truck driver and other parties. And we can use our knowledge of past dump truck accident cases to get you all the damages your injuries qualify you for.
Contact Morelli Law Firm for a Free Case Evaluation
If you suffered injuries in a dump truck accident due to a truck driver's negligence, a dump truck accident attorney in Marion, IL, can help you. Our team at Morelli Law Firm is passionate, and we're ready to hold the parties responsible for your injuries.
If you're ready to meet with one of our lawyers, we're waiting to hear from you. Call us or fill out the contact form on our website to schedule a free case evaluation.